Reading Time:
5
minutes
Outfest LA Film Festival 2022 has hosted a wide range of queer documentaries. Chronicling queer love, culture, and history, these five queer documentaries stood out as some of the most interesting, most well-told, and most needing to be told.
All Man: The International Male Story
What I admire and enjoyed most about the Bryan Darling and Jesse Finley Reed-directed and Peter Jones-written documentary All Man: The International Male Story is that it's telling two stories at once. The story of International Male, the magazine that countless gay men read to fulfill their sexual fantasies, and the story of International Male, the magazine that countless straight men read to fulfill their sexual fantasies. As the doc so wisely puts it: straight men wanted to be these models and gay men wanted to do these models. It's a great documentary on the history of the magazine, its influence in the 80s and 90s, and its untimely demise at the hands of folks who just didn't want to be in the business of appealing to gay men. But it's truly great in the way that it uses its dual appeal to blur the line between masculine wish fulfillment on either side of the sexuality spectrum. That the same trends and images drew upon different men's desires at once speaks volumes to the fragility of heterosexism and it's very fun to watch that unravel in the context of such a cultural cornerstone of a bygone era.
Art and Pep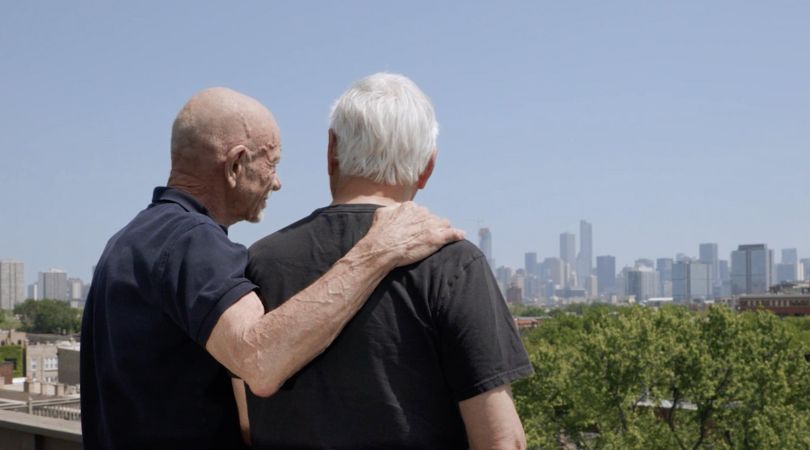 Art and Pep is a stand-out feature-length documentary directed by Mercedes Kane about Art Johnston and Pepe Peña, the founders of the famed Chicago gay bar Sidetrack. This film tells four stories at once: the history of Sidetrack and gay bars generally in the U.S., the activism Sidetrack led and inspired, the modern battles Sidetrack is fighting, and of course, the love between Art and Pep that made all of it possible over the decades. The history is compelling on its own, demonstrating the essentiality this gay bar and gay bars as a whole have played in creating safe spaces for gay men. The story of Sidetrack's activism is totally enlightening, from its instrumentality during the AIDS crisis to it's important place in the history of gay rights. Tracking that activisim to today, between ongoing LGBT+ rights battles and Covid, the film certainly feels hopeful in the face of a lot of reason not to be. And of course, central to it all, Art and Pep's love for their community, their bar, and for one another is the heart of what makes everything possible. Without them, there'd be no subject of the film, sure, but there'd be no soul to it either.
CANS Can't Stand
Louisiana is the only state in the United States with a law (Crimes Against Nature by Solicitation aka CANS) that specifically separates sodomy out as an additional misdemeanor offense in the context of prostitution. In practice, it's a law that is used by law enforcement to criminalize people who are trans just for being trans and create a separate and more harsh criminal classification against any trans person who sells sex. In the short film CANS Can't Stand, we're given a history of the laws by those directly affected by it as well as a history of their activism against it. We see their intense struggle just to get by in a state that criminalizes their existence as well as their victories in the legislature and courts. While CANS laws are still on the books, they have thus far succeeded in reducing those charges from felonies to misdemeanors and removing the requirement that those convicted be placed on a sex offender registry. The fight is far from over and the goal is full legalization of prostitution as well as the elimination of CANS laws, but CANS Can't Stand is a call to attention about a little-known battle that's only just beginning.
Nelly & Nadine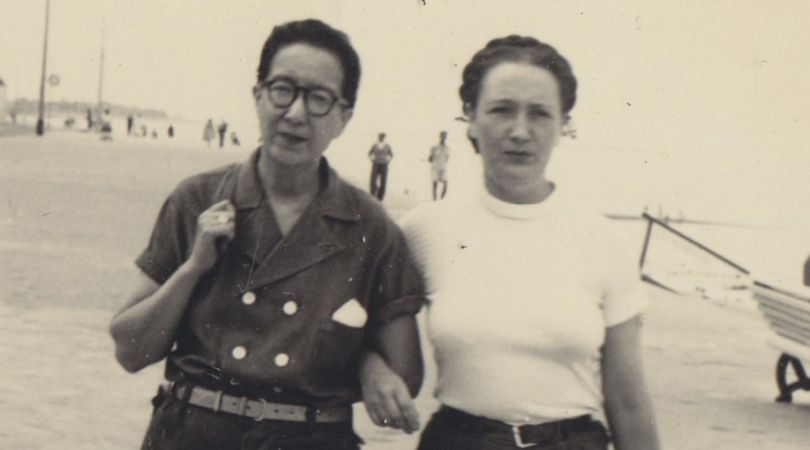 Nelly & Nadine, directed by Magnus Gertten, fancies itself "one of the greatest love stories never told." And you know what? It is. It really is. This exceptionally well-crafted film is one of my favorite queer documentaries from Outfest LA. It spans one woman, Sylvie's quest to learn about her grandmother Nelly and her grandmother's partner Nadine, stretching back to their meeting in the Ravensbrück concentration camp on Christmas Eve 1944. Through endless letters, diary entries, photos, and videos the two kept, Sylvie and travels across Europe to learn snippets of these women's lives and love. From their secretive sides, to the dismissal Nelly's own daughter made of their relationship, to the unparalleled love they shared, the documentary interweaves the historical documentation with narrations and explanations from experts and people who knew them. I wept at the beauty of their love forged in the most dismal of all possible places and the way the film so tenderly holds it up for the world to finally see.
Prejudice & Pride
I've only recently come to really find joy in foreign films, mostly thanks to Netflix's ever-growing and excellent library of them. Prejudice & Pride (Fördom Och Stolthet), by Eva Beling, takes you through a complete history of queer Swedish film, from the dawn of film, to the early famous stars and their queer coding and secret queer lives, to seminal films in modern queer awakenings and beyond. Whether you're a film buff, a queer film enthusiast, or just somebody who's curious about foreign film cultures, Prejudice & Pride is a thorough journey through dozens of movies, the people who made them, and the impacts they have had on both cinema itself and the people who have watched them for the past 100 years.
---
Outfest LA Film Festival 2022 is taking place from July 14-24, with many of its queer documentaries and other films available for a limited time virtually. Follow all of our Outfest LA coverage.