Catwoman 80th Anniversary 100 page Super Spectacular is published by DC Comics, written by Paul Dinni, Mindi Newell, Ann Nocenti, Chuck Dixon, Tom King, Will Pfeifer, Jeff Parker, Ram V, Liam Sharp and Ed Brubaker, art by Emanuela Lupacchino, Lee Garbett, Robson Rocha, Kelley Jones, Mikel Janin, Pia Guerra, Johnathan Case, Fernando Blanco, Liam Sharp and Cameron Stewart, inks by Mick Gray, Daniel Henriques and Danny Miki, colors by Laura Allred, Alex Sinclair, Alejandro Sanchez, Steve Oliff, Jordie Bellaire, John Kalisz, Johnathan Case, FCO Plascencia, Liam Sharp and Cameron Stewart and letters by Wes Abbott, Tom Napolitano, Saida Temofonte, Tom Orzechowski, Clayton Cowles, Steve Wands, Jonathan Case, Gabriela Downie and Cameron Stewart. This special anthology book takes a look at the many sides of one Selina Kyle. Her past, who she is, and who she may one day become.
Following up previous special's celebrating not only Batman, but both his staunchest ally as well as his greatest nemesis, this month DC Comics shines the spotlight on Bruce's most consistent love interest. And while it hasn't always been easy going for these two on again, off again, love birds, they always seem to find themselves coming back to each other.
Catwoman 80th Anniversary 100 page Super Spectacular does an excellent job of highlighting many of the steps along this characters journey. The book does an wonderful job of highlighting Selina as the honorable thief. Even when she is in one of her more villainous moods she has a code. Never an agent of chaos or general harm like most of Batman's rogues gallery, Selina has always stood apart as more of a Robin Hood type character. A personality that is tired of the rich and how they flaunt their extravagance over the poor. She has no qualms with taking the things she wants at their expense. And if Batman thinks he can stop her, well he's welcome to try.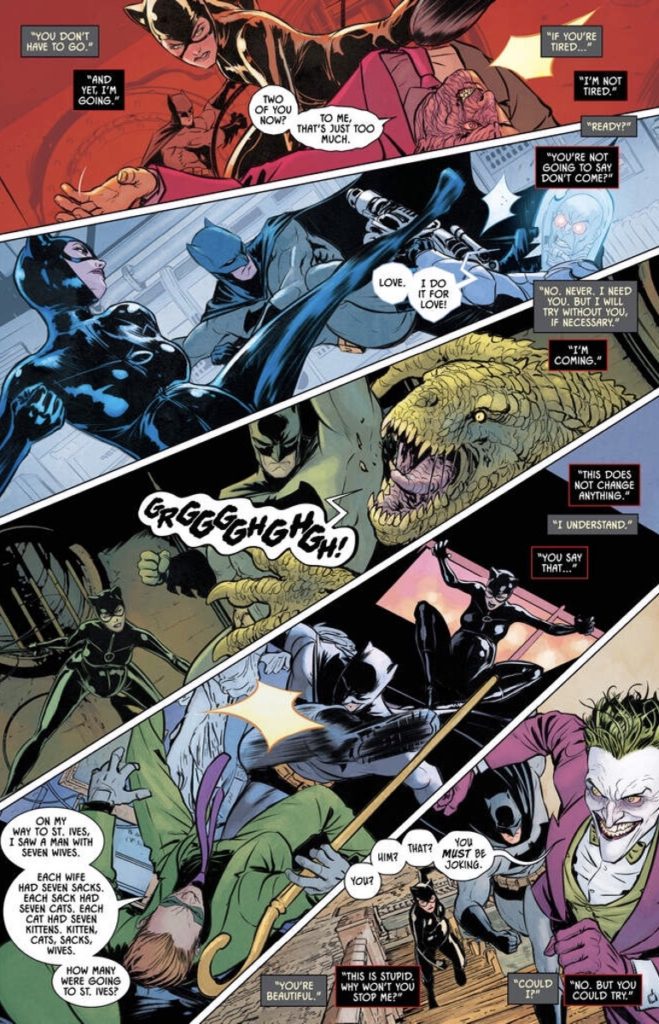 But even as this has been the story for much of Catwoman's career, Catwoman 80th Anniversary 100 page Super Spectacular also takes a peek at what the future could hold for this feline fatale. Highlighted by an entry into this book written by King, Selina's future may be even more closely tied to doing good then previously shown.
While her character is explored from numerous angles in this giant volume, fans are also treated to many of her most iconic looks. Everything from the classic 60's Batman tv show costume, to the Michelle Pfeiffer Batman Returns look, Selina's expansive wardrobe is on full display. And, thanks to a crafty villain, the reader even gets Selina's thoughts on some of the more outlandish costumes she's been depicted in.
While seeing the many phases of Selina was a real treat, the wonderful artistic presentation doesn't end with Miss Kyle. The entire art team as a whole does a wonderful job capturing the many eras of the character. Each story does a solid job of standing out from the one before it, allowing each tale its moment to shine. It speaks to the versatility of the character that so many different tones can be applied to her. Many of these stories feel so separate from the others. Like they shouldn't be able to be talking about the same character. But, they are. And while many look decidedly different from each other, they all look decidedly Catwoman.
So when all is said and done I think Catwoman 80th Anniversary 100 page Super Spectacular does a great job on shining the spotlight on a multifaceted character who all to often gets oversimplified. Selina has been on the side of the angels, as well as the monsters. She can put Batman in his place, and do it all with feline grace. I'm glad she got this big book to shine in. For once she didn't have to try to steal the show. Though she probably would've preferred it if she had!
Catwoman 80th Anniversary 100 page Super Spectacular is available June 2nd wherever comics are sold.
Catwoman 80th Anniversary 100 page Super Spectacular
TL;DR
So when all is said and done I think Catwoman 80th Anniversary 100 page Super Spectacular does a great job on shining the spotlight on a multifaceted character who all to often gets oversimplified. Selina has been on the side of the angels, as well as the monsters. She can put Batman in his place, and do it all with feline grace. I'm glad she got this big book to shine in. For once she didn't have to try to steal the show. Though she probably would've preferred it if she had