Reading Time:
3
minutes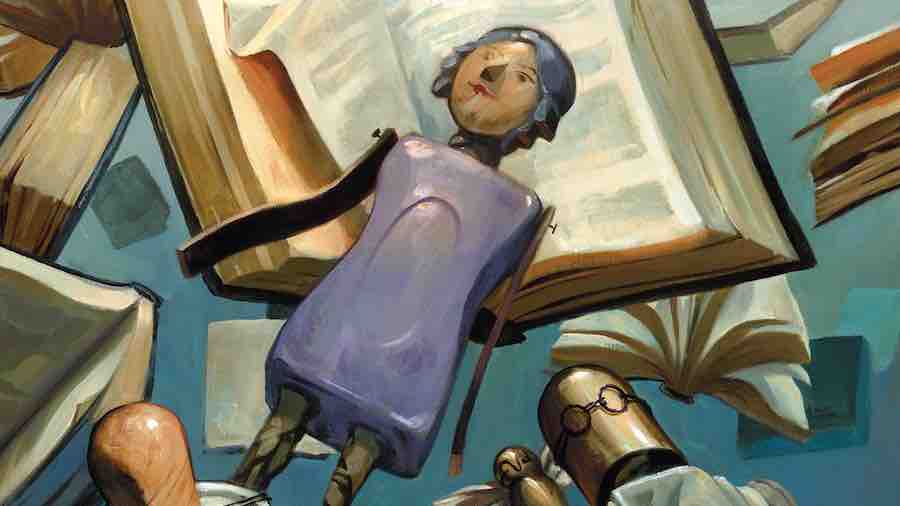 Books of Magic #4, which is published by DC Comics, is written by Kat Howard and drawn by Tom Fowler. The colors are done by Jordan Boyd and Tom Klein serves as the letterer. This series is a reboot from Neil Gaiman's series under the same name and is within the current Sandman Universe. It follows the story of Tim, the destined to be the greatest magician of all time. However, he'll have to deal with everything that comes with having powers, including its consequences.
When we last saw our hero in issue #3, he had summoned a guardian to protect him from the nightmares he'd been having. His literature teacher had been murdered, seemingly by Dr. Rose. At least it looked like that since she had been holding his skull and performing some sort of ritual. In this issue, Dr. Rose goes on a special assignment and tasks Tim to look for other magic books in the library. However, something completely unexpected happens, which will surely have drastic consequences. Meanwhile, the librarian seems too overprotective of his books. Could he be hiding something?
I wasn't quite sure what to expect from this series. I wasn't aware that this was a sort of reboot from Gaiman's book, so I went in with the first issue without definitive opinions. After reading this issue, I can say that I'm fully invested in the story. There are many elements of the story that are interesting. For one, Tim is already destined to be the greatest magician in the world. This means that he has a great amount of power already, he just needs to learn how to use it. With each issue, we see him learn something new about his powers. It shows character development, even if it's off to a bit of a slow start.
The art style used in the comic is really well done. It captures that eerie feeling that a town might have if dark forces were at work. Tim's character design was exactly what a lot of heroes in these sorts of stories look like. However, his emotions and body language tell a lot about who he is. Whether it's his depression over the disappearance of his mother, him struggling to control his powers, or the interactions he has with his father, the way he's drawn say a lot more than the words do. It allows the reader to feel and empathize with him.
While the series has started off a bit slow, things seem to be escalating in this issue. Secrets are being kept from Tim. He wants to find his mother and bring her home. All while an evil organization that wants to stop him from achieving his true power. Not to mention that Tim is keeping secrets of his own that will surely affect the people around him. All these plot pieces will surely carry the series forward and will have readers wanting to read what happens next.
I really enjoyed reading this issue and I'm continuously impressed with every installment of the series. Part of what I like about the series is that the character of Tim's reminds me so much of Harry Potter. Since Gaiman's work was released first, it wouldn't surprise me if some inspiration from Tim was placed upon Harry. Regardless, this series continues to give a great story and will undoubtedly continue to do so.
Books of Magic #4 is available now wherever comic books are sold.
Books of Magic #4
TL;DR
I really enjoyed reading this issue and I'm continuously impressed with every installment of the series.