Making a smash hit when she was introduced in Spider-Man: Into the Spider-Verse, Spider-Gwen was a fan favorite, much like she was after her comic runs. Voiced by Hailee Steinfeld, Spider-Gwen continues to find fans as she takes a more central role to the story in the sequel film, Spider-Man: Across the Spider-Verse. While comic book fans will be familiar with the character, Spider-Gwen is branching out from the comic panels into new mediums. Despite her taking over Marvel's pages and covers during the summer of 2015 the character has taken over, and we're here to tell you everything you need to know about her. A standout in a film packed with Spider-Man 2099, Spider-Punk, Spider-Woman Jess Drew, Spider-Byte, Spider-Man India Pavitr Prabhakar, and more here is everything you need to know.
Spider-Gwen: Origin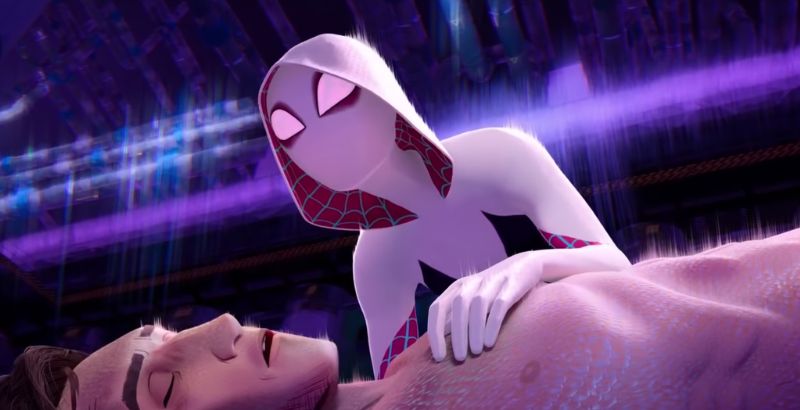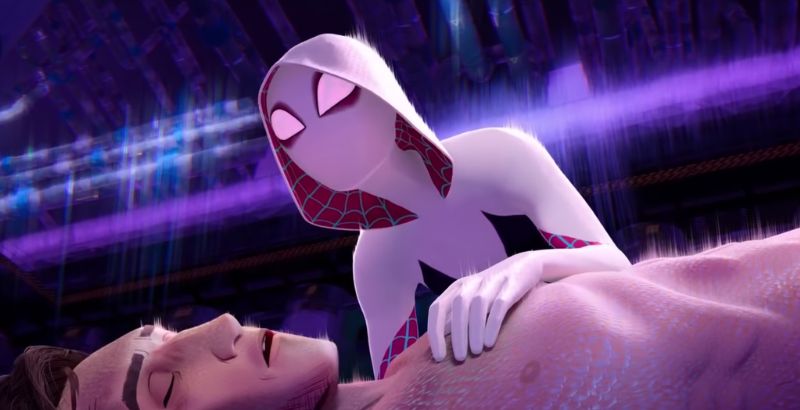 Spider-Gwen's first appearance was in Edge of Spider-Verse #2 as part of the Spider-Man event "Spider-Verse," the inspiration for SONY Animation's Into the Spider-Verse. The event was pioneered by famed Spidey writer Dan Slott. However, Spider-Gwen's ended up being very different from what Dan Slott first pitched.
While Across the Spider-Verse is about Miles breaking the canon, the film's origin for Spider-Gwen Stacy is pretty much just like the comics. We are introduced to the Gwen Stacey of Earth 65 when she was bitten by the radioactive spider instead of Peter Parker. She takes up the mantle of Spider-Woman. Earth 65's Gwen Stacey differs from the women Peter Parker lost in the regular 616. Gwen is the drummer of a punk rock band, The Mary Janes. However, this Gwen still has a relationship with Peter. She was close friends with Parker and Harry Osborn. After being bitten, Peter begins to have an infatuation with Spider-Woman, not knowing she is secretly his best friend Gwen Stacy. Peter creates a formula that turns him into a lizard mutant and after being bullied, he injects himself with the formula.
Gwen Stacy is then forced as Spider-Woman to fights Peter. After defeating him she accidentally pushes him too hard and kills him. Peter dies in Gwen's arms, telling her he just wanted to "be special" like her. Gwen realizes what she has done and fled the scene. The public is now under the misconception that Spider-Woman murdered Peter Parker and is a menace to society. Following Edge of the Spider-Verse, this storyline follows Gwen into her solo series.
Spider-Gwen: Powers and Gear
Spider-Gwen's powers are very similar to that of Peter Parker's Spider-Man. Gwen can stick to and climb on walls and also shares Peter's "spidey-sense." Unlike Peter, Spider-Gwen is not a tech genius and instead got her web-shooters from retired crime fighter and billionaire mogul Janet van Dyne. Additionally, Spider-Gwen acquired a wristwatch that allows her to travel to the multiverse following Spider-Verse. She recently used the watch to have a romantic relationship with Miles Morales. Their flirtation is hinted within Into the Spider-Verse. While not a science genius like Peter, Gwen has a detective's mind and has learned a lot from her father George Stacy.
Across the Spider-Verse brings back Spider-Gwen's blue converse instead of ballet slippers, and in doing so connecting her with Hobie Brown, Spider-Punk.
Comics and Onward
If you are looking for a place to start with Spider-Gwen, start with Edge of the Spider-Verse and the Spider-Verse crossover. From there you can pick up Spider-Gwen's solo series, Spider-Gwen which has 35 issues. She is also featured heavily in the short-lived and highly underrated Web Warriors. Additionally, Gwen teamed up with Silk, Cindy Moon, and Spider-Woman from 616, Jessica Drew in the excellent Spider-Women Alpha crossover. Most recently, Gwen is going by the name Ghost-Spider in her new solo run following the end of Jason Latour and Robbi Rodriguez's run.
Gwen Stacy in Across the Spider-Verse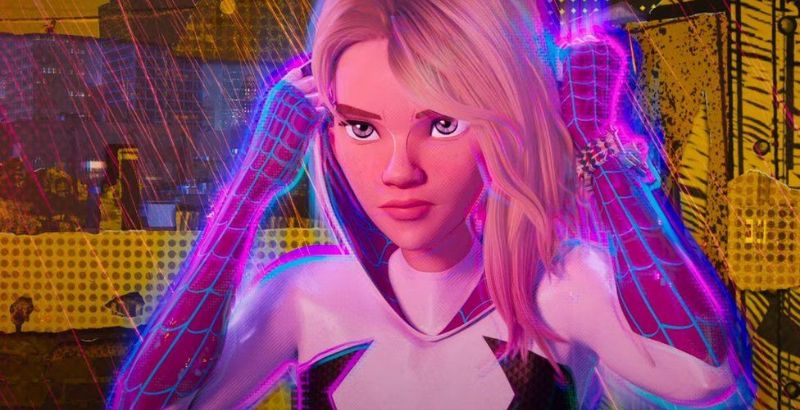 In Across the Spider-Verse, Gwen Stacy has a much deeper story. Like her comic book origins, Gwen is not only grieving her best friend's death but also having to carrying the assumption that she killed him. Trying to be a hero and a daughter, her police captain father has vowed to capture Spider-Woman and save the city from her. This duality of life is taking a toll on Gwen and with Miles a multiverse away, well she's all alone. As the opening of the film, Gwen Stacy is central to the way the narrative develops. Choosing to leave her family, Gwen joins the Spider-Society under the mentorship of Jess Drew, Spider-Woman. Much to the frustration of Miguel O'Hara. Making new friends, she's still missing Miles Morales and can't resist bringing him into the fold.
Gwen Stacy's main story in Across the Spider-Verse is about grieving and learning to open up, even if it hurts. She's scared of her father after he almost shot her after she saved a museum full of people. That said, she loves him, and that loneliness and the impending knowledge that every Spider's police captain dies, well it hurts. Spider-Gwen gets even more complex in this film and after coming to Miles' aid and standing up to Miguel, it's only going to get bigger in Beyond the Spider-Verse.
---
Gwen is a fully realized character who has moved past the sad trope of dying for the sake of her boyfriend's story. She has one of the fiercest costumes in comic books and has become a favorite of a lot of fans, including myself.