Spider-Man: Across the Spider-Verse is out soon, and with that, it's introducing a virtual pantheon of Spider-People to new audiences. One of my favorites from this sequel to Into the Spider-Verse? Hobart Brown Hobie Brown, AKA Spider-Punk. Anarchist, foul-mouthed, and cool as all hell, Spider-Punk is honestly one of the best takes on your friendly neighborhood Spider-Man I have ever seen. With Spider-Punk playing a big role in Miles Morales' second outing and adding to the Spider-People you meet like Gwen Stacy, Spider-Man 2099 Miguel O'Hara, Peter B. Parker, and more, you should probably brush up on this punk and his push against the establishment—be they, heroes or villains.
Voiced by Daniel Kaluuya in Across the Spider-Verse and expertly written by Phil Lord & Christopher Miller and Dave Callaham, before you fall in love with the character on the screen, here's everything you know about them on the pages of Marvel Comics.
The Spider-Punk Origin Story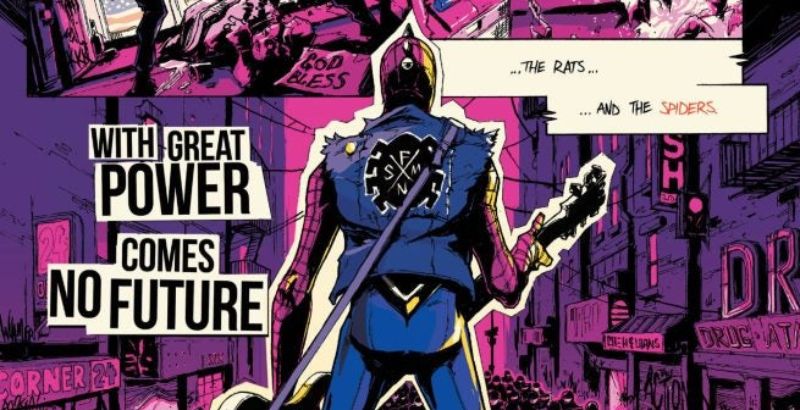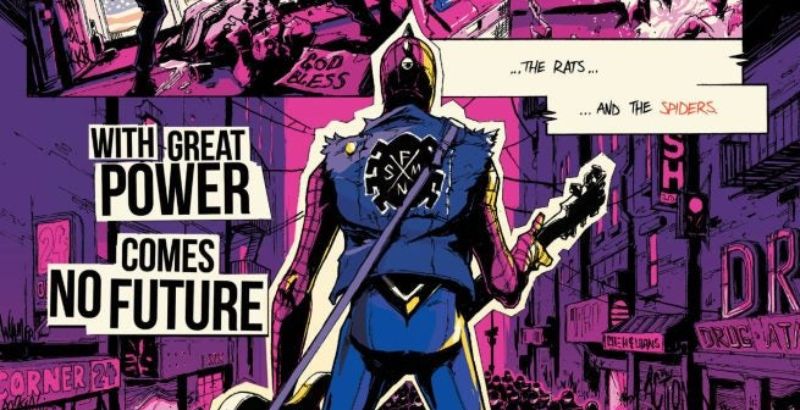 Created by Dan Slott and Olivier Coipel (first meant for Spider-UK), Spider-Punk's first appearance came in The Amazing Spider-Man Volume 3 #10. In the issue, Hobie Brown became a Spider-Totem after being bitten by a radioactive spider that was in an illegal waste dumped by President Osborn. Originally a homeless teenager, Hobie takes his newfound power (the same as Earth-616 Peter Parker but with a cool guitar) to save America.
First time hearing about Spider-Totems? Well, this is what you call pretty much every Spider-Person connected through the Web of Life and Destiny. For Hobie, he declared himself Spider-Man and chose to fight the Osborn regime and the army known as the Thunderbolt Department. With the goal to root out subversives and "Make America Stronger," the rebel-rousing Hobie took the fight to the streets. While it's easy to see a punk fighting alone, Hobie would rather join the lowest classes to fight back against President Ozzy Osborn and his regime. This leads us to the Spider-Army.
The Spider-Army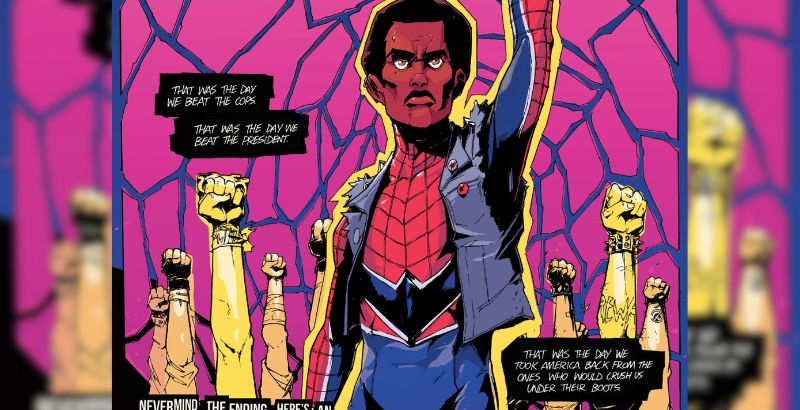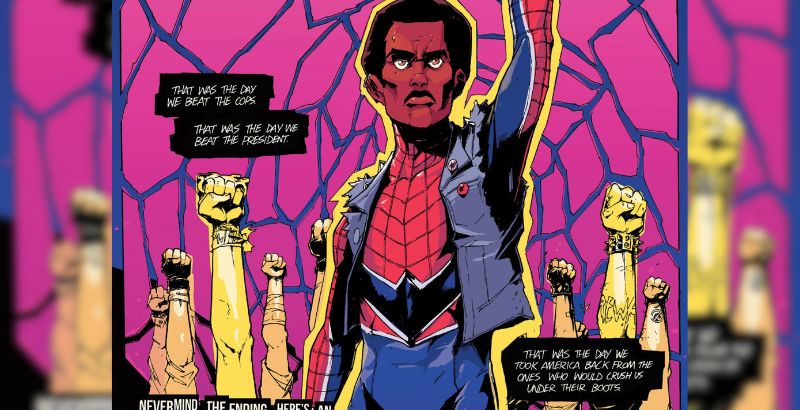 A true punk stands against fascism, and that's just what Hobie and the Spider-Army do. He is built to fight against President Osborn's regime in America and found a way to channel his punk nature as a "radioactive suicide machine," before pulling together America's lowest classes and moving together to stomp out the police and Osborn's fascism. To empower his dangerous force, President Ozzy developed the Variable Engagement Neuro-sensitive Organic Mesh (V.E.N.O.M.—of course).
As you can guess, this ended up turning into a version of Venom that only the power and amps from punk rock could stop. While the team effort went into dismantling Osborn's message, Hobie took on the President, defeating him with 15000 volts of punk rock to disable V.E.N.O.M and win. That said, that isn't the punk part. Spider-punk killed Osborn with his guitar and revealed his identity to the Spider Army afterward. A true mic drop moment for the character.
The Other Anarchists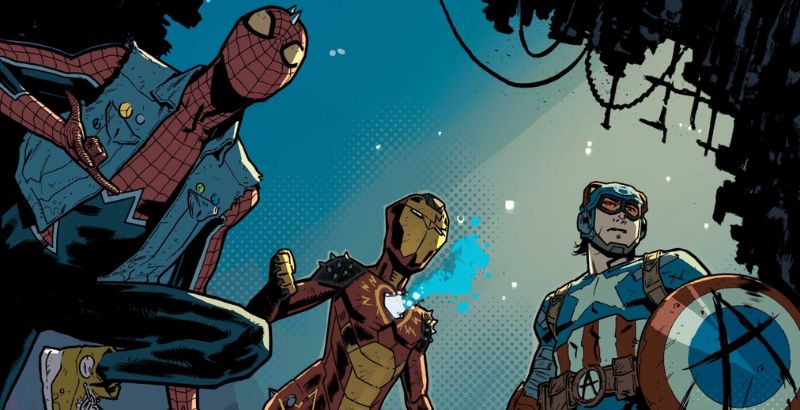 Spider-Punk also fights alongside other Anarchists—I mean of course. Pushed by the increased oppression under President Ozzy, other heroes join the Spider Army, fighting alongside Hobie. Captain Anarachy (aka Karl Morgenthau), Riotheart (Riri Williams), and Hulk (Robbie Banner) are a few of the heroes that Spider-Punk fights beside. The coolest thing about the Earth-138 version of the characters is that they are ruthless and don't take any prisoners in the name of fighting the machine made to grind them and the public into submissive citizens at the will of the corporations. Want to read more about them? Well, check out the 2022 Spider-Punk comic.
---
Raw, loud, and with a purpose that hits that kill an oppressive regime instead of just letting the villain go, Spider-Punk puts action to words, and in Across the Spider-Verse I can't wait to see more of Hobie Brown.
Spider-Man: Across the Spider-Verse is playing in theaters June 2, 2023.