The garden party ended on a troubling note when Maomao (Aoi Yûki) discovered poison in one of the dishes meant for the emperor's concubines. But while the investigation is ongoing, Maomao looks to slip away from the palace for a few days to see her father and friends thanks to the hairpins she was gifted during the party in The Apothecary Diaries (Kusuriya no Hitorigoto) Episode 7, "Homecoming."
As this week's episode opens, we find out that Mamao has been given the day off to rest after her run-in with the poison. While she has insisted that no such concern is necessary, she is forced to at least sleep in and relax a bit. However, her sleep is troubled by dreams of her father, forcing her to wonder how he is getting along without her.
This opening delivers a lot of small character details to several different personalities. It shows how much Lady Gyokuyô (Atsumi Tanezaki) cares about her servants, as offering Maomao time off is not required of her, as well as her other ladies-in-waiting who further insist that Maomao take time to rest. Of course, the central emotional moment though is the highlighting of how much our protagonist loves and misses her father.
While many might assume this is the case, it hasn't been shown much in the series to date. Between Maomao's need to adapt to life in the rear palace to how reserved she tends to be with her emotions, The Apothecary Diaries Episode 7 is a rare moment to highlight just how much her father means to her. Realizing that she has no idea how he's fared during the ten months she's been gone so far, Maomao hopes to find a way to visit him.
Once up and about, Maomao visits Lady Gyokuyô to learn how she may be of service. Surprisingly, she learns that Gaoshun (Katsuyuki Konishi, Overtake!), Jinshi's servant, is waiting to speak with her when the two meet, Maomao sees that Gaoshun has brought her another bowl of soup from the party, hoping that she might be able to learn more from it.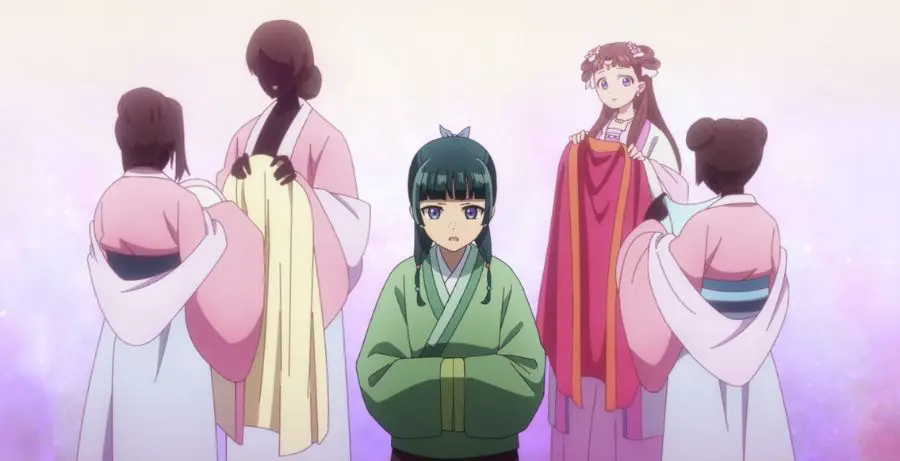 This sequence once more builds up Maomao's presence as an investigator as she cobbles together the means of dusting the bowl for fingerprints. The most interesting element of the moment is where Maomao's knowledge stops. While she is aware of the existence of the prints, she makes no mention of trying to match the ones she believes the poisoner left with others who could be responsible. This omission would seem to imply that Maomao is unaware of the fact that every human has a unique set of prints. It makes sense that the existence of prints would be known before their uniqueness was discovered, but it is a state I've never seen portrayed before in fiction. It is also convenient for the story as it means they can know someone who shouldn't have touched the bowl did, but no way of knowing who.
The other major element that is shared in this sequence is Maomao's concern over how Lady Lishu's servants are treating her. She details to Gaoshun a number of observations she made during the party concerning Lishu's lady-in-waiting and how their behavior contradicted their duties to the mistress. There is a sense of genuine concern from Maomao for the lady in her words, especially since the nature of the servants' displeasure with her is no fault of hers.
This call back to the party also helps remind the viewer that everything in The Apothecary Diaries should be paid attention to, as you never know when it might come back to matter. This emphasis on detail is an excellent tool to make episodes feel richer and more intricate, as every detail is woven into the story.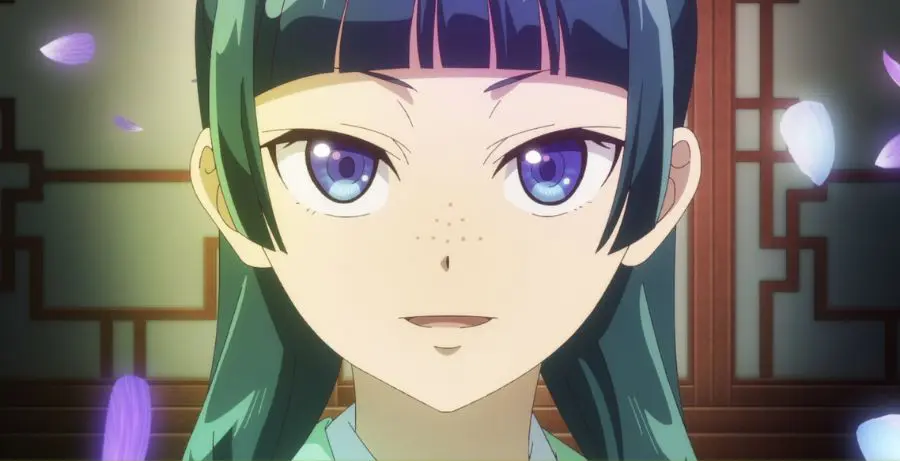 From here, The Apothecary Diaries Episode 7 sees Maomao take her lunch with her friend Xiaolan (Misaki Kuno, Summer Time Rendering), where she learns important details about the hairpins she was given at the garden party. From Xaiolan, she discovers that the hairpins can be used to call on a person to request an escort outside of the rear palace. Knowing this, Maomao plans to find someone to take her back to her home for a three-day visit.
She accomplishes her goal by coaxing the young military officer who gave her a hairpin into escorting her home with the promise of arranging a meeting for him with one of the high-level courtesans she knows in the pleasure district.
Once back home, we see Maomao interacting with some of her old acquaintances before finally returning home to see her father. While the reunion isn't the most outwardly warm meeting ever, the moment is delivered with some extra feeling, thanks to well-chosen background music and skillful cinematography that helps to reinforce what is implied beneath the surface of the meeting.
While The Apothecary Diaries Episode 7 delivers some good moments, it largely serves as a setup for the growing story concerning the poisoning at the garden party and whatever will happen to Maomao now that she is back home. It keeps the setup interesting, helping the viewer enjoy the transitional nature of the episode's plot.
The Apothecary Diaries Episode 7 is streaming now on Crunchyroll.