Monarch: Legacy of Monsters is off to a stellar start with its two-episode premiere on AppleTV+. While Episode 1 set the stage for the series showcasing Godzilla and the humans that he has impacted in equal measure, Monarch: Legacy of Monsters Episode 2, "Departure," sets up the series to go further and introduces the entire cast, connecting the dots between Monsterverse television and the films. In this episode, we see genres blend with science fiction monsters, touches of horror set designs, and just a hint of the clandestine thriller that the series' main mystery circles.
In the last episode, Cate (Anna Sawai) met her brother Kentaro (Ren Watabe), unearthing their faith in Hiroshi's infidelity and secrets. But in meeting each other and searching for answers their dad may have left, they also discovered Monarch files, traces of Hiroshi's life with the organization, but with no understanding of the weight. In the 1950s, we were also introduced to Keiko (Mari Yamamoto), Lee (Wyatt Russell), and an unnamed scientist played by Anders Holm.
In Monarch: Legacy of Monsters Episode 2, the latter is revealed to be a young John Randa, and the connections between the present and the past come together. Now, Cate and Kentaro find themselves being chased by Monarch, abducted, and struggling to find out why, meeting an older Lee, played by Kurt Russell. In the past, though, exploring the wilderness and attempting to find the kaiju that calls it home takes center stage, as does developing Lee's moral compass and Keiko's intelligence and fearlessness.
The series continues to balance two stories between two time periods without devaluing the other. Individually, both represent a cohesive narrative that easily gets the audience to buy in. The series is also able to focus on the tethers between the two in important enough ways to matter but never too large as to be a distraction.
Monarch: Legacy of Monsters Episode 2 also hones in on Cate and Kentaro as they process their father's death and the betrayal of their respective families. While Cate uses this to run away from Japan, Kentaro destroys his father's office and shares a cathartic moment with his mother as they process their rage and grief by tearing up scrapbooks and the memories in them. Cate and Kentaro are allowed to feel things, to feel anger and grief, for both the father they knew and the one that they lost when his lies were shown.
The present also embraces the intrigue that comes with a secret overarching organization working in the shadows. But even in those moments, Monarch: Legacy of Monsters Episode 2 maintains a human core, with Cate suffering another PTSD panic attack when she's abducted and how we see Godzilla's footprints in her life. Her panic and her fear are rooted in what she experienced. Outside that moment, we see chasing, conflict, and an attempt to stay away from Monarch, only to wind up in its clutches.
While the present is filled with intrigue, the past is all about science fiction when Lee and Keiko meet each other and then Bill. The highlight of the past is the investigative nature of it, the adventure of it, and the big winged kaiju we see on a ship from Pearl Harbor that washed up on shore tens of thousands of miles away. Immediately, the character dynamic and the push and pull between Keiko and Lee are fantastic to watch, while Bill is a comedic addition that also offers sincerity in the chemistry he has with Keiko.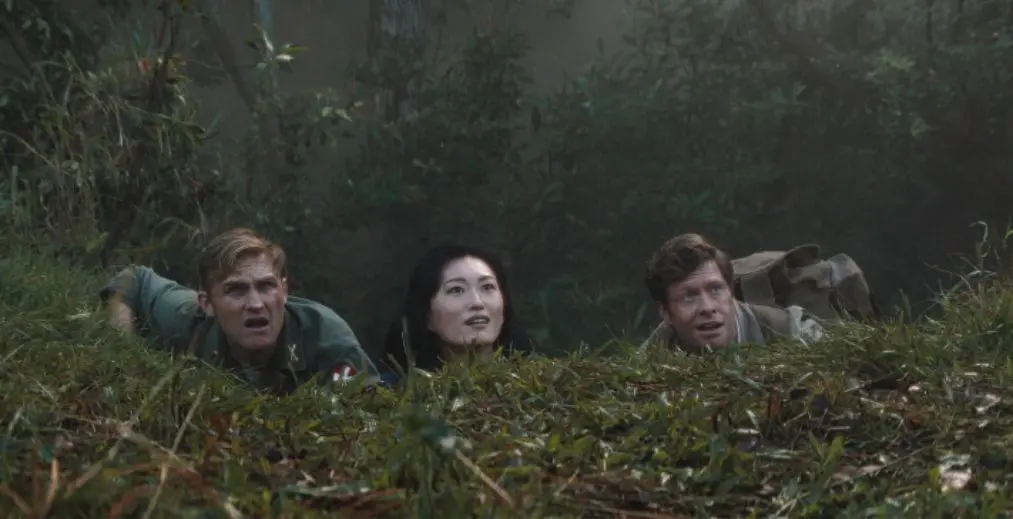 But shining in all of this is Mari Yamamoto, whose joy upon seeing monsters contrasts against her male group, who are scared. There is a shining light coming from her excitement that captures not just her as a character but the curiosity of a scientist witnessing something new. Her character, for as little as we know, stands as a stellar pillar in the past.
Connecting the past and present is Lee, played by Wyatt Russell and Kurt Russell, as the young and old versions of the same character—a fantastic casting choice of father and son to play the same person decades apart. While at first, it seems like a gimmick on a casting list, the way the two are able to mimic the other's body language makes the jump between decades perfect.
Additionally, Monarch: Legacy of Monsters Episode 2 isn't just a thrilling story, it's also a gorgeous one. The set design in every part of the series so far is stunning, both in the lush environment of the past and the abandoned ship are superb. With a little bit of horror and a little bit of sci-fi, the series captures the Monsterverse with an astounding amount of intricacy, especially as the kaiju emerge. In a time where production design and special effects work are taking a hit due to overworking animators and workers on Netflix and Disney productions, Monarch continues to show the high standard that Apple Originals set for television.
Monarch: Legacy of Monsters Episode 2 is another knockout, and it has me fully invested in the people as much as the unfolding monsters emerging from the dark.
Monarch: Legacy of Monsters Episode 2 is streaming now on Apple TV.
Monarch: Legacy of Monsters Episode 2 — "Departure"
TL;DR
Monarch: Legacy of Monsters Episode 2 is another knockout, and it has me fully invested in the people as much as the unfolding monsters emerging from the dark.