What Legendary's Monsterverse has done extremely well is threading each story into the next without undercutting the past or the future, regardless of where it takes place in the timeline. Whether it's expanding the timelines with the films or even Netflix's Skull Island, the Monsterverse has become a vast and beautiful universe of mythology, kaiju, and an investigation of who we are in their world. Now, the AppleTV Original Monarch: Legacy of Monsters highlights how you tell a deeply human story while still focusing on the kaiju, and it does that immediately in Episode 1, titled "Aftermath."
From Legendary Television, the series stars Kurt Russell, Wyatt Russell, Anna Sawai, Kiersey Clemons, Ren Watabe, Mari Yamamoto, Anders Holm, Joe Tippett, and Elisa Lasowski. Set after the events of Godzilla (2014), the series looks at the aftermath as told by one family but across generations. Monarch: Legacy of Monsters is co-developed and executive-produced by Chris Black and Matt Fraction, and if this first episode is any indication, it's blending kaiju epic with a dramatic family narrative.
Following the thunderous battle between Godzilla and the Titans that leveled San Francisco and the shocking revelation that monsters are real, Monarch: Legacy of Monsters Episode 1 introduces audiences to two siblings following in their father, Hiroshi's, footsteps to uncover their family's connection to the secretive organization known as Monarch. Having never met before, the duo have to unlock their father's secrets and find links to their grandmother in the past, learning the place they have in the history of Monarch and more.
In the present, or 2014, Cate (Anna Sawai) and Kentaro (Ren Watabe) have to learn about each other and their father. It's contentious at best, with both of them processing the fact that their father left them long before he died. For his part, this is an introductory episode for Kentaro. Instead of diving deeply into his character, the audience instead sees his father through his eyes. We see Hiroshi's life in Japan, his office, and for her part, Cate blows the roof of it all. Both siblings know drastically different versions of their father and have to connect through them. While Kentaro is secondary so far, Cate is the focus.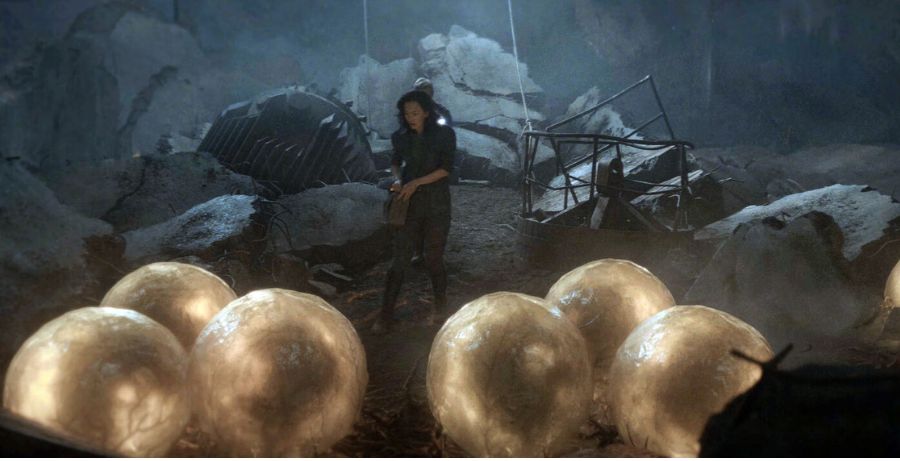 Having survived Godzilla's attack, she did so while witnessing many on a bridge die, with no way to help. When an alarm sounds in Japan, and she runs to the tunnel with her brother, it all resurfaces. The "Aftermath" in this episode refers to the scars she carries but also to her connection to her brother after her father's death. Cate is practical, logical, and is trying her best to see things how they are—the opposite of Kentaro, who seems more naive, at least at the outset.
Monarch: Legacy of Monsters Episode 1 also opens the path to the past in the 1950s. After opening with John Goodman's Bill Randa running on what appears to be Skull Island, it's clear that the past elements in the narrative are built off of the events of Kong: Skull Island. There, we see Army officers Lee Shaw (Wyatt Russell) and Keiko (Mari Yamamoto) as they explore a hidden piece of the world where monsters are waiting in eggs on the floor of a cavern.
For this part, the series doesn't lose any of its intensity or its strength. Bouncing back between the two timelines is a strength and not a hindrance. Both of them hold weight and ultimately develop the world beyond what we see in Cate's life. That in and of itself is a hard task. Worldbuilding requires investment, and in a short time, Keiko is a character we learn a lot about through a little bit of dialogue and her fearlessness that is pushed by scientific curiosity.
As a whole, Monarch: Legacy of Monsters Episode 1 sets the ground for the season, taking its time to introduce you to its cast of characters without losing focus on how they're all connected. Additionally, it's immediately clear that this is a human story, a family story, and something deeply intimate. It also doesn't hide that kaiju exist in this world, showing them in multiple forms and setting the stage for more to come out to play. Legacy of Monsters stands to be a phenomenal entry into the Monsterverse and adds another fantastic series to the AppleTV+ programming.
Monarch: Legacy of Monsters Episodes 1-2 are streaming on AppleTV+ with new episodes every Friday.
Monarch: Legacy of Monsters Episode 1
TL; DR
As a whole, Monarch: Legacy of Monsters Episode 1 sets the ground for the season, taking its time to introduce you to its cast of characters without losing focus on how they're all connected.