The sophomore directorial project of Bradley Cooper, Maestro, is a masterful demonstration of prioritizing visual storytelling over plot to make a film about who two characters are more so than what they did or didn't accomplish. It neither possesses the lionizing or triumphant nature of a traditional biopic nor the fully structured plot of an average romantic drama. Rather, Maestro is an audio-visual powerhouse of performances by Bradly Cooper as Leonard Bernstein and Carey Mulligan as Felicia Montealegre Cohn designed to show you exactly who these two people were, who they were to each other, and what effect their confluence had on themselves.
Maestro can be a bit jarring at first if you expect a neatly delivered plot with its clear time jumps and evident demonstrations of who the characters are to one another. When the audience is first introduced to Lenny, it's abundantly clear that he thinks of himself as a complicated creature. In the movie's singular and painfully obvious expository conversation early on between Bernstein and Montealegre, he fast-talks Felicia into understanding that he finds himself burdened by too many titles and the expectations they carry. She doesn't really buy that life needs to be that complicated. Why can't he just be Lenny? Does he need to be torn between so many versions of himself?
Bernstein is, after all, an outwardly complicated figure. He wrote symphonies and Broadway musicals alike, all while teaching classes and conducting around the world. Most people only ever strive for one or another success, let alone succeed at all of them. Bernstein's sexuality is also less than straightforward, especially for his time. The movie opens the film on a gorgeously framed and lit shot of him waking up next to another man and spending the majority of its runtime exploring his relationships with multiple men at the same time as Felicia. But, with the benefit of hindsight and modernity, Bernstein is also the living definition of "it's not that deep." It's a fascinating push and pull between empathizing with one character or the other in any given moment, with no clear winner, because, like in any good relationship, neither is purely right or wrong all of the time.
Audiences who let go of the quest to find Maestro's plotline and hone in on the relationship between its main characters will quickly find themselves living graciously in the film's dual reality of complicated figures who aren't as complicated as they think themselves to be. The editing is the movie's biggest asset in this regard. It's some of the best of the year, using all kinds of camera tricks and flashy transitions to move the plot forward at a breakneck pace in the first half of the movie. This almost slapdash editing beguiles the plot a bit, which is confusing initially but allows the plot to become secondary to the characters quickly.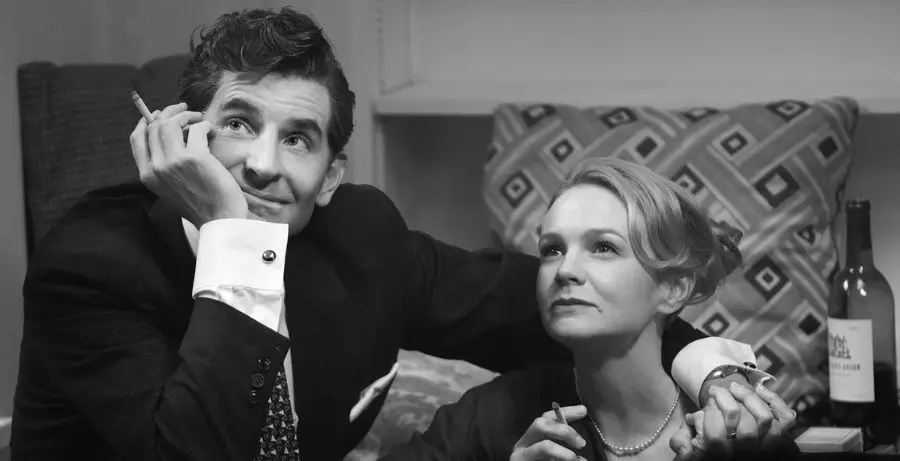 Everything about Maestro is perfectly exemplified by its sudden midway dance number. You get a complete sense of Lenny and Felicia's personalities, and yet nothing about the plot is actually moving forward. Nevertheless, with help from where the camera is or isn't trained at any given point, you learn everything you need to know about who they are to each other and what parts of them stand in their own ways. And then, it suddenly ends with a rapid, creative transition, and you're left only to wonder what it all meant as the rest of the movie exemplifies these same traits again and again.
Cooper and Mulligan are both excellent in their roles. Mulligan plays Montealegre with two warring sides: that of the sophisticated, loyal wife who understands exactly who Lenny is the moment they fall in love and never wavers from her commitment to him anyway and the woman whose entire life and career has been upended by the selfishness of a man who can only think of himself and whose every moment believes the universe revolves around him. Her quiet moments and her explosive ones are equally powerful. In a movie where it would be quite easy to lose track of how she feels about Bernstein and why she tolerates his every transgression, Mulligan makes sure you always understand exactly how she feels about him.
Especially because Maestro takes place over several decades, Cooper, meanwhile, is not only physically unrecognizable thanks to incredible makeup and prosthetic work (ignoring entirely the moral quandary of whether non-Jewish actors should enlarge their noses to play Jewish characters), but he's also so lost in Bernstein's every mannerism, accent, and movement that you'd be forgiven if you thought it was simply Leanord Bernstein come to life. His swings from absolutely jovial to completely devastated are impressive. But nothing is more incredible than the full conducting scene he gets to perform late in the movie.
It's beautiful to listen to, but watching Cooper conduct the orchestra in this scene is nothing short of magical. When the piece ended, I was moved completely to tears by the passion he imbues in the performance alone, let alone the emotion of the moment it arrives in the film itself. It was one of the best performances of the year with few, if any, equals.
Maestro is an immaculate portrayal of two immensely complicated figures. By deeming the plot of the movie secondary to the evolution of their relationship, we're treated to one of the most nuanced explorations of power, parity, and autonomy in a non-heterosexual relationship. Who gets to choose how they want to live and love within a complicated relationship is rarely explored so delicately and passionately. Come to Maestro for the indelible performances and use of music, stay for the masterclass in editing and the unknowable power of love and attraction.
Maestro is playing in select theaters November 22nd and streaming on Netflix December 20th.
Masetro
TL;DR
Maestro is an immaculate portrayal of two immensely complicated figures. By deeming the plot of the movie secondary to the evolution of their relationship, we're treated to one of the most nuanced explorations of power, parity, and autonomy in a non-heterosexual relationship.