It's a Wonderful Knife is the latest addition to the trend of twisted slasher reimaginings of beloved classics. Director Tyler MacIntyre puts a blood-soaked spin on Frank Capra's heartwarming Christmas classic It's a Wonderful Life in this horror comedy mystery. Michael Kennedy wrote the film, which stars Jane Widdop as Winnie Carruthers, Jess McLeod as Bernie Simon, Justin Long as Henry Waters, and Joel McHale as David Carruthers.
In It's a Wonderful Knife, Winnie's life is less than wonderful one year after saving her town from a psychotic killer on Christmas Eve. Her life takes a bleak turn following Winnie's victory over the killer. Traumatized and bereaved, she wishes she had never existed, only to find herself in an alternate reality where her absence leads to a far more sinister outcome. The town is under the mayor's gruesome control, and nobody, not even her own family and friends, recognizes her.
It's a Wonderful Knife draws upon the foundation of the holiday classic but takes a bold dive into considerably darker territory than its source material. The concept of infusing a horror twist into a beloved Christmas classic like It's a Wonderful Life initially intrigued me. I was genuinely curious about the transformation of a heartwarming Frank Capra tale into a dark, slasher-themed narrative. Surprisingly, this film retains traces of the holiday charm, intermingled with a playful, campy quality, even amid the backdrop of its grisly and intense moments.
For example, the juxtaposition of holiday cheer and slasher horror is evident in the scene where Winnie finds herself in a seemingly idyllic, festive setting—decked with twinkling lights and merriment. However, this atmosphere quickly takes a chilling turn as a suspenseful sequence unfolds, where the cheerful set transforms into a deadly encounter with the sinister killer, creating a stark contrast between the expected merriment of Christmas and the presence of horror.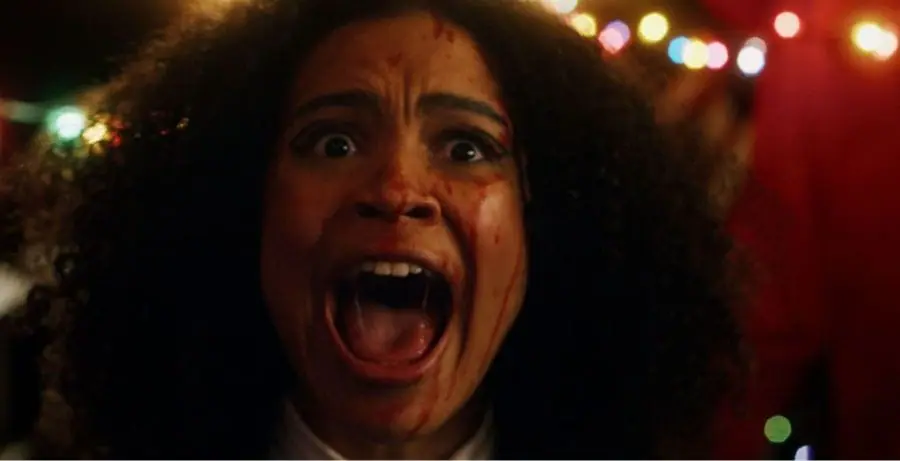 Performance-wise, Joel McHale and Justin Long are entertaining in their respective roles. Long's portrayal of the devious mayor is particularly noteworthy, as he crafts a compellingly repugnant yet hilarious character. He embodies the movie's darker essences of the film while simultaneously embracing its cheesy, Hallmark-esque Christmas movie vibe. While Long's character serves as the antagonist, he catalyzes Winnie's journey of self-discovery and understanding her value. Bernie, an outcast, becomes Winnie's ally in this alternate reality, showcasing an endearing, quirky charm. Their attempt to undo the wish reveals layers to their characters and the story.
While character depth and development might not be the primary focus in this holiday horror romp, it's clear that the film leans more on spirited adventure rather than intricate character arcs. However, amidst this, protagonists Winnie and Bernie emerge as the emotional anchors, playing pivotal roles in the narrative's progression. Particularly noteworthy was the gradual unfolding of depth in Bernie's character throughout the film, pleasantly surprising and contributing significantly to the story's overarching message.
It's a Wonderful Knife may appeal to certain fans of Christmas and slasher films looking for something different yet reminiscent of the holiday season. However, it might not satisfy people who are big fans of horror movies. The film strives to merge satire with some of the whimsical, feel-good essence of a Hallmark Christmas movie with the intensity of a slasher flick—however, the film challenges balancing these contrasting tones at some points. The desire to maintain a campy, holiday-spirited atmosphere perhaps overshadows the depth of the horror genre.
As the film parades from one murder to another, it focuses on delivering a unique amalgamation of holiday cheer and gruesome killings. It works for the most part but, at times, underplays the raw, terrifying essences typically associated with the slasher genre. Overall, it is a moderately enjoyable holiday horror story. I can't say I would pay to see it in theaters, but definitely stream it at home to mix up the usual holiday film lineup.
In its fusion of a Hallmark Christmas movie and B movie slasher, It's a Wonderful Knife offers a uniquely enjoyable ride once you embrace its unconventional style. This is not your typical feel-good holiday film; it's dark humor that acknowledges the varied emotional experiences of the festive period. With its unconventional approach, this film might not fit the traditional 'Christmas spirit' mold, but it is an interesting addition to holiday cinema.
It's a Wonderful Knife is now in theaters.
It's a Wonderful Knife
TL;DR
In its fusion of a Hallmark Christmas movie and B movie slasher, It's a Wonderful Knife offers a uniquely enjoyable ride once you embrace its unconventional style.