Christmas is the time of year for family, presents, and most of all, making our wishes come true. But sometimes, Christmas opens up a whole can of worms. It's a stressful time of year and, with all the pressures of life and responsibilities mounting up, one is sure to crack. But what if you had a genie to help make your every wish come true? And what if in the process, you learned what you were really missing? Well, that's what Melissa McCarthy's latest acting venture entails in the holiday fairytale comedy, Genie.
From director Sam Boyd and award-winning screenwriter Richard Curtis, Genie follows the down-on-his-luck Bernard (Paapa Essiedu). Everything in his life is falling apart: his family is on the verge of splintering, his boss just fired him, and he is incredibly unhappy. Left alone just a few weeks before Christmas, he starts cleaning up his place, inadvertently dusting a gaudy-looking jewelry box in the process. This, of course, sets the titular genie free.
Bernard meets Flora (Melissa McCarthy), who quite literally is older than the coming of Christ. Things get off awkwardly. There is a little song and dance surrounding Flora actually being a genie, which is par for the course of a film like this. But ultimately, Flora offers to help him try to win back his family again. Armed with an unlimited series of wishes, Bernard goes through a trial and error period to win back his wife Julie (Denée Benton) and his daughter Eve (Jordyn McIntosh) and, in the process, learns with Flora how powerful a friendship can be and – ultimately – love.
As far as holiday movies go, Genie is operating with a mixed bag of holiday tricks. Part of this is in the humor. The jokes, whether improved or scripted, don't always work, and that is likely due to McCarthy's particular style of delivery at times. The humor, in particular, seems more focused on an older audience which, depending on a person's preference, may not land.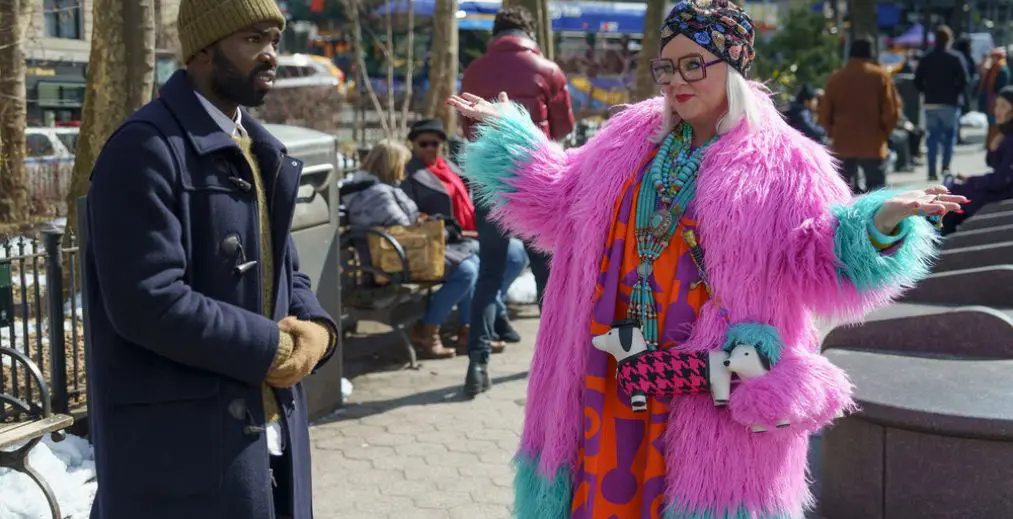 That said, the entire cast of Genie works hard to deliver the best of what they're given, even if most of it greatly underserves them. Paapa Essiedu as Bernard is perfectly adorable and sad. You can't help but want to reach through the screen to try to cheer him up. As the straight man to McCarthy's physical comedy shenanigans, he works well and, by the end of Genie, you root for his character to finally get his happy ending.
While McCarthy's delivery doesn't always stick, her physical comedy is still unmatched. Whether it's washing her hair in the toilet, donning the most ridiculous of outfits, or screaming loudly into a microphone, she never fails to go the extra mile physically and, as always, it serves her well here. That said, there are lots of performance-related ups and downs with her Flora, and it makes it a little tricky to pick up what she's putting down in Genie.
With Essiedu and McCarthy pulling the main focus on their characters, the ensemble cast seems dully written in comparison. With familiar faces like Luis Guzmán and Alan Cumming, you'd expect roles with a bit more for them to chew on and, unfortunately, despite everything those two give, there's just not enough to make them truly resonate. The same can be said for Bernard's wife and daughter. Since so much focus is paid to the very important friendship growing between Bernard and Flora, you barely get to know Julie and Eve. Considering how Bernard is trying desperately to keep his family together, you'd expect to know just a little bit more about said family.
At the heart and soul of Genie, the purpose of the story is to rediscover love and the power that friendship brings. When you have no one to support you when life has you in the dumps, it's easy to despair. But, with a friend by your side, you can conquer any obstacle. So, in terms of messages to take away, Genie has a good one. The journey to get there though is a bit jumbled.
Genie may boast unlimited wishes, but the reality is that it underserves itself by failing to flesh out its characters and balance out the comedy it unleashes onto audiences this holiday season. Is it still entertaining? Yes, especially with dynamic Paapa Essiedu builds with Melissa McCarthy onscreen. That said, it's not the strongest Christmas movie out there and will be entirely up to viewers' preferences if they like the humor or not.
Genie will be available for streaming exclusively on Peacock on November 22, 2023.
Genie
TL; DR
Genie may boast unlimited wishes, but the reality is that it underserves itself by failing to flesh out its characters and balance out the comedy it unleashes onto audiences this holiday season.