The holiday season can be a time of reflection. Looking over everything that's been accomplished throughout the year, you can't help but celebrate and express it openly. But this can bring out cynicism and envy in onlookers who covet more from their lives than what they have. This is the general premise of Netflix's latest holiday addition to their Holiday Netflixverse, Best. Christmas. Ever! While it's not the best Christmas movie ever, it does carry an important lesson that sometimes we need to hear.
Directed by Mary Lambert and written by Charles Shy and Todd Gallicano, Best. Christmas. Ever! focuses on two friends, Jackie Jennings (Brandy Norwood) and Charlotte Sanders (Heather Graham). Every holiday season, Jackie sends out an elaborate family newsletter detailing everything the family has accomplished in the year. Because her life is so over-the-top and sensational, this has fostered a deep-seated resentment and envy within her former friend, Charlotte. Jackie's life, in Charlotte's mind, is too good to be true. Her life can't be THAT perfect. This fixation on Jackie's perfect life provides a distraction, albeit a negative one, from how Charlotte has forced herself to settle and dismiss her dreams for what she considers less-than or unrealistic.
When an accidental twist of fate lands Charlotte and her family on Jackie's pristinely decorated doorstep, it gives the grumpy Gus an opportunity to try to unearth Jackie's darkest secrets. In the process, she will be forced to reckon with her insecurities and learn that sometimes not everything bright and good in the world is disingenuous. Sometimes leaning onto goodness provides hope and allows people to recapture the feeling of better times.
As far as Christmas films go, Best. Christmas. Ever! is pretty middle of the road. The story's focus inevitably turns into a "learning the error of my ways" kind of plotline between Jackie and Charlotte, with Charlotte having a come to Jesus moment after a particularly embarrassing moment later on in the film. As such, the beats are predictable and not as charmingly tackled as one would hope.
Part of this is due to the awkward chemistry between our adult couples onscreen. Heather Graham's Charlotte is genuinely unhappy with her life and her husband, Rob (Jason Biggs), so that awkward chemistry can be explained away by the situation. The chemistry between Brandy Norwood's Jackie and her husband, Valentino (Matt Cedeño) reads off. It's as if the passion they feel for each other is forced, based on the tone of voice and body language exhibited by both actors. On the one hand, this helps build up the narrative surrounding Charlotte's suspicions about Jackie's perfect life. On the other hand, it makes it difficult to believe in their love.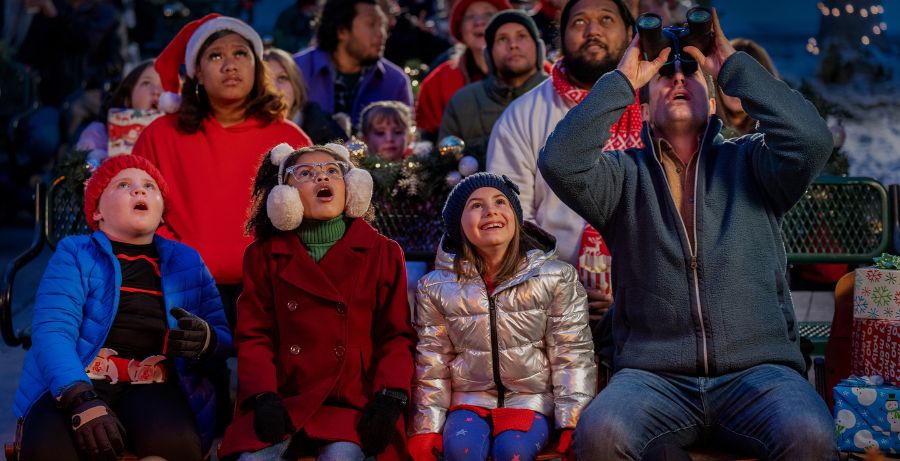 Regarding secondary storylines, the plot centering around the children fares a bit better. Mirroring a more innocent version of the friendship between Charlotte and Jackie, Grant (Wyatt Hunt) and Beatrix (Madison Skye Validum) are both in hot pursuit to prove whether or not Santa Claus is real. With Jackie's over-enthusiasm to go the extra mile for Christmas and Charlotte's more shrug-worthy explanation surrounding notifying the legendary holiday figure of their location, the two kids are eager to crack the case (which would inadvertently lead to their loss of childhood innocence). This particular storyline is adorable and the two children work well together.
How the storylines converge together towards the end is ultimately what pushes Best. Christmas. Ever! into steadier viewing territory. Charlotte's revelation opens up the door for the intersection of both, allowing the film to end on better footing. It also better sells the overarching theme that without hope, we can't move forward. Regardless of how small the inspiration is, if you are able to find hope, your perspective will shift and change for the better.
What paints the Christmas holiday picture is all the effort put into the setting as well as decoration. Production designer Diane Millett spared no expense in decoration, particularly with the Jennings' expansive and elaborate home. Christmas is dialed up to the nth degree and immediately get that sense when Charlotte and the family enter the home. But, much like Jackie's style, everything is tastefully done to reflect personal taste.
Capping everything off is the couple of songs Brandy gets to sing in Best. Christmas. Ever! As a Brandy fan, honestly, if you just wanted an excuse to watch her sing Christmas songs, pop on Best. Christmas. Ever! and watch her effortlessly sing "Let it Snow" and "Santa Claus is Coming to Town." Even if you're not vibing with what the film is putting down, listening to Brandy sing makes everything worth it.
As a holiday film, is the Best. Christmas. Ever! the best Christmas movie ever? It's okay. The dynamic between the adults is a little off at times, which might not necessarily be everyone's cup of tea. The story lends itself better to an older audience despite its secondary child-focused plot. This makes it a little bit of a harder sell for a family-viewing affair. But, its message is an important one and one that will resonate with many, even if the delivery takes a while to fall into place.
Best. Christmas. Ever! is now playing on Netflix.
Best. Christmas. Ever!
TL;DR
As a holiday film, is the Best. Christmas. Ever! the best Christmas movie ever? It's okay.