Colin From Accounts is an Australian comedy romance series. The Binge original series is created by Patrick Brammall and Harriet Dyer, who also serve as the show's stars, but Emma Harvie, Helen Thomson, Genevieve Hegney, and Michael Logo also feature. Two strangers are brought together by a badly injured dog, quickly forcing them to be involved in each other's lives.
The show's premise happens quickly, setting up the crucial plot device and the two main characters within a few moments. A distraction from Ashley (Dyer) causes Gordon (Brammall) to run over a dog, who will later be named Colin. With Colin now disabled and feeling guilty, Ashley and Gordon share ownership of the dog. The show establishes uncomfortable and deeply awkward situations, with arguments and rapid-fire dialogue seeking to get the madness out of an ordinary world. This first season takes place over a very short period, perhaps less than a couple of weeks, and it is largely the formation of a relationship.
The episodes are short, but the scenes are long, with those aforementioned scenes often being extended to drag out the cringe-inducing moments. The dialogue is rapid, which can lead to some outrageous comments that are too honest or not well thought out. The gags often don't have a punchline, and the humor comes from how ridiculous and infectious the characters are. But the odd pacing can be a stumbling block. The show can get noisy and intense as arguments increase. The series' conflict stems from the age gap between the love interests and the different worlds they live in that have faced massive upheaval due to each other and this dog.
But what is also striking about Colin From Accounts is how sweet it is. It's more than a comedy. It's the start of a romance. It can't quite be called a love story because Gordon and Ashley have just met and barely know each other yet. The first few episodes are full of weird sexual moments, not based on attraction but more mistakes and uncomfortable situations, with the rest dealing with the fallout and figuring out what they are. There are some moments of tenderness, confusion, and outright pain. As some storylines play out, they can become somber and dark, but that is all balanced with a beautiful silliness to the attitudes.
The characters and the performances in Colin From Accounts are spectacular. At its core is the chemistry between the creators, co-stars, and real-life couple. They are both brilliant at babbling and building off of one another. No character excels on their own, so there is a reliance on the whole cast to move the story and generate humor. No joke causes side-splitting laughter, but the dialogue is still extremely funny. It's crude and shocking, throwing out some unexpected lines.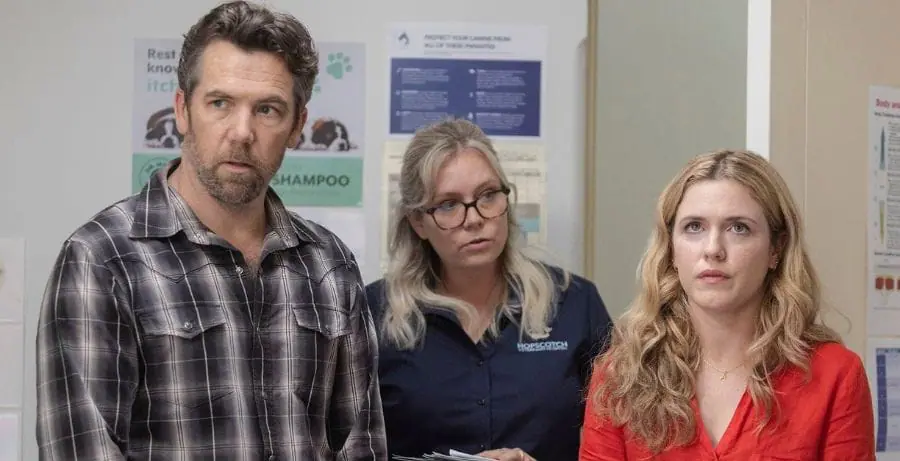 The gap between generations is one of the key elements of where the gags and the unease stem from, but it isn't sneery and patronizing. Gordon, an older brewer in his late 40's, struggles to resonate and understand Ashley's ambitions due to being at different life stages. She's a medical student, under 30, and has a social life, which Gordon doesn't have. Those differences aren't as noticeable during the panic and chaos in the opening episode. The dialogue in those first episodes is energetic and hysterical. It points to the extremities of the situation being exposed, and characters that have nothing in common get forced to interact. When that settles, the show can get dull in the second half of the season.
The cast of the show is relatively small, like residents of a sitcom, and so they have to be strong to fill the space. This is done well by some terrific personalities within both Gordon and Ashley's supporting cast. For Gordon, it is his colleagues at his micro-brewery, of which Michael Logo has the best delivery of the whole cast. Then Ashley has her younger friends and her controlling, passive-aggressive mother. Many of these characters are sarcastic, witty, and have a cutting honesty. Throughout the season, everyone makes comments that can be harsh, raising questions about whether they are good people. At the heart of the show is the adorable Colin, a dog that manages to combine two communities.
The set designs and production of the show reflect a limited but ambitious budget. The locations are small, and the characters spend all of their time in those locations. There is Gordon's home and the two workplaces of the protagonists, a hospital and a brewery, and that's it. There are a couple more brief sets, including one where a whole episode is set within it, but it is those three that become the crux of the series. If there is a social event, it takes place in the brewery. While this could be suggested to be a lack of creativity or money to handle these situations elsewhere, it fuels the tension. When moments of awkwardness happen in the brewery, there are so many people there, and Gordon's reputation is left on the line.
Colin From Accounts generates warmth out of awkward strangers. Not every joke works, but there are so many of them that it doesn't matter. The characters are fresh, and the storylines are specific to them. They are ridiculous and expressive enough to make normal circumstances chaotic. Focusing on a small cast improves those characters, and the performances are built on chemistry and relationships. Those awkward situations are often uncomfortable to sit through, however. The honest Australian humor and the heart of a growing romance are the true power of the show, and that sweetness makes it an enjoyable show to absorb. While the characters aren't always good people, that certainly makes them humans.
Colin From Accounts is available on Paramount Plus in the US on Binge in Australia and BBC iPlayer in the UK.
Colin From Accounts
TL;DR
Colin From Accounts generates warmth out of awkward strangers. Not every joke works, but there are so many of them that it doesn't matter.