We're around the halfway mark here with Strong Girl Nam-soon. Things have been going strong but, with the arrival of Strong Girl Nam-soon Episodes 7-8, we've hit a patch of filler that derails the overall plot more than not, though we do get some more insight into how the women in Nam-soon's family operate. We also get more insight and focus on Ryu Shi-O (Byeon Woo-seok), but the character is still lacking any sort of depth. This far into the series, there should be a little something more to work with.
Episode 7 starts off where we left off the last episode with the cliffhanger. Nam-soon (Lee Yoo-Mi) looks like she's been attacked by Lee Hwa-ja (Choi Hee-jin) but, as Nam-soon's plot armor would have it, Hwa-ja hesitates to complete the act. Defensively Nam-soon pushes the young criminal away, breaking her bones before Lieutenant Gang Hee-sik (Ong Seong-wu) can arrest her. While this feels like the wrap-up of Hwa-ja's plotline, I think she'll likely be back given the continued involvement of her character.
Meanwhile, Shi-O and Hwang Geum-joo (Kim Jung-eun) are at The Heritage Club laying all their cards on the table—literally and figuratively. Playing a game of cards, they share their motivations with one another. For Shi-O, he desires strength and power above all else, hinting that perhaps he's been put in a place where he was once powerless. For Geum-joo, she wants to be the primary financier of Doogo, which rattles Shi-O after she beats him at cards. Geum-joo desires to make the world a better place. Knowing that Doogo is financed by dirty money, it's a natural decision for her to make.
Thankfully, Shi-O has Nam-soon as a distraction. Having learned she has been stealing from him, he summons her to his office. Nam-soon, in typical fashion, is straightforward and blunt and takes ownership of what she's done. Shi-O, already enamored with the young woman, asks to exchange numbers and take her out to dinner. However, this is a one-sided crush. Nam-soon's motivation is to find more information to help Hee-sik out. My guess? Shi-O is going to be woefully disappointed by Nam-soon's lack of feelings for him towards the end of the season.
In Strong Girl Nam-soon Episode 7, more focus is placed on Gang Bong-Go (Lee Seung-Joon). Whether it's a more heartfelt moment between him and Nam-soon at a local theme park or witnessing the sheer cruelty of the entire family teasing him mercilessly with the worst practical joke ever for his birthday, we get to see a little more from Bong-go. Here is a man who has been left crippled by a mistake he made so many years ago, and now he's reunited with his little girl.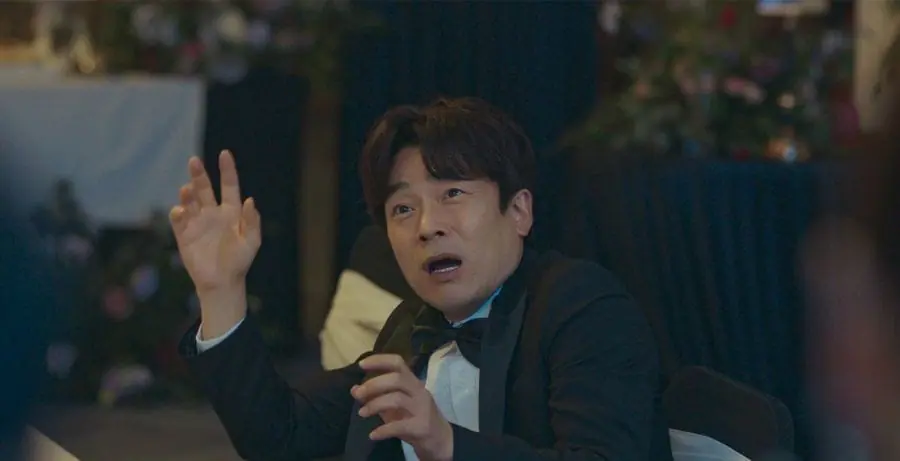 The focus on him also expands a bit to Seo Jun-hee (Jung Bo-suk) and Hee-sik in relation to how these strong women handle relationships. Much awkward humor is emphasized surrounding the pressure Hee-sik is facing to date and impregnate Nam-soon. She has a matrilineal line to carry onward, after all. But the men undergo a strange test of sorts, entirely devised by Geum-joo who is painted as self-centered in her orchestrations of Bong-Go's birthday, to see whether or not they are suitable partners to their respective romantic interests.
Either way, the bond between Nam-soon and Hee-sik is naturally building. It helps that the chemistry between actors Lee Yoo-mi and Ong Seong-wu flows well, with their natural comedic timing landing every time. As far as onscreen partners go, these two are very convincing. When the two eventually solidify their love, it'll be well-earned.
Strong Girl Nam-soon Episode 7 ends with Shi-O wanting Nam-soon to join his inner circle. That is after she deals with a series of tests of unknown origin. Given his obsession with her strength, these tests can only be focused on that. Up in the air, though, are several plot points. The rapid pace at which Jun-hee and Seo Jun-hee (Jung Bo-suk) are falling in love is one. Nam-soon's brother and his sudden lack of appetite upon taking a mysterious pill is another. The episode bounces around so much that the multiple plot points do distract here.
However, in Strong Girl Nam-soon Episode 8, the episode primarily focuses on Nam-soon's integration into Shi-O's inner circle and Geum-joo zeroing in further on the ridiculously cringy financial guru, Bread Song (Kim Ki-Bum). With these two storylines providing a more clear focus in this episode, it does help to try to make things less chaotic overall.
In what amounts to a terrifying moment for our strong women matrilineal line, Nam-soon undergoes a series of strenuous lifting tests. With actor Lee Yoo-mi's thin frame up against this arduous test and the shocked looks from her mother and grandmother when their powers all activate in response, it seems like Nam-soon may finally meet her match. With one last boost (and subsequent plot armor), she manages to defeat Shi-O's tests of strength. With the moment of peril now past, both Geum-joo and Jun-hee move on with their respective lives.
In Geum-joo's case, she's deep in trying to figure out who the infuriating Bread Song is. It is a testament to actor Kim Ki-Bum's acting that I can't stand the character. He's so over-the-top and cheesy that you can't help but physically cringe. This is where me and Geum-joo are on the same wavelength as there is a level of fakeness he possesses., but his influence is far-reaching. As Geum-joo discovers in this episode, Bread Song may also be heavily connected with Doogo and the financial pursestrings behind its finances.
A side note, there is a funny play on words done in a scene here surrounding the word Bread with the English name Brad. There are similarities between names and meanings in both Korean and Mandarin, so this particular joke getting brought up in Episode 8 made me chuckle. If you know, you know. If you don't, the joke may go over your head.
Bread Song begrudgingly shows interest in the not-so-subtle stalker-y shenanigans of Geum-joo when it is revealed how wealthy the CEO is. The two will likely cross paths again in the future, especially because both have something the other wants. However, what shouldn't be ignored in Strong Girl Nam-soon Episode 8 is how grossly wealthy Geum-joo is. In a bit of storytelling from Jun-hee, we learn how savvy Geum-joo has been in making business decisions. In the grand scheme of things, with how much the series has lambasted corruption and capitalism, is Geum-joo's manipulation and acquisition of assets part of the problem the series is trying to point out? Time will tell.
In the meantime, her daughter Nam-soon is up to her own scheming. Subtlety is not a family trait, and Nam-soon lacks subtlety in spades. Having teamed up with Hee-sik after Shi-O takes her under his wing, she waves around her secret watch recording everything she can. How she didn't get caught by anyone in these moments is beyond me. There is plot armor and then there's plot fortressing. In this instance, while Nam-soon is gathering information for Hee-sik and his team to use, she's protected by a plot fortress that borders on the ridiculous.
That said, Nam-soon's antics charm Shi-O. Everyone else around Shi-O? Not so much. And as deaths continue to rise and no real evidence has been clearly found, Hee-sik and Nam-soon are running out of chances to find something concrete. A new wrench that is likely to work against them in the future? Hee-sik's now-addicted and dependent superior officer. This development in Episode 8 will likely pay off in future episodes and may undermine any progress Hee-sik makes.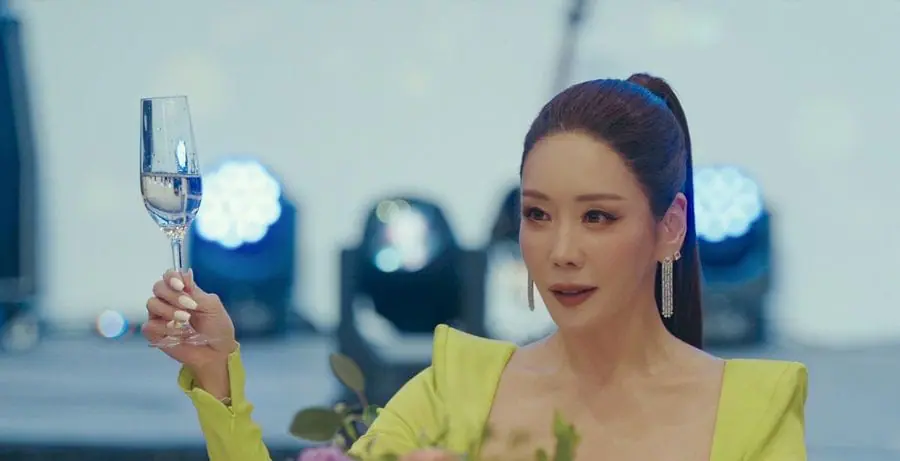 Strong Girl Nam-soon Episodes 7-8 thrive on the humor delivered by its cast. In some ways, that makes the constant bouncing around between side plots more tolerable. That doesn't absolve the team from focusing on too many things at once as we enter into the natural lull that the middle of a season brings. It's not good to slow down the momentum, and with so many distracting moments to focus on, the pacing does slow down enough to be noticeable and off-kilter.
We do have some set-ups for things leading into the upcoming episodes of Nam-soon. There will be more focus on Bread Song and how he has managed to become connected to every financial pile out there. Shi-O, having noticed Hee-sik's presence around his obsession, seems primed to find a way to take him out. And there's the sad development of Nam-soon's brother, Nam-in (Han Sang-jo), and him starting this sus weight loss regime. Seemingly starving himself through the effects of this drug, what short and long-term ramifications will be revealed in future episodes will be fascinating to watch unfold.
Strong Girl Nam-soon Episodes 7-8 are the weakest episodes of the bunch. With too many plot points competing for supremacy, it has the effect of losing focus away from the plotlines that should take precedence. As we start to transition into the second half of the season, adding more stories into the mix can only weaken the overall impact, not strengthen it. May the upcoming episodes level things back out.
Strong Girl Nam-soon Episodes 1-8 are now available on Netflix, with new episodes airing on Saturdays and Sundays.
Strong Girl Nam-soon Episodes 7-8
TL;DR
Strong Girl Nam-soon Episodes 7-8 are the weakest episodes of the bunch. With too many plot points competing for supremacy, it has the effect of losing focus away from the plotlines that should take precedence.