To love is to embrace mystery. It's an act so intrinsically tied to blind faith— in trusting that our feelings for our partners will endure despite tedium and disaccord—that its ambiguity becomes its power. But what if there was a definitive test that could do away with these worries and insecurities by determining that two people were undeniably in love with each other? Would it mean we could finally be at ease in the relationship we've already fostered or continue to build upon its foundation, refusing to take it for granted? This duality lies at the core of Christos Nikou's Fingernails, a soft sci-fi examination of love's greatest enigmas.
Set in a near-future world where love can be measured and computed, Fingernails explores how absolute certainty in romance goes against its very premise—after all, if love is quantifiable, can it still be labeled as such? It's a thought-provoking question in the film that, unfortunately, doesn't give it its due. Instead, it examines it through an overly familiar love triangle that, despite the three strong performances anchoring it, leaves much to be desired in both mind and heart. As a result, Fingernails scratches at an immense philosophical itch but fails to satisfy it. Nikou gives audiences much to chew on during its 112-minute runtime, but not enough reasons to digest it.
Fingernails is set at a love institute that offers couples a biological test that determines if their love is genuine. The test's irrefutable science causes divorce rates to plummet but it also nips many nascent romances in the bud. What further complicates matters is a 50% result, where only one member of the couple is in love, but the test can't specify which. To help couples prepare for the test, the institute offers classes taught by various instructors who guide them through a series of Pavlovian tests, which range from French karaoke to underwater diving to watching a movie in a burning movie theatre.
Anna (Jessie Buckley) is a new instructor at the institute, whose keen interest in the dynamics of romantic relationships draws her there. However, any new insights will be of little help on a personal level, as she and her boyfriend Ryan (Jeremy Allen White) tested positive for "love" a few years ago. Yet, it's immediately obvious the two are caught in a lull, as their relationship continues to become a victim of routine. Ryan is the epitome of dull, content for things to stay the way they are, with the positive result being the only thing he needs to feel secure in the relationship. Anna, on the other hand, wants to strengthen their connection through spontaneity, whether it be in the form of pottery classes or modified love institute experiments, but to little avail.
Anna finds that connection in Amir (Riz Ahmed), her mentor, who is one of the most successful instructors at the institute, devising some of the most unconventional and head-scratching experiments. He's everything Ryan isn't and begins to fill in the emotional holes of her life, calling not only her love for Ryan into question but her understanding of the emotion itself.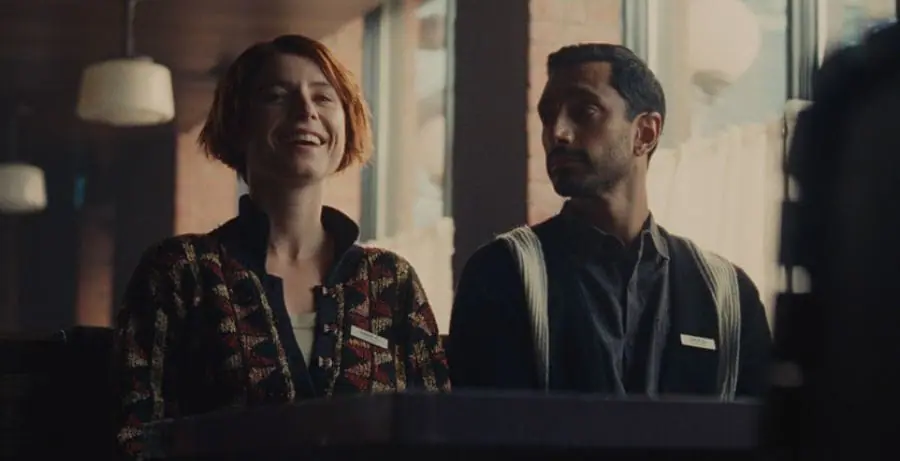 Fingernails tap into the loneliness that permeates modern existence, which is more connected than ever but just as lonely. It offers a reserved, eccentric take on the uncertainties that have come to define romance, questioning whether love is a feeling that needs to be certified or something to be believed in, regardless of its emotional hazards.
Yet, the trajectory Nikou and co-screenwriters Sam Steiner and Stavros Raptis take is painfully straightforward. At every turn, Fingernails rejects a deeper look at the source of its characters' motivations, traumas, and lingering grief. Ryan's complacency is made a trifle, while the developing connection between Anna and Amir feels too pedestrian and underdeveloped. The sum of their longing stares and awkward pauses amount to one of the dullest romances in recent memory, imbuing the sci-fi trimmings with a stale undercurrent. The paper-thin characterizations only serve to waste the trio of nuanced performances, which convey so much with so little. Buckley and Ahmed perfect a subtle, glazed-over sadness in their expressions that hints they are just as lost and desperate as their clients, even if their dynamic itself is formulaic.
The melancholic nature of the testing and its wider implications make for the movie's most resonant moments. The process is rich with subtext, as clients must have the titular body part torn off, in effect sacrificing a part of themselves for a chance at "true love"—a gamble that ends more relationships than it saves. But in frustrating fashion, Fingernails's heady interrogation of these concepts abruptly stops there, neglecting to probe the pitfalls of a rare positive test, besides merely recognizing their existence through Ryan and Anna's thinly written dynamic.
Though for what the script lacks, Marcell Rév's sumptuously grainy cinematography makes up for it. Each frame is teeming with texture, with the autumnal colour palette beautifully complementing the quaint, atemporal production design. Nikou and company craft a retro-futurist experience that feels as timeless in location as the emotion it is tackling.
Yet, for all the feelings Fingernails conjures, one can't help but feel empty upon its end, which suggests the only remedy for heartbreak and to a larger extent, loneliness, is finding someone new on which to project their own ideals and dreams. It's a disappointing takeaway from a film that endeavors to holistically approach something so universal as love. What remains is an experience that is more obfuscating than it is illuminating.
Fingernails
TL;DR
For all the feelings Fingernails conjures, one can't help but feel empty upon its end, which suggests the only remedy for heartbreak and to a larger extent, loneliness, is finding someone new on which to project their own ideals and dreams.