Amazon Prime Video has uniquely embraced superheroes. Greenlighting projects like The Boys, its spin-off Gen V, and of course, Invincible, the platform has become the premiere stop for stories that deconstruct, laugh at, and expand on what it means to be a hero. This continues with Invincible Season 2. Based on the groundbreaking comic book by Robert Kirkman, Cory Walker, and Ryan Ottley, the second season of the adult animated series dives into deeper emotional depths. From showrunner Simon Racioppa, Invisible Season 2 is about the fallout of betrayal, grief, and the guilt that Omni-man left at the end of the first season.
Now a high school graduate, Mark Grayson (Steven Yeun) is just like every other guy his age, getting ready to go to college, lose his virginity, and start his adult life. Only he's the superhero named Invincible, and his father, Omni-man, was once humanity's only hope. The problem is that his powerful father, Nolan Grayson (JK Simmons), is now missing, having flown away from the planet after beating his son within an inch of his life and killing countless civilians and Earth's heroes known as the Guardians of the Globe.
The revelation that Nolan was a Voltrimite agent tasked with prepping the planet for subjugation has left a gaping hole in the culture of the world and his family. While we see pieces of superhero-specific dealings after Nolan's death, the real heart of Invincible Season 2 is Mark and his struggles to rebuild his life in the wake of his grief and guilt. At one point, he wanted to be his father, and now, he fears it. As the world has to deal with Nolan's betrayals its the impact on Mark and his mom Debbie (Sandra Oh) that hits the hardest.
On the superhero side of things, the Guardians of the Globe, now made up of Black Samson (Khary Payton), Robot (Zachary Quinto), Monster Girl (Grey Griffin), Dupli-Kate (Melise), Rex Splode (Jason Mantzoukas), and Shrinking Rae (Griffin) finds itself in need of more oversight, or rather Cecil Stedman (Walton Goggins) is aware that these twenty-somethings really aren't prepared to live against Omni-man if he returns. To cope with this, the group adds the newly rejuvenated Immortal to its ranks. Behaving more like accents to the main story, the Guardians of the Globe don't take the front seat of Invincible Season 2. Instead, it's easy to tell that they're story beats are setting up the second half of the season. With the Mauler Twins (Kevin Michael Richardson) coming into play and Allen the Alien (Seth Rogen) adding more context to the world beyond just what we see but expanding the lore.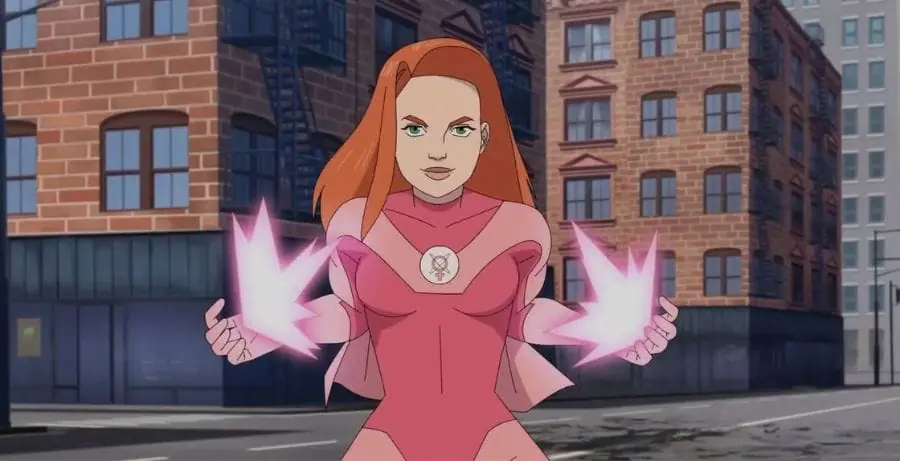 Outside of that though, Atom Eve (Gillian Jacobs) is the only other superhero in addition to Mark, who has ample exploration into who they are. At the end of Invincible Season 1, Eve was ready to stop being a superhero. But it wasn't because she didn't want to help people. It was because she was focused on using her creative powers to create buildings, parks, and create food to give to the hungry. She wanted to do more, and in Invincible Season 2, she does do more. But just because she can create some things doesn't mean that she should. The consequences of using her powers infinitely are directly confronted and Eve has to learn about the fallout of her choices. Saving people leads to harming others, even if unintentional. What do you do when you could be the most powerful superhero in order to defeat the world's problems but you just keep failing? You go back home.
At only four episodes in, Invincible Season 2 is shaping up to be a series that doesn't look to critique the superhero tropes we know but to dissect what lies beneath them and how these characters we are supposed to root for feel. Where The Boys highlights superheroes at their absolute worst, making everyone believe that they are good, Invincible shows heroes who are good at their core and trying to do something but also failing in empathetic ways and dealing with that failure.
Now, at 700 words into this Invincible Season 2 review, we're going to talk about its most important element: Mark. More specifically, the pit of grief and guilt that he and his mother are living in after Nolan's betrayal. Mark is trying his hardest to balance his need to erase his guilt by saving everyone that he can and also keep his relationships with his best friend William (Andrew Rannells) and girlfriend Amber (Zazie Beetz) as healthy as can be after lying to them. Every single corner that Mark turns reminds him of his father, and having survived a fight with him, he feels responsible for the large loss of life in the locations that they fault. The inability to save those in that moment is carried through every action he makes this season, hoping that he can overwrite his Viltrumite identity by showing that he is human first.
Mark has to handle an increasingly complicated relationship with his father, and he has to do it alone. His greatest fear shifts from losing his father to becoming him. Capturing Mark's complex emotional response to failing and having that failure result in death around him is a weight no kid should carry, but he has to. It's made worse when every superheroic interaction against a host of new threats reminds him that he is the son of a villain. But it's not just his own personal guilt, he also has to bear the weight of his father's sins officially with how Cecil, his mother, and others who knew the original Guardians of the Globe, view him.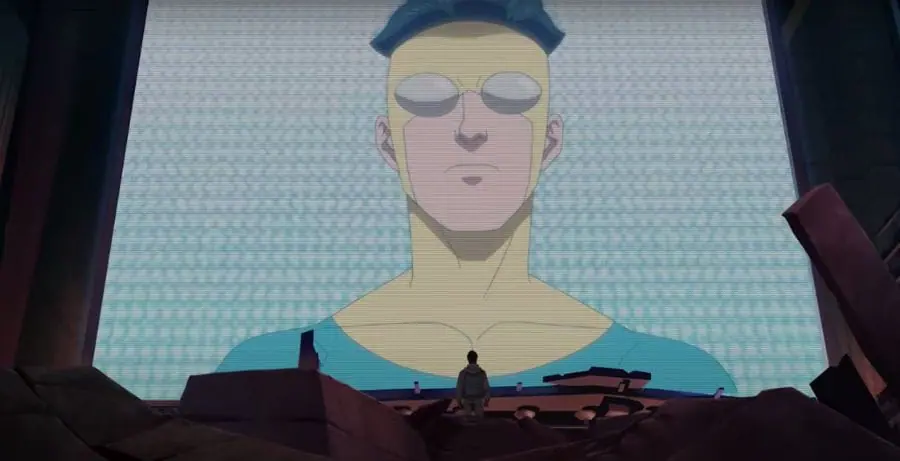 While Mark gets the grief spotlight in Invincible Season 2, so does his mother Debbie. For her, she's not sure how to process anything. She has to live knowing that she loved a man who only saw her as a pet. She has to try to connect to other spouses of superheroes but she knows that they weren't killed by an alien threat but rather her husband. How do you rectify love with the ill done by that person? And how do you not feel complicit?
The last episode of Invincible Season 2 Part 1 is astonishingly well-paced and deeply concerned with emotion instead of just action. Yes, Invincible Season 2 thrives in its action and dark humor, and even in its gore. All of those good edgy adult animation elements are in play but the true testament to Invincible's standing within the larger genre of super-powered stories is how it captures the failures of heroes and that their actions don't happen in a vacuum. They may fly off to fight, but they leave people behind them, and with that, complex emotional situations that they cause and learn from in the same moment.
At just four episodes so far, Invincible Season 4 doesn't feel like a hollow Part 1, as many of the split seasons a lot of shows we've seen do. Instead, the length of the episodes and the pacing are expertly crafted to ensure that the audience gets answers, sees the foundation for the full eight-episode season, and has a reason to come back without losing an impact along the way. Invincible Season 2 is stellar and heartfelt while showcasing how you can bridge edgy humor and bloody action with emotional storytelling at the same time. As we wait for the second half, one thing is clear: Invincible Season 2 knows what makes the genre a fruitful ground for exploring humanity.
Invincible Season 2 Part 1 is streaming now, exclusively on Prime Video, with new episodes coming from Amazon Studios in 2024.
Invincible Season 2 Part 1
TL;DR
Invincible Season 2 is stellar and heartfelt while showcasing how you can bridge edgy humor and bloody action with emotional storytelling at the same time.