It's October, and that means it's Huluween. One of the films that Hulu released is the sci-fi one-location thriller The Mill, where we see Joe (Lil Rel Howery) fight to escape an evil mega-corporation called Mallard after he wakes up in an open-air prison cell with a grist mill in front of him. Written by Jeffrey David Thomas and directed by Sean King O'Grady, this near-future horror thriller puts capitalism at its center and lets the camera roll.
We got the chance to talk with director Sean King O'Grady about the film, the choice to make everything real, and where the film takes place in the future.
---
BUT WHY THO: I watched The Mill, and it hit me really hard as an older millennial worker. My first question is, why this subject matter?
SEAN KING O'GRADY: I think it's something that I could relate to. I read the script, and I immediately knew it was something that I had to make. I read it, and I literally didn't sleep that night. I just spent the night plotting out how I was going to make [The Mill]. And the deeper I got into it—you know, it's funny because there's an irony, the fact that when you're making a movie, it's long days, you're shooting wherever you have to, you're away from everybody that you love. Inherently have to kind of become Joe, to tell the story of Joe.
That was kind of funny. You and a lot of people that I've talked to have said that they felt [hit by the story] even as extreme as Joe's circumstances are. I think it's something that just to survive in the world today that a lot of us can relate to.
BUT WHY THO: What I really appreciate about it is that the film takes place primarily one location—which is honestly my favorite type of film because it lets the actors build out this world. What is it like putting such an emotionally rich story on camera? A lot of things are tackled in the film, from solidarity to bringing change to the cycle of burnout, where if you go harder one day, you're going to be expected to go harder that next. How did you craft bringing that to life visually with The Mill and an open-air prison cell and make it real?
SEAN KING O'GRADY: It feels real because we made it all real. That set itself, those walls are 18 feet tall, it's 15,000 pounds. And then the mill itself was very heavily researched. A production designer was in Italy, looking at actual medieval grist mills. [The details] become extremely important across the board. I think the textures have to feel real, so we even used a real dirt ground. Everything felt real. And then the performance just has to be fantastic. What we did was set up all of these circumstances, and then we captured it like a documentary.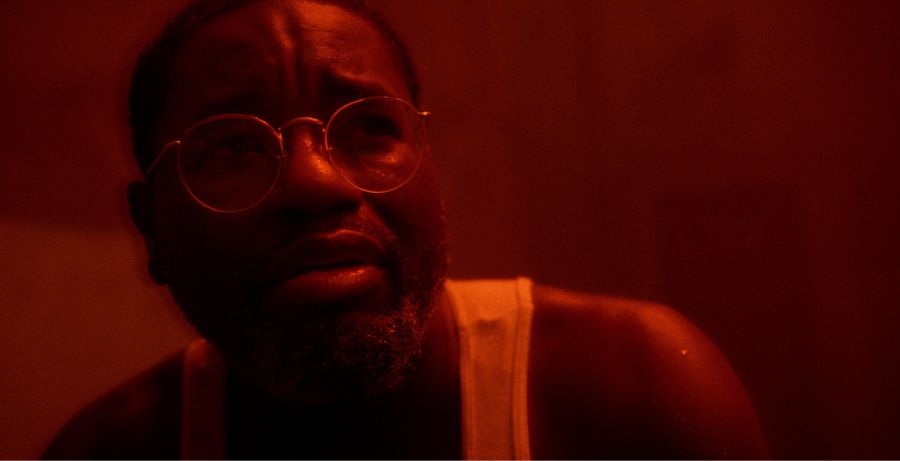 BUT WHY THO: It is a very tactile film. I feel like I'm there, which is jarring in all the right ways that you want a horror movie to be like. Can you talk a little bit about creating the scenes themselves from a lighting perspective? I thought this film really beautifully captured your lead actor. And a lot of the times when directors and cinematographers are working with Black of leads in a dark setting, sometimes they can get washed out. And that doesn't happen in The Mill at all.
SEAN KING O'GRADY: It starts with the script, where I think Jeff [David Thomas] did something really cool, which is that he made [the setting] an open-air prison cell, which allowed for really interesting lighting. And then, when Seamus [Tierney] our DP came on board, he had this idea that he was going to light the entire movie from above the cell. There wasn't going to be a single light on the ground.
All the light that you see, it's truly replicating sunlight or moonlight. You're really seeing what the human eye would see. Then we use the Sony Venice camera, which is super low light capable. And so we were able to capture all that detail. So even you know, when it's dark, we allow the movie to be appropriately dark. There's nothing I hate more than when it's supposed to be night, and you can see that the actor is lit. And yeah, while they're doing this light coming from that, there's not a light or lamp on the ground. I wanted to make sure that you never really felt the source of the light other than the moon in the sun. And it works really great. I'm really happy to hear you say that. That's a great observation. So thank you.
BUT WHY THO: I love it when films have that attention to detail and bring forth an actor's beauty in that way. One of the other things that I thought was really compelling about The Mill was the use of technology. There are near-future elements [in The Mill]. And these near-future sci-fi pieces, I think give it the right amount of distance from our current world. But connects it enough with the types of technology and how it's been pulled into our world. So can you talk a little bit about the visualization of Mallard through a projection on the wall, and how you all chose that path to showcase the technology?
SEAN KING O'GRADY: This is wild. I feel like you're in my brain when I was making it. I definitely felt like I wanted to put a specific date on it. I said, this is 15 years in the future because I feel like any time there's not a specific date in the future takes you to Jetsons. This is where it goes, and like you can't push it too far. But what's funny is we started prepping the movie in November 2022. That's when ChatGPT came out. And I think if we had started this movie in December 2022, I probably would have said it was ten years in the future instead.
What we really wanted to do and be careful about is to make sure that it felt like the technology was potentially realistic. While this is science fiction, I think it's more in the realm of speculative fiction if we're splitting hairs. Because I think that this is, I think, the technology to make this exact. What happens in this movie happen is real. And I think it could be used in this way if, you know, an unscrupulous mega-corporation decided that it wanted to use it in this way.
---