Gargoyles Remastered joins the ranks of Disney's Sega Genesis/Super Nintendo-era games to receive a remaster for modern consoles. Based on the mid-90s cartoon of the same name, Gargoylse Remastered is a side-scrolling platformer with all of the difficulty and jank of the era, only with a new coat of paint and upgraded musical score. For hardcore fans of the original, this remaster might be a welcome addition to their collection. But for modern gamers with no nostalgia for the property, Gargoyles Remastered is going to be a hard sell.
Platformers 25-30 years ago were brutally difficult. But companies like Disney could make great successes out of them on account of brand recognition and limited game libraries. Who wouldn't want to play through their favorite movies like The Lion King or Alladin at home, complete with an impressive soundtrack to boot? This isn't to say that games now or then are inherently better or worse, but if you failed most platformers in 1995 when Gargoyles was first released on Sega Genesis, your only recourse was to simply try again. There was no rewind function or savestates like most classic rereleases possess today (Gargoyles Remastered only makes use of a rewind feature). You couldn't go on the internet and look up speedrunning strategies. And the few other games you may have owned weren't necessarily any easier or structured much differently.
All that is to say, flipping on Gargoyles Remastered could engender two vastly different experiences depending on your tolerance and enthusiasm for the grit and discomfort of old platformers. If the rest of the genre makes you quickly frustrated, with inexplicable hitboxes and jumping controls that never seem to work the same way twice in a row displeasing you, go ahead and just skip this one. But if you're somebody who is willing to admire the outputs of the era Gargoyles Remastered at least has the potential to intrigue. Turning the game on knowing full well that abundant death awaits might make the repeated failure and quizzical combat almost endearing.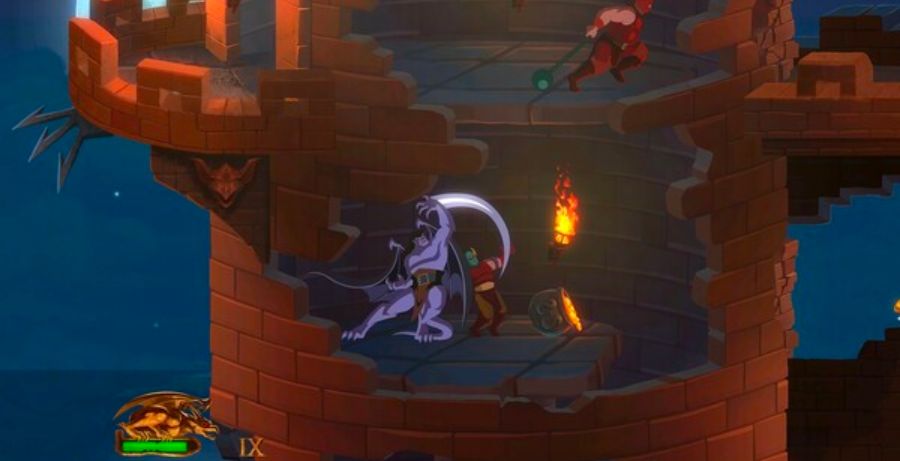 It's still not great, though. The enemies can be dispatched with an infinite spam of the attack button, sort of, because sometimes they manage to get one in on you and knock you into the abyss. Or sometimes you'll beat a boss without breaking a sweat. It's pretty hard to guess which one it'll be. Same with the platforming itself. You can double jump and clump walls in Gargoyles Remastered, but it doesn't always stick exactly right. When it does stick, it's at least fairly creative.
The remaster itself is certainly a marked visual and auditory improvement, seeing as the original 16-bit version is still in this game with the click of a bumper. The original is cool to look at as a novelty but once you play the updated version it's basically impossible to go back. However, the update doesn't look all that sharp either. It's a very low-quality 2D rendering with enough life to get you by but not enough to draw you in very far. Gargoyles, the animated series the game is based on, has a cult following, but the game does little visually to make you want to go back and check it out. The new title screens between the levels at least offer an estimation of the story as you progress, making up a little bit for the visuals and helping players totally unfamiliar with the show figure out what is going on.
Gargoyles Remastered isn't really worth the time unless you're a hardcore fan of old platformers or a veteran of the original game desiring to revisit a favorite. For the rest of us, it's not unplayable, but it's certainly tough to stomach with janky controls and poor combat altogether.
Gargoyles Remastered is available now on Nintendo Switch, Xbox One, Xbox Series X|S, PlayStation 4|5, and PC.
Gargoyles Remastered
TL;DR
Gargoyles Remastered isn't really worth the time unless you're a hardcore fan of old platformers or a veteran of the original game desiring to revisit a favorite.