Just like we had to wait over a decade to get a new James Cameron Avatar film, we are finally getting a new Avatar game over a decade after the first. Ubisoft and Massive Entertainment are hoping to surpass the aptly titled Avatar: The Game with the open-world action-adventure thrills of Avatar: Frontiers of Pandora. Though I was only able to play the game for slightly over two hours, it was enough to sell Frontiers of Pandora as the video game equivalent of Avatar: The Way of Water, a vastly superior experience to its predecessor.
You play as a Na'vi kidnapped and raised as a child soldier by the Resources Development Administration, or RDA. After the battle of the Hallelujah Mountains from the first Avatar films, you were set in emergency cryo sleep and wake up 15 years later—so around the time of the sequel film. Though free, you are essentially a stranger in your homeland, and must learn to be a Na'vi again, connecting with your heritage and culture. You also have to gain the trust of other Na'vi clans as you face the lingering threat of the RDA. Like everything Avatar-related, the story is rather simplistic. That's not a bug but a feature. The story is not the focus but rather a framing device that surrounds an immersive experience.
This begins with the exploration and the vast open world. Like Assassin's Creed Odyssey, there are two ways to navigate the game's world: Guided Mode and Exploration Mode. Guided Mode is your standard exploration mode, with a waypoint on your compass that highlights quests and points of interest. In Exploration Mode, however, you have to rely on your Journal and the description of the quest, as well as hints you gather on your own to know where you have to go. It can be daunting, given how massive Pandora is — even in the relatively small section of it we explore here—but it adds to the immersion.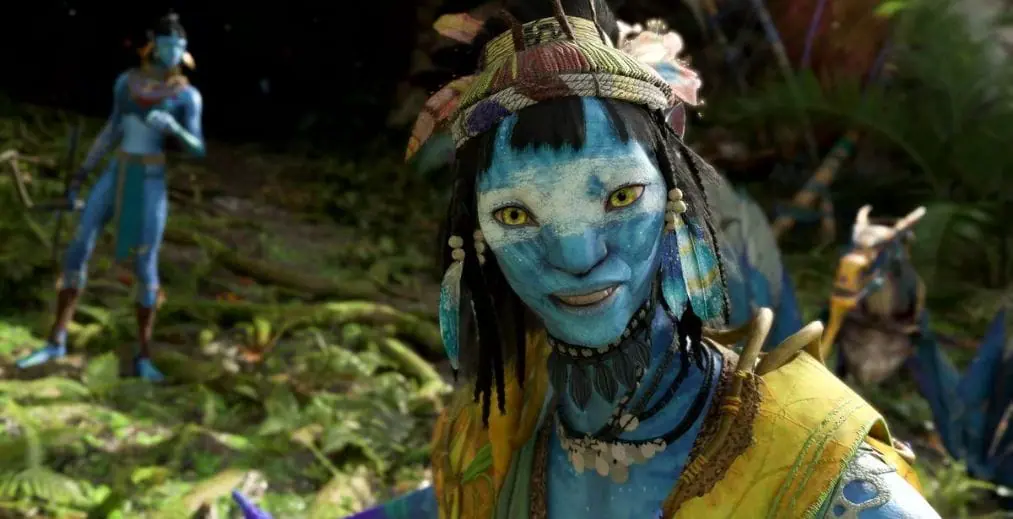 That is the key to Frontiers of Pandora, immersion. Though there is combat—more on that later—a big part of the game is just learning to become a Na'vi. This means you have to learn waving, gathering for resources, and making new gear, food, weapons, and other items. The gathering mechanic is cool, with specific move sets to take out seeds, plants, and fruits. Some, you pull; some, you sort of rattle a little to make them loose. This adds to the feel of being part of the Na'vi and makes it more than just another way to look for collectibles or useless resources. It also encourages you to explore the many biomes and locations of the Western Frontier of Pandora.
Its lavish world is undoubtedly the game's biggest strength. Just like the movies, there's great attention to detail in the flora and fauna of Pandora. No two locations look alike, and there's fantastic biodiversity here that's beautifully recreated, from the colors to the graphic details. It is so easy to just get lost wandering around and marveling at the backgrounds that I had to remind myself I had a limited time with my preview and get back to the main quest.
This is especially true once you gain an ikran ally. If exploring from the ground is already breathtaking in all the vistas and the world, then exploring from the air makes the game truly special. From flying through the otherworldly floating Hallelujah Mountains to just wreaking havoc on RDA gunships, taking the game to the skies makes Avatar: Frontiers of Pandora distinct and oh, so much fun to play. Plus, you can name and customize your ikran.
All is not Quiet on the Western Frontiers of Pandora. Because you are still playing as a Na'vi, rather than a RDA commando, you won't have much in terms of weaponry or ammo. You have to find and steal RDA caches or craft your own arrows. This forces you to take a much more stealth-focused approach to combat, as you can't just waltz into a military base and maul soldiers and mechs. You can set up traps, use your superior Na'vi strength to pull soldiers off their mech suits, shoot arrows that can take out even helicrafts, and sure, shoot lame bullets — but don't expect a proper shoot-out unless you want to repeat the same fight several times.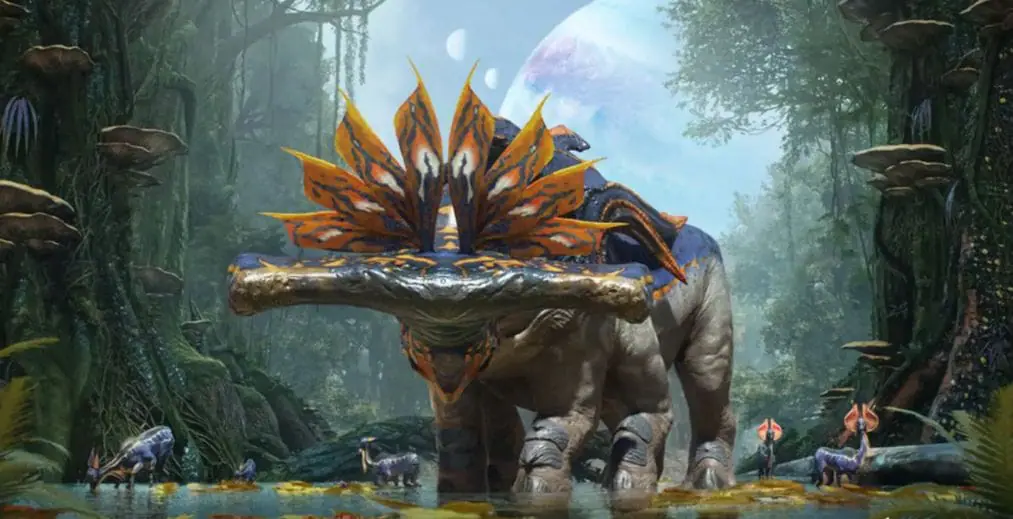 Most of the fighting, and the game's take on Far Cry's mechanic of invading bases, takes place on RDA unobtanium refineries and other facilities exploiting the resources of Pandora. If playing as a revolutionary fighting a dictatorship in Far Cry 6 wasn't cathartic enough, the eco-terrorist simulator that is Avatar: How to Blow Up a Pipeline on the Pandoran Frontier provides the kind of catharsis that can only be matched by the sight of a space whale ripping a whaler's arm off. Like Cameron's movies, the game is not subtle at all about its environmentalist message. Still, it works because we've spent over a decade and two movies growing to care not only about the Na'vi, but the world of Pandora.
Now, Avatar: Frontiers of Pandora is using that sympathy to turn the tables and allow gamers to bring the fight back to the colonizers, gathering allies and helping heal the planet. Because other Na'vi tribes either don't take the RDA seriously or simply want to avoid a conflict, it makes sense in-story that most of the quests you get from them feel trivial because they're in no hurry whatsoever. It is up to you to convince them otherwise.
As a game, Avatar: Frontiers of Pandora doesn't reinvent the wheel, nor is it drastically different from Ubisoft's Far Cry franchise (just set in space). That's not why you would buy this game, however. The reason to play it is to relive the excitement of being in Pandora, of immersing yourself in the lore of the Na'vi. By the time the preview ended, the story made it clear that you'd be gathering a rebellion of your own, independently of Jake Sully. Whether there is actually some overlap between the game and the movies remains to be seen, but regardless, this is a fantastic encapsulation of what makes James Cameron's world so endearing and thrilling.
Avatar: Frontiers of Pandora is scheduled to release for PlayStation 5, Xbox Series X/S, and PC on December 7, 2023.