With Rudeus's (Yumi Uchiyama) discovery that Fitz (Ai Kayano) is actually his childhood friend Syphettie and that she has feelings for him, the pair prepared to express their mutual affection for each other in a time-honored manner. However, Rudeus' impotance rears its ugly head once more preventing the couple from expressing themselves how they would like. Luckily for them, Luke (Kazuyuki Okitsu) may have an answer to help them overcome this hurdle in Mushoku Tensei Season 2 Episode 12.
Picking up where the last episode left off, Rudeus opens this episode with his own, heartfelt, confession of his feelings to Sylphettie. The uncertainty and fear that Rudeus experiences in this moment lands well as we're unaccustomed to this version of the character. The generally confidant young man is not present here, replaced by a far more vulnerable and timid version of himself. The awareness that Sylphie holds as much power over him as he does over her is a situation Rudeus is not used to. And while he is clearly happy to be able to admit his feelings, allowing himself to be that vulnerable is not easy for him. However, as previously noted, this moment doesn't play out the way either one wants, and the pair finds themselves soon cuddled under a blanket, waiting for their clothes to dry while they both process what just happened.
Setting aside my reservations about Sylphie getting involved with Rudeus in the first place, Mushoku Tensei Season 2 Episode 12 handles the couple's awkward moments as they tackle the issue before them well. As it has done frequently in the past, the series handles this emotional topic with a seriousness and delicacy that is surprising given how poorly it handles other elements of its narrative. Both parties show a great amount of kindness and compassion for each other, even as they inwardly struggle to grasp what comes next for them.
When Sylphettie returns to Princess Ariel (Reina Ueda), she explains the problem that kept the duo from reaching the ending they had been hoping for. While it surprised me how freely Sylphie reveals Rudeus' struggle to Ariel and Luke, it turns out to be for the best as Luke reveals he has something that may help the couple overcome Rudeus' condition. Luke then departs briefly, returning with an aphrodisiac for Sylphie to give to Rudeus. He explains that this should do the trick, allowing the couple to have their moment.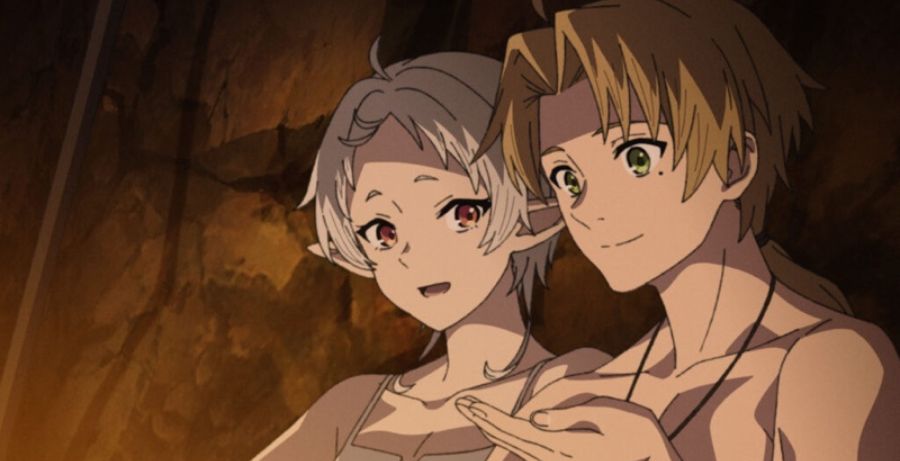 Mushoku Tensei Season 2 Episode 12 then cuts to see Sylphie approaching the door to Rudeus' room. Bearing a tray with some food and drink, the nervous young woman knocks and is greeted by her love who shows her in. As the pair sit and converse, Sylphie reveals the aphrodisiac and explains that it may help them. Willing to try anything, Rudeus takes the concoction, as does Sylphie as well.
From here, the moment quickly heads where one would expect it to, and the pair are soon locked in an embrace. But while the brew seems to have done the trick at the moment, there are lingering questions that remain to be answered.
Cutting away to give the young lovers some privacy, Mushoku Tensei Season 2 Episode 12 picks up again in the morning, when Rudeus awakens to find himself alone. The familiarity of the situation hits Rudeus hard, as he is reminded of the outcome of his first romantic encounter. Unlike that scarring moment though, it is soon revealed that Sylphie just stepped out to thank her friends for their aid, returning to see if Rudeus has awakened.
Rudeus's reaction to her return, affirming that he hasn't lost her, is emotionally powerful. Rudeus breaks into tears as his greatest fear slowly washes away. As he holds her, Sylphie's face seems to confirm what Rudeus soon informs her of. That the shining moment has broken his condition for good. The entire scene plays out as a wonderful celebration of overcoming trauma and of the love the duo professes to share.
The episode wraps up with Rudeus paying Princess Ariel a visit to thank her and Luke for their aid, as well as set up the next leg of the show's story. With his illness cured, it's time for Rudeus to continue his search for his missing family members. But, happily, he won't need to head out on his own, as Ariel happily consents to the future Mrs. Greyrat accompanying him. Seeing the two standing together, prepared to seek out those that are still missing is a happy sight to end the first part of season two with.
Mushoku Tensei Season 2 Episode 12 focuses on the strongest side of its narrative as it explores trauma and healing while setting up what comes next for the series.
Mushoku Tensei Season 2 Episode 12 is streaming now on Crunchyroll.
Mushoku Tensei Season 2 Episode 12
TL;DR
Mushoku Tensei Season 2 Episode 12 focuses on the strongest side of its narrative as it explores trauma and healing while setting up what comes next for the series.