With the reveal of Mecharu's secret weapon, he and Mahito (Nobunaga Shimazaki) prepare to clash in a battle that promises to be unlike any that has come before in the series. If Mechamaru (Yoshitsugu Matsuoka, Trigun Stampede) can overcome his foes, he may be able to avert a horrible incident that will come to consume one of Tokyo's most recognizable landmarks in Jujutsu Kaisen Season 2 Episode 7.
This episode's core focus is the clash between Mechamaru and Mahito, and MAPPA spared no expense in crafting a battle that is as unique as it is visually stunning. The first way this sequence stands out is in the sheer scale of the attacks launched. The reveal of a full-fledged mech promised a new level of destruction, and this fight delivers on that promise. With super attacks that consume amounts of cursed energy measured in years of accumulation, Mechamaru's biggest swings leave swaths of desolation as he attempts to swat his nimble foe from the sky.
But while Jujutsu Kaisen Season 2 Episode 7 lets Mechamaru claim the edge in the sheer scale of attacks, it never allows Mahito to come off as one iota less intimidating than his kaiju-sized opponent. The way MAPPA shows off the antagonist's shape-changing abilities is visual poetry that highlights how adaptability and skill can be just as daunting as raw power.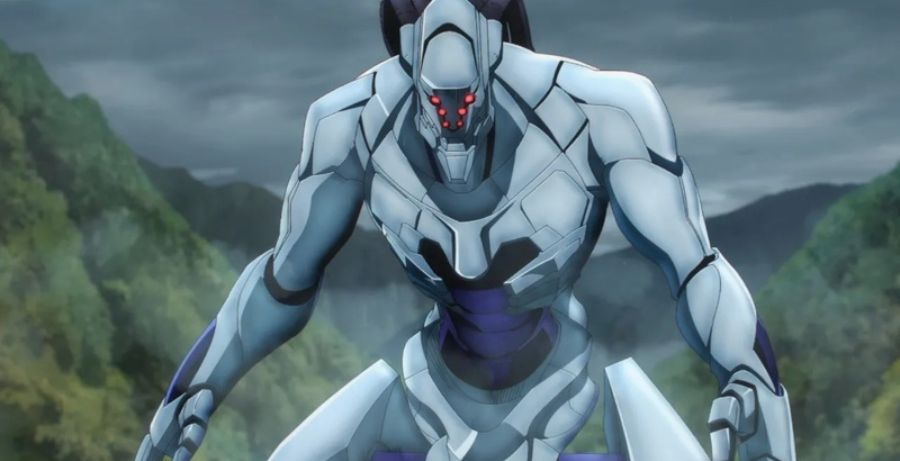 But when Mahito finds himself running out of room to maneuver, the show brings out its most visually stunning moment of the whole episode when he unleashes his domain expansion, Self-Emobdoiment of Perfection. The kaleidoscopic visuals that play out as Mahito traps his foe in his most powerful ability pop with visual flair and animation skill that leave the viewer needing to rewind and watch the moment again, just to take in every little detail.
While this opening battle is a visual spectacle, it is hit by a major flaw as it comes to a close. Believing he has beaten Mahito, Mechamaru turns to confront Suguru Geto (Takahiro Sakurai) in the hopes of defeating him as well so he can warn Satoru Gojo (Yûichi Nakamura) about the upcoming attack on Shibuya. However, despite believing to have landed a killing blow on his opponent, Mahito reappears to slay Mechamaru. While this moment is intended to deliver a surprising twist, it serves to undercut the prior battle altogether. It leaves Mahito feeling like he won simply due to plot armor, robbing the scene of much of the weight it might've had.
Jujutsu Kaisen Season 2 Episode 7 does manage to restore some of the moment's emotional weight thanks to a brief interlude that sees Kasumi Miwa (Chinatsu Akasaki) talking to Mecharu's puppet back at their school. During this heartbreaking scene, Miwa confesses to the now lifeless doll about how she feels closer to Mechamaru since the events of the exchange battle and subsequent softball game. She goes even further, telling him that she hopes to visit him in person one day. Akasaki delivers Miwa's uncertain confession to the now absent Mechamaru in a way that increases the moment's pain as the girl's heartfelt struggle to be honest about how she feels falls on deaf ears.
From here, Jujutsu Kaisen Season 2 Episode 7 jumps forward in time to Halloween night as the previously mentioned attack on Shibuya crossing begins to play out. Filled with revelers celebrating the holiday, MAPPA unleashes the opening moments of the incident with a skillful approach that allows less to be more in the unfolding terror.
While the studio could've gone all-out again to showcase the full effect of what is only hinted at here, keeping the moment off-camera allows the sequence to be more thoroughly fleshed out by the viewer's own imagination. Also, changing their methods gives this scene a contrasting feeling to the episode's earlier sequence, allowing it an easier time standing out against it.
With the remaining citizens held hostage till Gojo appears, the jujutsu sorcerers begin laying out their initial plans to confront their unseen foes. With the episode closing just as the summoned sorcerer makes his appearance, the episode ends with plenty of questions lingering in the air that will have the fans of the series eagerly awaiting the next entry.
With only a single misstep, Jujutsu Kaisen Season 2 Episode 7 delivers spectacle, emotion, and setup as the Shibuya incident prepares to play out.
Jujutsu Kaisen Season 2 Episode 7 is currently streaming on Crunchyroll, with new Jujutsu Kaisen episodes every Thursday.
Jujutsu Kaisen Season 2 Episode 7
TL;DR
With only a single misstep, Jujutsu Kaisen Season 2 Episode 7 delivers spectacle, emotion, and setup as the Shibuya incident prepares to play out.