The beauty of Horimiya: The Missing Pieces Episode 13 as it ends just as it began, centered on the heartfelt relationship between Hori and Miyamura. This episode, "Graduation," builds a plot around a hairstyle before devolving into a greater, thematic message about the people we meet in life, the bonds that bind us, and the memories that rise and lapse with varying degrees of vibrancy. Through its simplistic structure and slice-of-life, patient energy, the series closes out its latest — likely final — chapter with the same level of grace, introspection, and humor that's made it so engaging from the start.
Before the delicate poignancy of the episode swallows us whole, we're gifted some leftover moments of comedy. But, as is always the case with the series, they're built on well-established relationships, which makes the moments sing. Miyamura decides to take matters into his own hands and style Hori's hair while she refuses to get ready for school due to Sengoku's ongoing suffering as he realizes almost everyone in his friend group is stronger than him. These moments only manage to produce big laughs because of how well we know the characters. Horimiya: The Missing Pieces Episode 13 isn't the funniest episode of the series, but these pockets of humor continue to offer small reveals of who these characters are and how they perceive one another.
And the topic of hair is an ongoing conversation point, one that speaks to the series as a whole, in its own odd way. Miyamura is struck with pride over all the compliments Hori gets for her hair that he'd styled, while Hori mentions her ongoing jealousy over Miyamura's easy-to-manage mop. But the real highlight comes in the tag, where after the end credits run, we realize that Hori has gotten a haircut that she's insecure about. Her long locks are now above her shoulders, their high school days behind her, and she's worried about looking too boyish, especially next to Miyamura. So she drags him to get his cut too, the shortest we've ever seen, his earrings back in place after being absent for so long. She calls it a means to level the playing field so that her short hair doesn't stand out too much, but what it really does is highlight just how much these two characters have changed.
Sure, both would've preferred they didn't have to get such drastic haircuts, but both are diametrically different than how we met them, Miyamura in particular, who used to use long hair as a means to shield himself. They've grown from two teenagers actively concerned with how they're perceived to two who find comfort in one another and, therefore, allow themselves moments of public vulnerability — even through something as vain as a haircut.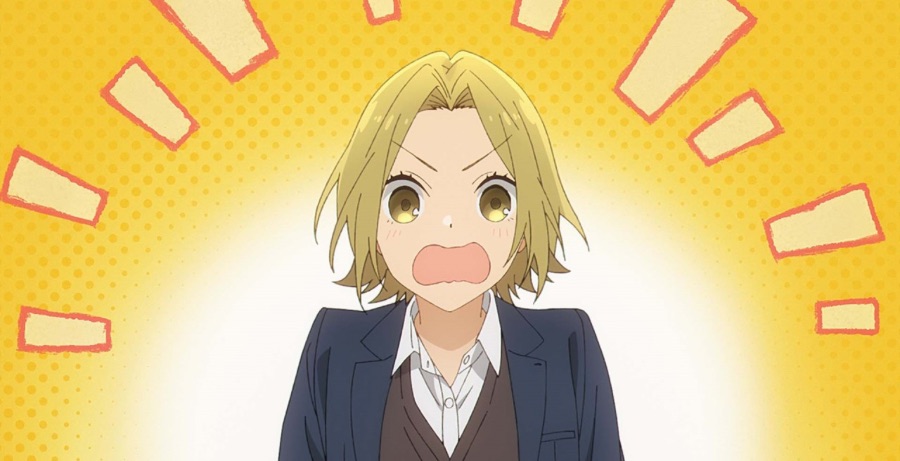 It also speaks to one of the strongest, most emotionally moving portions of the episode, as we're given a flashback to the days when this ragtag group had yet to fully form. Acting as a flashback but also something of a dream in the way in which it's lit with golden hues, it's a reminder of how startlingly sad and lonely Miyamura was. We watch as Hori runs into different members of the group, recalling Toru's crush on her and the days when she and Remi weren't close. We see a moment where Hori couldn't even remember Miyamura's name, his hair shielding his face.
In this recollection, as their group widens and takes up more space in hallways as they travel the well-worn steps together, she thinks, "I get the feeling we're missing someone." Of course, that someone is Miyamura, and it delivers that gut punch of what could've been and the relief of finding your people, as Miyamura ultimately does.
In a moment of tender intimacy with the two huddled together, Miyamura wonders about all the coincidences that had to happen to lead them to this point. Hori suggests destiny, though that seems too simplistic. As the two enjoy one another's company post-graduation, the series delivers some of its finest writing as Hori delivers what are, essentially, vows to Miyamura. Her feelings are too big, the future too uncertain, for her to offer hers to him for good. But she wants him to know that she will be there to keep the darkness at bay and that she hopes he'll lift her up when she hangs her head in defeat. She loves him and knows that time is finite, but she wants him to know that she's looking forward to taking her time to let him know all the ways in which she cares.
Horimiya: The Missing Pieces Episode 13 is a lovely and lovingly made installment that crests on the sincerity that pulsates through the series. Hori and Miyamura might be done with high school, and they might not remember everything that happened within those halls — throughout those years — but they won't forget the magnetism that drew them together and their friends who made their lives full. Horimiya: The Missing Pieces ends on a note of exuberant reverence for the relationships that shape you, a fitting, thoughtful end to a tremendous series.
Horimiya: The Missing Pieces Episode 13 is available now on Crunchyroll
Horimiya: The Missing Pieces Episode 13
TL;DR
Horimiya: The Missing Pieces Episode 13 is a lovely and lovingly made installment that crests on the sincerity that pulsates through the series.