Horimiya: The Missing Pieces Episode 12 radiates heart and humor. As is the case with the best episodes of the series, "The Hori House" succeeds due to keeping the story small, kept to, you might've guessed it, the Hori household. The drudgery of familial conflicts might seem at first to lack spark, but it's the type of subject matter that Horimiya thrives with. A series dedicated to the casual moments that mean the world to others despite their seeming inconsequentiality, what better way to drive home that warmth than through an episode defined by the mechanics of how one single family operates?
The greatest drama of "The Hori House" is due to Hori herself, with Kyouko being told often that her anger is too much and gets the better of her. Her lack of anger management skills has been at the forefront of stories before, and here at least we see not just Miyamura but her father and brother, Sota, calling her out for her behavior. It's welcome, considering it's one aspect of the character that's off-putting, more palatable when others hold her accountable for her actions. In Horimiya: The Missing Pieces Episode 12 it's the crux of any tension, as we see how her parents, brother, and Miyamura work around her fits of rage.
The level of anger changes too, from righteous to sulky, making her more relatable as a teenage girl tasked with helping raise and watch over her elementary school-aged brother. And while her emotions are always valid, they're also tumultuous, capturing the way we feel versus how we express that is often at odds as a teenager. We cry when we're angry, and yell when we're embarrassed. It's natural to respond in ways that outpace what actually is being felt, and builds a thoughtful coming-of-age story.
Plenty of charm is found in what sets her off and how. From trying to fit into Sota's clothes to prove a point to Miyamura's gentle reprimanding when she scolds Sota before trying to understand his point of view, she runs the gamut. But while it's her emotions that drive the episode's narrative, it also offers something of a Trojan Horse for the real heart of the story. The series has long established Miyamura's comfort in her home, at ease with her parents and brother, their living room as much his home as the one he shares with his parents, if not more so. Horimiya: The Missing Pieces Episode 12 doubles down on this subtly, allowing it to occupy the background.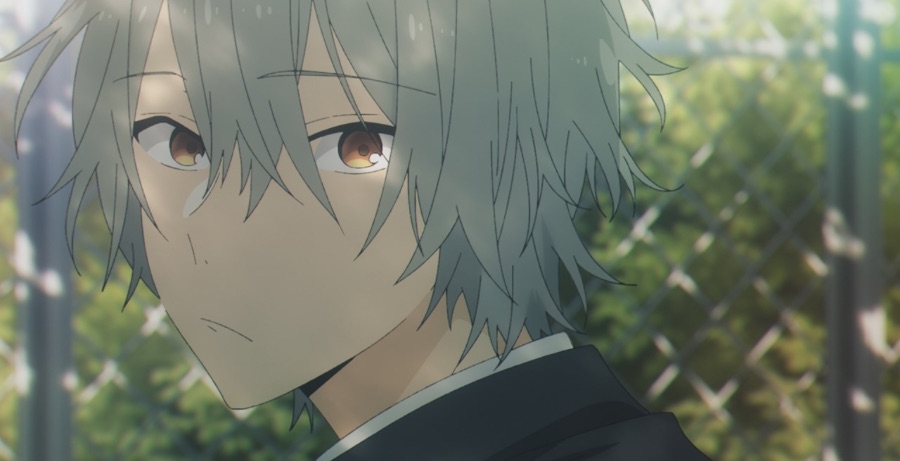 The quiet domesticity the two exude is a key component of why they're such a charming couple. As was the case with Episode 11, their mutual, unwavering affection is alluring as a viewer, as we've grown so accustomed to the give and take of a will they/won't they relationship. Miyamura and Hori are the central force of the series, and "The Hori House," despite starting with a flashback to how her parents met, pushes their love story to the forefront without ever forcing affection. Instead, it's seen through Hori's need for his support, and her instant crumbling when she fears it's absent. It's also seen through Sota running to Miyamura for comfort, as he's able to piece together the siblings' communication struggles despite their concerns being poorly pieced together and incomprehensible to outsiders. He's a part of this family, acknowledged through their ability to laugh at him, to argue in his presence, and in his knowledge of Sota's ability to clean his toys up. These are the details that build a world worth engaging with and establish the ease of familiarity.
Horimiya: The Missing Pieces acts as a means to fill in the gaps of the story told in Horimiya. The latter was already well formed, with the central relationship being engaging and Miyamura's story both heartbreaking then, ultimately, heartwarming, as he found his people and support system. "The Missing Pieces" simply allows that established story to flourish. It helps that for as sincere as the series is, it is unrelenting too in its humor, and it's at its comedic best when it allows a small group of characters to bounce off of one another. Hori's remark to her father that "your life needs a do-over" is particularly scathing.
Even as the characters yell at one another and fumble for the higher ground, the series maintains its warmth. Horimiya: The Missing Pieces Episode 12 exemplifies why the series has amassed such a fan base, delivering emotional beats in tandem with quick wit as characters verbally spar. Despite its fragmented storytelling structure that gives us simple snapshots of days in the lives of the Hori family, "The Hori House" is rich in character building, as we grow to understand and love these characters even more than we already did.
Horimiya: The Missing Pieces Episode 12 is available now on Crunchyroll.
Horimiya: The Missing Pieces Episode 12
TL;DR
Horimiya: The Missing Pieces Episode 12 exemplifies why the series has amassed such a fan base, delivering emotional beats in tandem with quick wit as characters verbally spar.