Love is a curious thing. If we aren't planning for it, we'll find any justification to reject it. Be it magic, destiny, or the gradual deterioration of the mind, viewers have been watching as Jang Shin-yu (Rowoon) scrambles for any reason to explain his sudden feelings for Lee Hong-jo (Jo Bo-ah) in the last couple of episodes of Destined With You. Now, in Destined With You Episodes 7-8, we see him finally settle into acceptance of his feelings, but has the damage already been done? And has Shin-yu's behavior given Kwon Jae-kyung (Ha Jun) the opening needed to pursue Hong-jo on his own?
Destined With You Episodes 7-8 rights itself, keeping things flowing at a brisk pace while also featuring more realistic development in its characters. At the beginning of Episode 7, we start up where we left off. Hong-jo caves and decides to share everything with Jae-kyung to explain why Shin-yu is behaving the way he is. Ever the voice of reason, Jae-kyung points out the ridiculousness of these spells. The only solution to clear the air? Have Hong-jo try to cast a spell and see what happens next.
As would be expected, her attempt at the Fair Beauty spell shows no visible results. Given how actress Jo Bo-ah has flawless skin on camera to begin with, it would be hard to illustrate if the spell worked anyway for viewers. However, what we do see is that Jae-kyung is starting to lean into his growing feelings for Hong-jo. Perhaps Shin-yu admitting his own feelings has sparked a healthy, competitive edge on Jae-kyung? As the episode progresses, this seems to be the case.
The relationship between Jae-kyung and Hong-jo naturally progresses, with Jae-kyung being more at ease with his growing feelings toward Hong-jo. He exhibits regret for pushing her away so soon but is making up for lost time. Whether it's spending time drinking beer with her on a rooftop, driving her to and from work, or bonding with her during onsite work functions, seeing the naturalness of their growth is refreshing. But, since Shin-yu is the natural romantic lead in Destined With You, viewers can only watch silently knowing that Jae-kyung is likely going to be heartbroken by the end of the series. Formulas make this prediction so!
As for Shin-yu, after it is proven (for now) that the spells aren't actually working, he tries seeking other explanations for his feelings. He goes to his doctor, who points him to a potential medical cause for why the young man glommed so hard onto the supernatural. With his hallucinations (strangely still absent since Hong-jo performed the spell back in Episodes 2 and 3), the historical data, and the suddenness of his feelings, it's no wonder he thought it plausible. Equipped with a medical explanation, Shin-yu reverts back to his original personality and is forced to deal with other developments, one being his upcoming marriage with Yoon Na-yeon (Yura).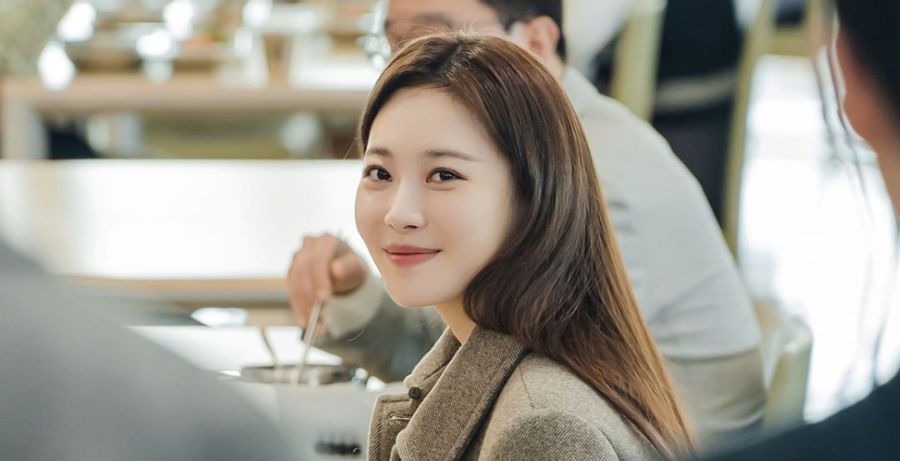 There's a new level of insidiousness reached by Na-yeon. Someone sends her photos of moments when Hong-jo and Shin-yu are together, which sparks her fury. She rightfully confronts both Hong-jo and Shin-yu, going as far as to slap Hong-jo. But, the hypocrisy is real in this woman. As is revealed, Na-yeon has been cheating on Shin-yu this whole time. It prompts the question: what is her intention with Shin-yu? What does he have that she needs so desperately? Ultimately, this reveal adds an extra layer to what we've seen so far and, if viewers weren't fans before, it is highly doubtful they will be now.
Speaking of new lows, Destined With You Episodes 7-8 further intensify the stalker plotline. In previous episodes, we've seen little hints here and there that someone was starting to target Hong-jo. Her pajamas went missing one episode. Mysterious roses showed up. We learned that the flower shop vendor, Na Jung-beom (Ahn Sang-woo) has a major thing for Hong-jo, but he isn't deterred by her rejection. In fact, in Episode 7, Jung-beom escalates.
While working with flowers at another location, Jung-beom seemingly comes to Hong-jo's rescue when it starts to rain. It's clear Hong-jo is uncomfortable, but he doesn't pick up on it. It isn't until she tells him to stop and another worker intervenes that the situation is dealt with. Hong-jo files a report with her superior who takes things to Shin-yu to deal with. A confrontation between Shin-yu and Jung-beom at the flower shop hints that things are likely to get worse, as actor Ahn Sang-woo eerily channels a certain level of craziness in his performance.
With Shin-yu and Hong-jo dancing around their feelings yet again in Destined With You Episode 7, each giving their own variation of confessions throughout the episode, Hong-jo takes a different direction in Episode 8. After Shin-yu confesses to her and they share a kiss, Hong-jo is left confused and frustrated. She's been assaulted by his fiance and he places the blame at Hong-jo's feet, admitting that he shared that Hong-jo has swayed him. However, that has never been Hong-jo's attention, something she continuously shares with people as they keep pointing out her closeness to him.
It has become a pattern for Hong-jo to constantly be on the defense, particularly against Shin-yu and Na-yeon. In Episode 8, she appears to be at a breaking point. Hot off of enforcing the boundaries with Jung-beom, she spends the bulk of Episode 8 forcing a distance between herself and Shin-yu. Dangerous stalkers (and perhaps, destiny) have other plans.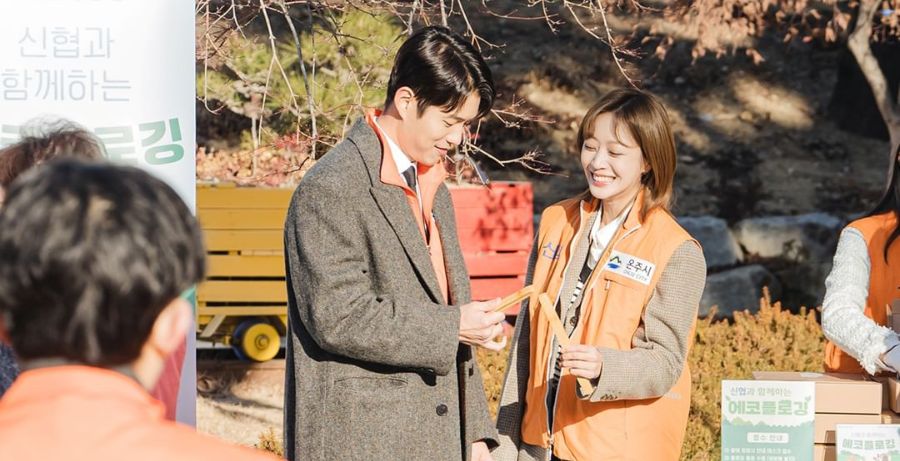 Attempting to settle things between the two for good, Shin-yu is advised to take Hong-jo back to his family's land and bury the wooden box he had given her again. This trip turns out to be more surprising than either of them expected. After tripping on the way to the location, Hong-jo breaks the box, revealing a second spellbook that focuses on dark magic. Not long after, they discover a hanging straw doll dressed in Hong-jo's stolen pajamas and with Shin-yu's name written in what appears to be blood.
A darkness settles between the two. While Shin-yu is dismissive of the curse potentially placed on him, Hong-jo is perturbed. Thinking further ahead, Shin-yu takes the opportunity to ask Hong-jo out on a fake date to see whether or not they can lure the stalker out. The two manage to have fun on the date despite the worry of being caught by someone. Shin-yum swept up in the moment, attempts to confess again, but Hong-jo politely rebuffs him. She won't entertain his feelings. Not while he's with Na-yeon.
It is towards the end of Destined With You Episode 8 where things take a dark – both literally and figuratively – turn. Shin-yu, in his attempts to solve the mystery of the stalker, puts himself directly in danger. A confrontation again with Jung-beom leaves Shin-yu's fate up in the air and leaves Hong-jo an open target when she visits the site of another park location the next evening. With the lights shut off and a mysterious figure trying to find her, viewers are left on a cliffhanger wondering what will happen next.
As for the reoccurring theme of loneliness, while this doesn't manifest itself with our main characters in Destined With You Episodes 7-8, it does manifest for Shin-yu's mother, Song Yoon-joo (Jung Hye-young), in Episode 7. Over the course of the series, we've seen little moments focusing on the growing loneliness and neglect in her marriage. After her husband, Jang Se-heon (Lee Pil-mo), fails to show up to their stargazing date, young lawyer Kim Wook (Lee Tae-ri) shows up for her. They spend a night under the stars, both admitting that they desire to be loved and to give love.
The emotional neglect from Se-heon has been reoccurring throughout the series. He frequently dismisses his wife and tries to control Shin-yu, so he hasn't been painted sympathetically at all. While it is likely the two will reconcile by the end of the series, Yoon-joo's growing loneliness and unhappiness in the relationship may drive her to finally take matters into her own hands.
Destined With You Episodes 7-8 are arguably the strongest episodes released so far. Finding the perfect balance between pacing and active plot movement, the episodes perfectly capture attention. Part of this is due to how the relationships have been built. While Shin-yu's rapidly swinging emotions felt disingenuous in execution earlier in the series, the groundwork was laid to make his confusion and gradual realization of his feelings more palatable for us.
While the various plot points haven't made sense leading up to Destined With You Episodes 7-8, in these most recent episodes, we finally see the seeds that were planted break ground. With continued talk of destiny, despite what our leads might think, the cliffhanger and the preview for upcoming episodes indicate that we will finally dive into the curse surrounding Shin-yu's family and what happened all those years ago in the past.
As it stands, Destined With You Episodes 7-8 see a formerly struggling plotline come together with great satisfaction. The growing relationship between Shin-yu and Hong-jo continues to have its ups and downs, but we're finally seeing how their feelings for each other are taking hold—for better or worse. They can try to reject destiny, but it won't be long until they finally stop rejecting what their hearts are screaming at them.
Destined With You Episodes 1-8 are now available on Netflix, with new episodes airing on Wednesdays and Thursdays.
Destined With You Episodes 7-8
TL;DR
As it stands, Destined With You Episodes 7-8 sees a formerly struggling plotline come together with great satisfaction.