This article features heavy spoilers from Muted.
There is an ever-present debate on how to approach criminals, especially when it comes to the mentally ill. Do we aim for rehabilitation to re-introduce the criminal into society? Or do we punish and imprison the criminal forever with the assumption that rehabilitation is impossible? While watching Muted, the latest psychological thriller on Netflix, these questions surfaced at the forefront.
With its tragic ending, it seems showrunner Aitor Gabilondo was leaning toward the latter. However, both questions remain unanswered when you realize that the lead character, Sergio Ciscar (Arón Piper), was doomed from the start. From the beginning, we know Sergio has committed a horrible crime – parricide i.e., the murder of both parents. Rendered mute from the experience, Sergio becomes the most hated teenager in Spain with the media circus rendering the case sensational.
There is still so little known about what truly happened that fateful night. Sergio himself has refused to cooperate with the authorities in filling in the gaps, instead seemingly focusing on himself whilst imprisoned and taking up religion in the process. Without any details and with no actual input from the young man, it is no wonder then that many take issue with him being released on probation six months before his sentence is up.
From the time he is released, the systems in place are not here to help Sergio or anyone like him. We see this illustrated through the numerous ethical violations characters take throughout the series, including his own mother, in the treatment of Sergio.
As soon as he leaves the prison, Sergio is under 24/7 surveillance as part of a longstanding experiment created by the young psychiatrist, Ana Dussuel (Almudena Amor). The ankle monitor that he wears is expected. It tracks his movements and, surprisingly, his heart rate. However, Ana and her team take it one step further, tapping into cameras ranging all over the city and placing cameras in every nook and cranny of his home.
While it is presented that Sergio is a narcissistic sociopath that feeds on attention, it is shown that the young man is rightfully paranoid. From his own psychiatrist mother to the prison system, he has always been watched. Every reaction has been observed, notated, and judged. Even a sane person would crack under constant scrutiny.
Yet, under the guise of acquiring the facts behind that fateful night, Ana takes it upon herself to watch the young man's every movement, hoping to unearth something. As Muted progresses, we learn that she believes him to be innocent and misunderstood, a projection of her own bias and – as it turns out – her own warped perception of love. This, in her own mind, excuses how entitled she feels in her obsession to track his every move. To blur the lines of ethics in pursuit of this young man who she desperately seeks to validate her own truth.
Sergio is a pawn in a revolving series of players. Never once truly seen as a person outside of what has been stamped onto him. So, it is tricky to see what is beneath the surface outside of what is caught in Ana's cameras or gleaned from other characters early on.
This reads most prevalent early on when we're taken into the greenhouse belonging to the evangelical pastor, Natanael (Ramiro Blas). Known for his rehabilitation of juvenile delinquents, Natanael's aims initially to take Sergio under his wing. Doubt is not long to follow when a greenhouse worker, one who objects to Sergio being there, is injured on the job within hours of Sergio showing up. Not only does Natanael suspect the young man, but so does Inspector Cabrera (Aitor Luna), who has no belief in Sergio's innocence whatsoever.
While doubt has its claws deep within Natanael and Cabrera, it doesn't stop these two in their positions of power in trying to use Sergio for their own means. Natanael, as it is revealed towards the end of the series, has taken Sergio in purely for the clout and potential funding it will bring to the organization. Even worse, his work is used as a way for him to hide his own sins of abuse, something that he knows will destroy him if it gets out.
For Cabrera, it's clear he doesn't believe in rehabilitation. Sent to watch Ana and her experiment, it soon becomes clear that there is a political and financial motivation for the experiment to fail. Cabrera is shown to have bugged Ana's office to be on the up-and-up, meeting with higher-ups who push to have Sergio break his probation so that they can haul him back in. As soon as it's indicated that Sergio is violent, Cabrera swoops in. He doesn't care whether Sergio is good. He cares that he reaches his own goals.
From religious figures to the judicial system to the medical field, there is a net closing in on Sergio from all sides. While there is a small illusion of freedom, for the larger part of Muted, Sergio is not viewed as truly human. He's representative of something for each person in power. For Ana, a projection of herself. For Cabrera, a worthy sacrifice to ascend the ladder. And for Natanael, a shield to save face and build his reputation.
Sergio is used from the moment he gets out of prison, with no actual effort made to truly rehabilitate him. He is doomed as soon as he steps foot outside of prison. Or so it seems. In actuality, it can be argued that he was doomed as soon as his mother took it into her own hands to be his psychiatrist.
When it is revealed that his mother was actively trying to treat his anger issues, empathy is triggered but also multiple questions. In the medical field, psychiatric or otherwise, it is generally advised to avoid treating family members. To put it simply, it is all too easy to see boundaries blur and tensions rise if treatment goes awry, especially in the case of a minor being treated by a parent.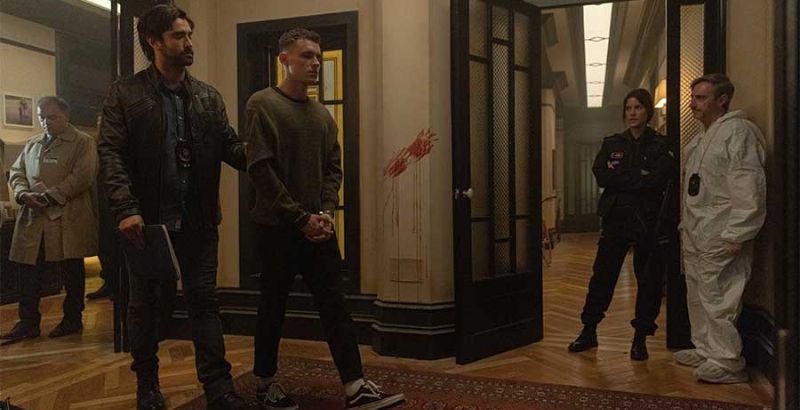 As audiences are shown Sergio's past experiences being treated by his mother, regardless of which perspective we're shown, you can see how easily things went astray. Determined to treat her son herself, Sergio's mother fails to see the boundaries she's crossing as Sergio's psychiatrist, whether it's prescribing him experimental drugs or recording him against his consent. With his increased paranoia and his perception of reality blurring along with his mother's refusal to have her son treated by an outsider, on paper, the murder of his parents was the natural conclusion.
While it is unclear by the end of Muted whether Sergio is truly evil or not outside of subtleties, it is no wonder that Sergio was destined for tragedy. From the emergence of his mental illness, his mother pushed boundaries and took liberties that blurred the lines of ethics and eradicated trust. Once completing his sentence early, Sergio could have had a fresh start. But ethical boundaries continued to be crossed and his person was exploited by others with ulterior motives.
There's no way to determine if actual support would have helped Sergio avoid the events of Muted. But when you take into account the people in his life, both directly and indirectly, any positive change might have been beneficial to pointing him in the right direction. Unfortunately, all we can do is presume here/
With everyone around projecting their fears, desires, and distrust onto him, the culmination of events in Muted makes sense. Sergio was not truly supported. The path to redemption and rehabilitation was built on a web of lies. Destined for tragedy, there was no other way for Sergio's story to end outside of blood and pain.