Destiny is a heavy thing. Heavily romanticized, it is something we often hear in fairytales. However, in Destined With You, the idea of destiny is almost akin to a death sentence. At least, that's what it seems like in Destined With You Episodes 5-6. Hanging in the air at the beginning of Destined With You Episode 5 is the realization between Jang Shin-yu (Rowoon) and Lee Hong-jo (Jo Bo-ah) that their destinies are intertwined. How they behave moving forward is a mixture of hilarity and frustration as both battle against the notion that they are linked forever.
Destined With You Episodes 5-6 feature drunken confessions, the growth of affection, and the potential for danger. Still grappling with the annoying consequence of accidentally giving the love potion to Shin-yu, the start of Episode 5 shows Hong-jo getting drunk on the night of her father's death anniversary. Shin-yu, after confessing he doesn't drink, manages to get them both home safely. But while drunkenly resting her head on Shin-yu's shoulder, Hong-jo shares that she holds herself responsible for her father's death. She believes her desire to drop out of school due to bullying is what triggered the ripple effect leading to his death. And for that, she can't forgive herself.
The next day, Hong-jo, Gong Seo-goo (Hyun Bong-sik), and others follow her to a park where tree signs have been smeared with chicken blood. At first, it seems like a one-off prank. However, strange things in connection with Na Jung-beom (Ahn Sang-woo), the flower shop vendor, start occurring across Destined With You Episodes 5-6. There are small blink-and-you-miss-it moments until he shows up at her office in a suit and tie ready to take her on a date in Episode 6. Where this goes in the long-term remains to be guessed.
Back to the chicken blood. Hong-jo tries to report the incident to Shin-yu, but he prefers to flirt with her instead. This ebb and flow of interest from him carries over from previous episodes, and his carrying over her head how she was the one who did this highlights a certain toxicity of character as well as a lack of maturity. He's the kind of guy who teases a girl that he likes instead of telling her up front how he feels.
Further complicating matters is Shin-yu's girlfriend-in-perpetual-denial, Yoon Na-yeon (Yura). Lured to a location by one of Na-yeon's friends, Shin-yu is surprised by a proposal from Na-yeon. This girl is marriage crazy and has her sights firmly set on Shin-yu, illness or not. Begrudgingly, he seems to acquiesce, but Hong-jo is still on the brain.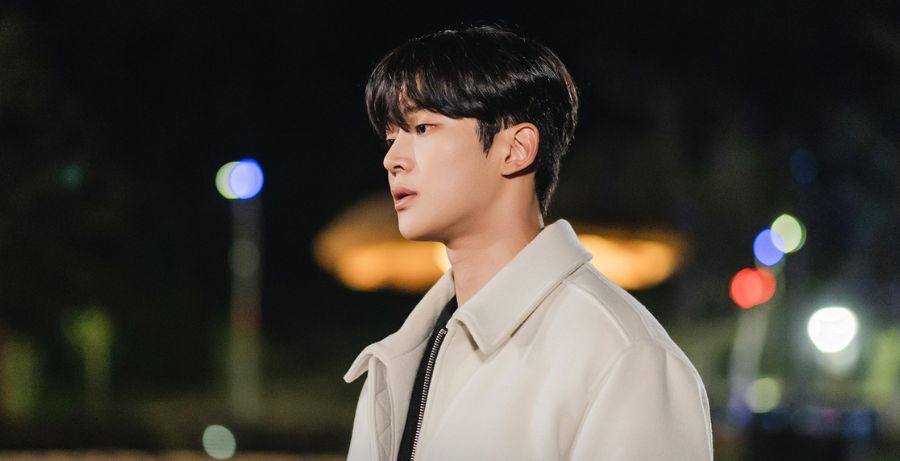 This becomes apparent when Shin-yu sees an apparition of a Hong-jo lookalike in traditional hanbok while he's out with Na-yeon. Blending in with the crowd, this apparition is able to escape him, but there's no indication as to what she is running away from. Instead, Shin-yu can only blame Hong-jo and the love potion for these tricks on his mind. Until she can fix her mistake, he doesn't want to see her.
Except, in his usual hot and cold way, he still finds a way to see her. Running into each other on an elevator, he wants to see her in private. This behavior has become a pattern for Shin-yu and doesn't endear him to Hong-jo. Instead, she focuses on her home life and building a friendship with Kwon Jae-kyung (Ha Jun) now that they are roommates. Here, we learn more about Jae-kyung while also seeing a naturally forming bond between the two. Unlike Shin-yu, it also seems Jae-kyung is consistently respectful of boundaries as well as being honest. So far, he's the prime-time pick.
Shin-yu, on the other hand, has grown possessive over Hong-jo. She's begun not answering his calls, respecting the boundary he himself enforced, but that gets under his skin. By the end of Episode 5, he gets drunk and shows up at Hong-jo's house. While he writes it off as an accident, he still has plenty of time to annoy Hong-jo with his drunken feelings and trolling. Jae-kyung finds them both outside and tries to intervene, but Shin-yu almost reveals what Hong-jo tried to do to the unsuspecting crush.
Hong-jo takes Shin-yu home, but they make a brief stop. While waiting for his nausea to calm down, the lawyer admits that he hoped she'd pick him over Jae-kyung. The episode ends with a tease, but don't worry, Episode 6 features more confessions. At least Shin-yu finally admits the truth out loud. But boy, does it take us a while to get through.
In Episode 6, Shin-yu wakes up in his own bed with fuzzy memories of the night before. He confronts Hong-jo about what happened, but she doesn't tell him much, preferring to keep the truth to herself. That's not the only awkwardness she faces in this episode, though. Na-yeon, after finding out the truth of what happened to Hong-jo in high school, meets up with the civil servant and apologizes profusely.
Believing the matter is behind them post-apology, Na-yeon concludes that they are now best friends. If you haven't guessed it by now, Na-yeon has a loose, almost child-like understanding of friendship and boundaries. She then introduces Shin-yu to Hong-jo as her fiance. As we learn much later, the apology was surface-level. Na-yeon merely did it because they'll have to work in the same building together. Not because she genuinely cared.
Hong-jo finds a way to escape from the two love birds and runs into Jae-kyung, who takes her out to lunch. He gets clarification from her regarding Shin-yu and reassures him that the situation she's in will be resolved by the next full moon. Left unspoken is that she will be attempting to perform a Disaster Nullification spell, the disaster being Shin-yu and his topsy-turvy feelings.
There's a lot of weight Hong-jo is carrying into the ceremony for the Disaster Nullification spell. We learn that Shin-yu drunkenly confessed to her that he didn't want to go through with it. That his feelings for her were genuine. The love potion was just a convenient excuse for him to hide behind. However, she's determined to follow through with it as Shin-yu is now sobered up.
The night of the full moon, it appears that Hong-jo successfully completed the spell. The next day Shin-yu reports that he didn't think about her at all and goes about his day as is. Another seemingly successful spell completed, Hong-jo moves on and forward in her pursuit of Jae-kyung. More progress is made between them when he drives her part of the way to work. However, that is only the best part of her day.
A violent incident erupts in the office when a citizen comes in threatening to fight Ma Eun-young (Lee Bong-ryun). While the fight is interrupted, Shin-yu's investigation and seeing Hong-jo getting assaulted in the process tells him all he needs to know: the spell isn't foolproof. Further proof is shown when he realizes that Hong-jo wrote the wrong character on the piece of paper he is to carry.
All this culminates in an explosive ending in Destined With You Episode 6. Shin-yu and Hong-jo are seen yet again by Jae-kyung, who tries to intervene between the two of them. It is here that Shin-yu reveals that he is, in fact, in love with Hong-jo and we're left hanging until the next episodes.
While there appears to be more consistency with characters in Destined With You Episodes 5-6, there is so much going on, but it reads as filler. This impacts the flow and pacing of the episodes, making them seem longer than necessary. With the focus being on the development between Shin-yu, Hong-jo, and Jae-kyung, you'd expect things to be more exciting. Instead, we watch our characters do this circular dance, wearing down a teasing schtick that gets old.
There's also the added factor of the curse. Shin-yu is meant to be cursed and, as far as we know, Hong-jo's spells seem to be working. There has yet to be a reappearance of the blue or red hands since she performed the spell on Shin-yu to try to heal him. But, it seems to have disappeared from Shin-yu's mind as a concern almost instantly, another moment of poor development in what initially seemed like an intriguing character. Will this get addressed or fixed further in Destined With You? That remains to be seen.
Destined With You Episodes 5-6 continue in an attempt to develop the relationship between Shin-yu and Hong-jo, but it reads more stagnant. The relationship between Hong-jo and Jae-kyung shines more brightly here, with the two of them getting to know each other better. The explosive reveal at the end of Episode 6 pushes the needle forward, but the slow pace and retreading of similar patterns make it seem like we're stalling for time.
Destined With You Episodes 1-6 are now available on Netflix, with new episodes airing on Wednesdays and Thursdays.
Destined With You Episodes 5-6
TL;DR
Destined With You Episodes 5-6 continue in an attempt to develop the relationship between Shin-yu and Hong-jo, but it reads more stagnant. The relationship between Hong-jo and Jae-kyung shines more brightly here, with the two of them getting to know each other better. The explosive reveal at the end of Episode 6 manages to push the needle forward, but the slow pace and retreading of similar patterns make it seem like we're stalling for time.