Shooting Stars tells the inspiring origin story of a basketball star, LeBron James, his childhood friends, and how they became the top high school team in the country. The film retells the launching of James' breathtaking basketball career before he entered the NBA and explores the trials and close bonds these young men made through their love of the game.
Shooting Stars is an American biographical sports drama film about the high school sports career of LeBron James. The film is directed by Chris Robinson and based on James' 2009 memoir, co-authored by Buzz Bissinger. Shooting Stars stars Mookie Cook as LeBron James, Caleb McLaughlin as Dru Joyce III, Avery S. Wills Jr. as Willie McGee, Khalil Everage as Sian Cotton, Dermot Mulroney as Keith Dambrot, and Wood Harris as Coach Dru Joyce II.
Lebron and his friends make waves during their freshman year on their varsity basketball team. Coach Dambrot, played by Dermot Mulroney, trusts the group to take their school's team. By their junior year, LeBron became a national sensation thanks to a Sports Illustrated cover. The tight bonds of the Fab 5 begin to buckle under stress.
Although LeBron's rise to fame takes center stage in the film, it only partially overshadows the other character arcs and plot lines. For example, Lil Dru, played by Caleb McLaughlin, and Willie, played by Avery S. Wills Jr., character arcs provide great perspectives and depth to the story.
Lil Dru, the smallest member of the crew, while he is a skilled player, is overlooked because of his height. He comes up with the plan to have the Fab 5 change schools, initially for selfish reasons. Later, he struggles with being overlooked for his achievements on the court due to Lebron's rise to fame. Similarly, Willie's character arc focuses on him doubting himself in being able to keep up with his friends in skills and talent.
Including Lil Dru and Willi's perspectives and storylines were a great touch to the overall story, but it needed more balance. The film puts a lot of focus on Lil Dru and Lebron's storylines. In contrast, Willi's storyline is brief and becomes more part of the film's latter half. Meanwhile, the last member of their crew, Sian, plays more of a supporting role and needs to bring more depth to the story.
Unfortunately, the film misses the mark in fully embracing pivotal moments, like Lebron and his friends being bullied by a passing car during their freshman year for allegedly selling out. This suggests the complex feelings they stirred within the Black community for moving and playing at a private Catholic School. There are several encounters the boys and their families face that cause conflicting emotions within them and could have been explored in depth. Unfortunately, these moments receive minimal attention and are only touched on a little throughout the rest of the film.
One of the main points of Shooting Stars is how deep the bond between LeBron and his friends runs. Lebron was thrust into the limelight and on track to fame in the NBA. It becomes clear that Lebron and his friends must go their separate ways because that is just a part of growing up. And while that is just a fact of life, these young men still want to stay and play together as long as possible.
Performance-wise, as a whole, the actors portraying the Fab 5 are great in every scene together. But on their own, some have stronger performances than others. Caleb McLaughlin delivers a standout performance in Shooting Stars, capturing much of the spotlight. McLaughlin's remarkable ability to convey emotions through his body language and facial expressions sells his performance. He effortlessly communicates the depth of his character's feelings in certain scenes where dialogue is absent.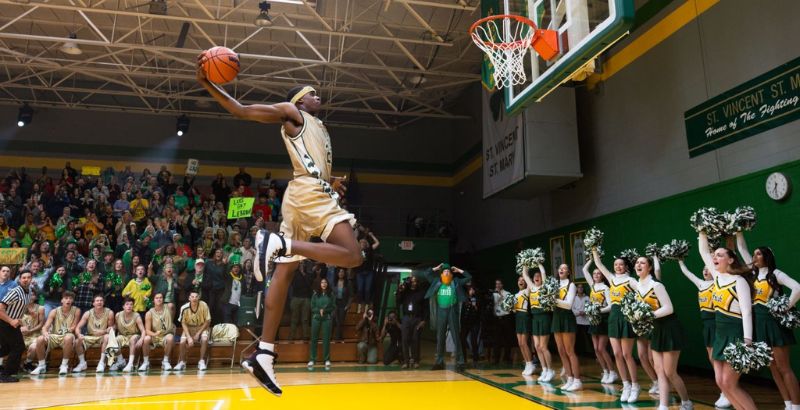 While Mookie Cook's portrayal of young LeBron James could be better for most of the film, his performance truly shines only in the movie's final quarter. However, it is undeniable that McLaughlin steals the show, emerging as the film's true star. Wood Harris delivers a heartwarming performance in his supporting role as Coach Dru, which is the glue that holds the chemistry between the Fab 5. His presence adds a genuine touch to the film, contributing to the overall cohesion of the group dynamic.
Overall the camerawork in this film was great, especially during the basketball games. The filmography captures the suspense and thrill of a real basketball game. There was an attempt to mix up the camera angles to a first-person perspective during one scene. It was distracting and did not fit with the quality the film had delivered so far. Thankfully the moment was short-lived and did not happen again.
Shooting Stars is more than just a retelling of LeBron's inspiring rise to fame and basketball prowess. At its core, this film is about friendship, cherishing those bonds, and growing up. While some character arcs provide depth, the film lacks balance in exploring them. Caleb McLaughlin delivers a standout performance, capturing the spotlight with his emotive portrayal. The film also falls short of fully embracing pivotal moments. The camerawork adds to the excitement of the basketball games. Shooting Stars offers an engaging cinematic experience that celebrates friendship, basketball, and the challenges of fame.
Shooting Stars is now streaming on Peacock.
Shooting Stars
TL;DR
Shooting Stars is more than just a retelling of LeBron's inspiring rise to fame and basketball prowess. At its core, this film is about friendship, cherishing those bonds, and growing up.