Pietro Marcello's Scarlet (L'envol) is quite hard to describe in a generally satisfying way. It's about dreams, passing time, and a yearning to be free. It's a piece of masterful cinematography and disappointing to look at in alternating scenes. And above all, this French-language drama is a tale of a father and daughter. Raphaël (Raphaël Thiéry) returns home to his newborn baby Juliette (played as an adult by Juliette Jouan), who is in the care of a kind woman, Adeline (Noémie Lvovsky), after his wife passes away.
Raphaël is the kindest, most caring father. He's maligned by the village on account of his morals, despite being a master woodworker. The family gets by with the support of Adeline and the blacksmith's family who also lives on her property, but it's meager. Juliette grows up knowing nothing but love and creativity but not much of the world either. As a child throughout the first half of the movie, we see father and daughter stand for one another. As she grows up, it's impossible not to be pained by the ways he can no longer protect her and how much her unwittingly and mostly self-imposed sheltered life has perhaps held her back.
Juliette is so full of wonder, blissfully carefree, and steadfast in her belief that one day she will be carried away from this paltry life. As a child, she encountered a witch in the forest who told her scarlet sails would one day come to bring her far away, and she has been patiently waiting ever since, even as her peers viciously malign her for her fantasy. All of these aspects of both Juliette and Raphaël's characters make them endlessly endearing. You cannot hope for anything but happiness for them and are left wondering at every stage in their lives where those scarlet sails might finally take Juliette one day and under what circumstances. She's full of so much potential, and there's a great melancholy to her being pinned to this small town.
All of the wonder and endearment are elevated substantially by the parts of the movie with impeccable camerawork and colors. There are vast stretches of the movie, especially when a stranger named Jean (Louis Garrel) comes to town. Aside from Raphaël and the blacksmith, men in Scarlet are generally not good people. They do awful things and get away with it and they treat Raphaël and Juliette terribly. So when Jean first brings with him immaculate shots of the sun reflecting off of water, skin, and camera lenses with vibrantly saturated colors leaping off of the screen, I was wary at first.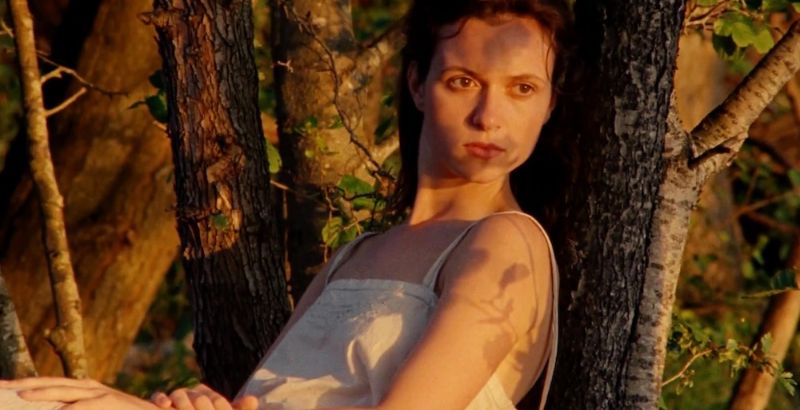 In a world such as Scarlet's, where you're led to assume men can't be trusted, I jumped to assume that, like Agnès Varda's Le Bonheur, these glorious colors were meant to mask the sinister and selfish nature of that film's leading man. The way Jean is shot in one particularly sun-bathed scene swimming towards a sleeping Juliette as if he were a shark approaching prey initially drained all of my trust. But as the story unfolds, it becomes clear that, for once, Scarlet is completely sincere in how it intends to frame Jean's coming into Juliette's life. It's breathtakingly beautiful and I was taught, eventually, to enjoy it without inhibitions, despite my predisposition and the movie's instruction not to trust men.
Unfortunately, for every gloriously beautiful scene, there were nearly as many that left me jarred or completely unable to watch. For starters, Scarlet makes occasional use of historical stock footage that, while perhaps interesting on a certain level and surely a time-saver as far as requiring extras on-set, the coloring and film quality simply do not match and every time it happens it just felt odd. There are also a number of scenes where you'll randomly jump to a first-person perspective and then never show one again, or a severe zoom-in on somebody's face will take place with no apparent reason besides that the camera simply could. They're sporadic moments throughout, especially the first half of the film, that perhaps are intended to add an element of whimsy but simply did not work for me.
There's also a bizarre quality now and again where the grain and color so badly matched that of a National Park introduction video from 30 years ago that I couldn't help but be taken out of the scene. For the most part, those elements did work, adding not just an early 20th Century feel but a timelessness to its period as well. But at random points, especially whenever the movie cuts to the witch, something about the depth would just feel off. And, of course, like nearly every movie, Scarlet is plagued by quite poor lighting during dark scenes. The entirety of the movie's most important final sequence is practically unviewable on a home screen because it is too dark, and a number of scenes throughout the movie suffer the same issue. Sparse moments of interesting blue lighting peak in through these dark frames, but it's certainly not awash in it enough to make it more interesting than it is disappointing.
Scarlet is a surreal film with deeply endearing characters and a hard life between them. It's utterly magnificent to look at just as often as it is impossible to, but the beauty visually and narratively ultimately outweigh the technical oddities. Life is rarely perfectly ornate; why should a film be?
Scarlet begins screening in limited theaters on June 9th.
Scarlet
TL;DR
Scarlet is a surreal film with deeply endearing characters and a hard life between them. It's utterly magnificent to look at just as often as it is impossible to, but the beauty visually and narratively ultimately outweigh the technical oddities.