Reading Time:
3
minutes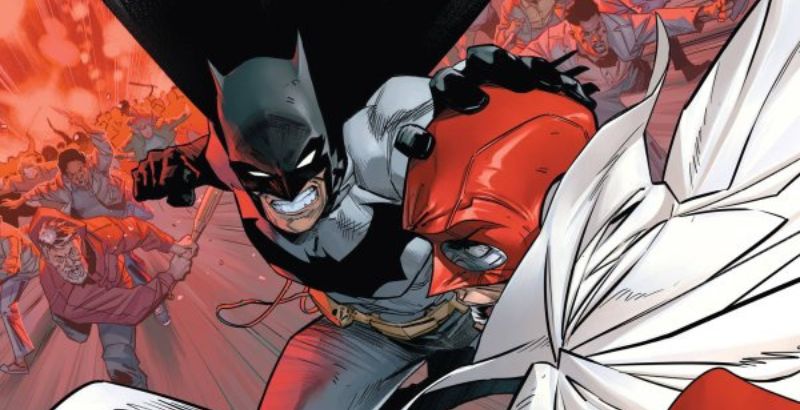 Batman #135 from DC goes above and beyond in making use of the Multiverse and tying up Batman's dark threads. Chip Zdarsky writes this full-length issue with art by Mike Hawthorne, Mikel Janin, and Jorge Jimenez. Janin and Jimenez join Adriano Di Benedetto on inks, Tomeu Morey and Romulo Fajardo Jr. handle the colors, and Clayton Cowles manages letters. 'The Bat-Man Of Gotham' reaches its conclusion here— one story to rule them all. Zdarsky does not disappoint. No one does. Not the art team. Not even Batman, who shines as a stalwart hero when the chips are down and as a human being.
But let's talk about amputation first. In the last issue, Batman, the prime universe Bruce Wayne, got run through with a sword by the alternate universe Ghostmaker and had his hand cut off. Yes. I know. I disbelieved as well. Not this guy, the one who outwits everyone and comes out of the worst of the worst unscathed. We've seen, over the last few years, writers have been humanizing our guy. That's been a relief, and boy, does Zdarsky bring that point home as this issue rolls on. Actual vulnerability in combat, with consequences. Sure, comics can undo this with magic or tech or cloning, but the fact that they let the number one Bat get cut down (sorry) was not only shocking, but perhaps it will help placate all those ridiculous assumptions that Batman is a flawless hero who can't fail. More of this, please.
Batman has fallen but can't stop fighting the war against Red Mask. This villain turns out to be more than just a proto-Joker siphoning multiversal energy for personal power. He's become a meta figure, a desperate man who represents a force of nature the Batman has always struggled against. This brings the narrative over the top but also circles it back to allow Zdarsky to pen Bruce in moments of self-examination as he recovers and goes back out to finish the job.
This was a terrific issue because it offered a lot of things I didn't think would work. I hated this multiverse story initially. But the previous issue won me over, and this one, well, it works hard to capitalize on Batman, on the Joker, as themes and as movers and shakers in every version of Gotham. It works in this story. I've witnessed a ton of nostalgia-based stories, and too many seem to favor nostalgia love first, with a thinly veiled plot to string them together. This one doesn't. It nails down a lengthy tale that ties all previous Zdarsky bits into one long narration while using nostalgia and Batman lores (yes, plural, wait and see)to enhance rather than to be the story.
Batman #135 is a winner. Not once is the prime Bruce not the center of the tale, and Failsafe, Joker, his psyche all play into what's going on. All the artists draw with fire as the styles will change drastically across the issue, as will the art and colors. But this is a beautiful issue full of what makes Batman strong and what makes him weak. And that same combination of power and fragility in the Red Mask makes him my new favorite villain. Never saw that coming.
You will be surprised by this book. The Bat stans should love how our hero overcomes, while those waiting for him to be more human can find points here to cling to. Anyone loving any piece of Batman mythos will jump up and down in their seats. And hold on for the ending. Not sure how I felt about the last page. Who am I kidding, loved it.
Just. Buy. It. This is comics. Justice, combat, and ridiculous storytelling with a spoonful of heart to stab you in the gut.
Batman #135 is available wherever comic books are sold.
Batman #135
TL;DR
Batman #135 is a winner. This is comics. Justice, combat, and ridiculous storytelling with a spoonful of heart to stab you in the gut.
William J. Jackson is a small town laddie who self publishes books of punk genres, Victorian Age superheroes, rocket ships and human turmoil. He loves him some comic books, Nature, Star Trek and the fine art of the introvert.