Reading Time:
2
minutes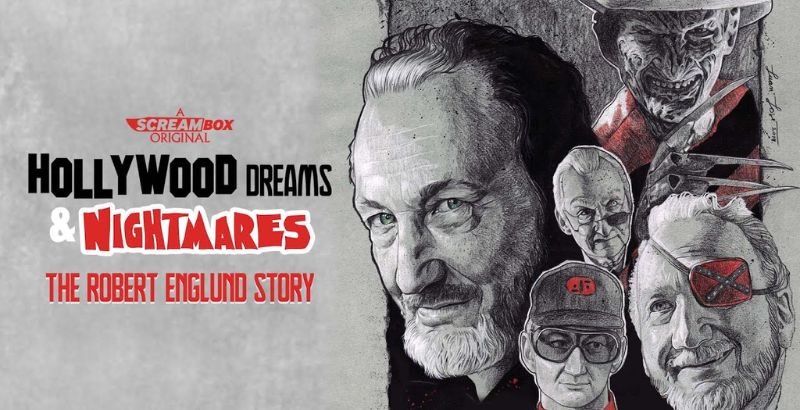 Hollywood Dreams & Nightmares: The Robert Englund Story, a horror documentary, will air on June 6th, 2023, with fans encouraged to use the hashtag #RobertEnglundDay. After its initial release on Screambox, Cinedigm, and Bloody Disgusting will make Hollywood Dreams & Nightmares: The Robert Englund Story available on Blu-ray on July 25th, 2023. Gary Smart and Christopher Griffiths direct Hollywood Dreams & Nightmares: The Robert Englund Story. Both of whom are known for Pennywise: The Story of IT, You're So Cool, and Brewster! The producer is Adam Wright.
Robert Englund is a classically trained actor and director and one of this generation's most iconic horror figures. He famously plays supernatural serial killer Freddy Krueger in the Nightmare on Elm Street franchise. Hollywood Dreams & Nightmares will highlight the man behind the gloves to give audiences a more intimate look at his life. To do so, Hollywood Dreams & Nightmares: The Robert Englund Story will feature interviews with many people close to him. This includes interviews with Englund himself. His wife, Nancy, Tony Todd, Kane Hodder, Lance Henriksen, Bill Moseley, Eli Roth, and Lin Shaye. Others include Heather Langenkamp, Mick Garris, Andrew Divoff, William Katt, Jeffrey Reddick, Corey Taylor, and more.
Additionally, Robert Englund says, "This old veteran character actor was surprised and flattered to find he was the subject of the documentary." "Collaborating with Gary and Christopher, and the team was a joy as they are genre fans like me. For yours truly, watching the film is a bit like Mark Twain's Tom Sawyer and Huck Finn attending their funeral". Gary, Chris, and Adam found old movies and TV shows I'd forgotten I was in. I'd come back from the dead! All kidding aside – it's an accurate memory of a working actor's journey – dreams can come true."
Furthermore, Bloody Disgusting and Beyond Fest will present an all-day Robert Englund marathon at the Aero Theatre on May 13th. The lineup of this event will include Freddy vs. Jason, The Last Showing, Stay Hungry, and A Nightmare on Elm Street 3: Dream Warriors. Afterward, there will be a free screening of Hollywood Dreams & Nightmares and a Q&A session with Robert Englund.
Screambox is available on iOS, Android, Prime Video, Roku, YouTube TV, Samsung, Comcast, Cox, and Screambox.com. Additional films on the steaming service include The Mangler, Night Terrors, Galaxy of Terror, and The Funhouse Massacre.