Reading Time:
3
minutes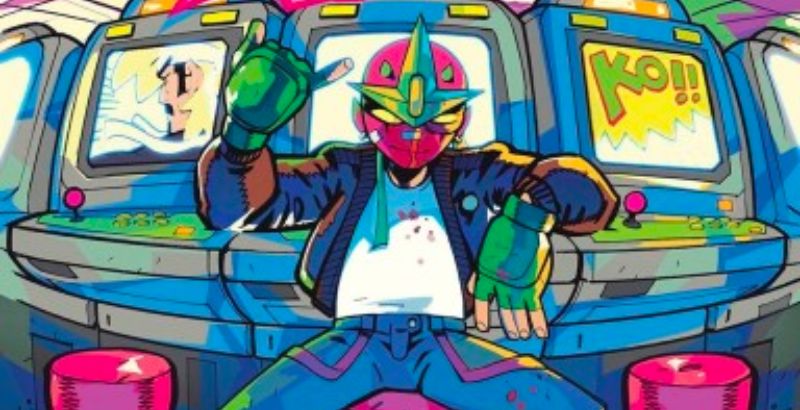 A strange new kid shows up in town in writer and artist Dylan Burnett's Image/Skybound Comics-published and Walter Baiamonte and Sara Antonellini-colored Arcade Kings. He's mysterious, he's quick with the arcade sticks and his fists, and his past is catching up to him fast. But Why Tho spoke with Burnett about his new video game and anime-inspired comic about some of the influences behind the story, its characters, and the art.
But Why Tho: Arcade Kings is heavily influenced by fighting video games. What is your relationship to video games and how has that manifested in the comic?
Dylan Burnett: Like many people, I grew up loving them! Zelda, Final Fantasy, and Street Fighter especially. Arcade Kings is my attempt at marrying an emotional, somewhat grounded story with the over-the-top action and visuals of my favourite fighting games from back in the day.
But Why Tho: Are there particular games that had the most influence on Arcade Kings?
Burnett: Street Fighter! Final Fight! Jet Set Radio! Yakuza! I could list way more, but we'd be here all day, haha.
But Why Tho: Visually the comic feels like it's drawing a lot from classic cartoons. What were some of the visual influences on the art direction and character designs?
Burnett: Shonen manga and anime like Medabots, Hajime No Ippo, Yu Yu Hakusho, and Tokusatsu-style superheroes like Zenkai Red and Faust the Robot held a big influence over the way the book's visuals and character designs turned out. Probably the biggest of all though, is the design work from all those Capcom games I grew up loving. Daigo Ikeno, Akiman, Shinkiro, Kinu Nishimura, Edayan, and Bengus all brought those great shapes and iconic looks that made those characters really stand out (and they still do).
But Why Tho: What are some of the other personal influences that shaped Arcade Kings and its story and characters?
Burnett: The structure of the character development is also pretty heavily inspired by video games. The idea of two separate protagonists with their own journeys was really interesting to me. I've always loved the player two/rival characters. Ken to Ryu, Luigi to Mario, Virgil to Dante, Protoman to Megaman, etc. I won't get too into details just yet, but you'll see what I mean.
But Why Tho: The main character Joe really stands out, not just visually but also attitudinally. What makes Joe tick as a character? And in broad terms, what kind of arc can we expect to see him go through?
Burnett: He's a kid that's on a mission of self-improvement. He's been torn in two directions for a good chunk of his upbringing, and his journey in this book is to set it all straight.
But Why Tho: Arcade Kings is heavy on epic fight scenes and awesome poses. In illustrating the fights, is there a particular method to delivering fun action while demonstrating the characters' personalities?
Burnett: Thanks! I think it's another one of the many things I find really inspiring about fighting games, honestly. A lot of the personality of a character is conveyed through their design and their fighting style. I've tried my best to echo that approach for the fight scenes in this book. The best fights are the ones that tell a story, and for Arcade Kings, the most important part is to sell the emotion as much as I can, on top of any lore or plot stuff. Like, what does the way this character takes a punch say about who they are? What does their clothing say about the way they think of themselves, and how does that relate to this fight? It's really tough but really fun!
---
Arcade Kings #1 is available wherever you get your comics May 17th, including with our ComiXology affiliate link.