Reading Time:
3
minutes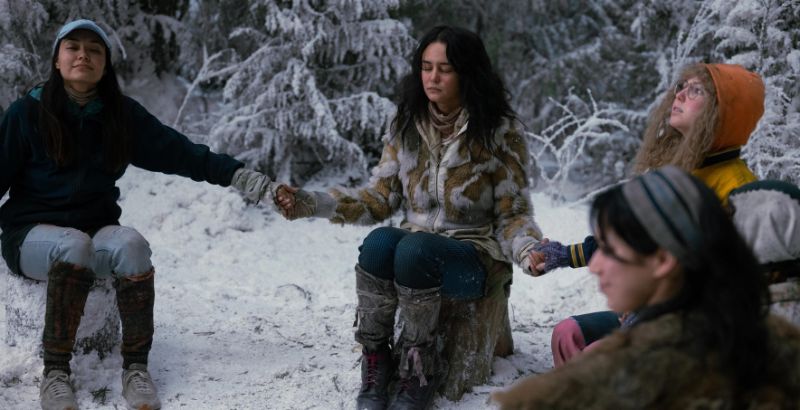 Yellowjackets Season 2 Episode 5 is the series on the precipice of new life. Literally, and figuratively. Shauna (Sophie Nélisse) goes into labor in the past and, in the future, the surviving Yellowjackets have started to reunite. This is what we've been waiting for so far this season. Some of the strongest moments in season one happened towards the end once most of the adult versions of the team found their way together in an epic declaration of unity as they stalked the floors of their high school reunion. Now, as blood is being spilled in the past and present, Yellowjackets is poised to deliver on expectations. 
We just need to get there first. There are certainly strong moments of Yellowjackets Season 2 Episode 5, especially ones between characters that are as revealing as ever. But with so many moving pieces the effect is yet another episode stuck in transition. Luckily, in this case, it provides moments such as adult Taissa (Tawny Cypress) and Van's (Lauren Ambrose) reunion. Ambrose is phenomenal as adult Van.
She doesn't so much mimic Liv Hewson as much as she adds decades of pain and reflection. There's a heaviness to how she walks and talks as if burdened by some unseen weight. Yet there's still a liveliness and zero-bullshit attitude presence that bridges Ambrose and Hewson. It's uncanny, really, and if one didn't know better it would be easy to believe the two were related. 
Ambrose's introduction and Van's adult reveal are exactly what Taissa's storyline needed in the present day. This season she's spent so much of her story alone and bringing back someone from the past who also knows in great detail what she's going through gives her story more intent. The mystery of what's happening to Taissa and what's triggering it, be it stress or the darkness within the entire team that's followed them back, means more now that we know it's yet another piece of the overlying puzzle. 
Unfortunately, not all of the new adult cast members are able to link a likeness to their younger counterparts. Simone Kessell is a good actress but nothing of her performance reads like the Lottie we know in the past played by Courtney Eaton. In some aspects, it makes sense considering all the character has gone through, but while every other actress possesses some element that ties them to their past, Kessell is removed entirely, making some of her scenes and reactions jarring in comparison. 
With the action that takes place this week, there's no doubt a blowout of some kind is around the corner. Misty (Christina Ricci, Samantha Hanratty) in both timelines takes drastic steps, though teen Misty is certainly dealing with far greater consequences. While Melanie Lynskey has shown a breadth of violence hidden by teen Shauna's naivete, it's Misty who has also been the most predisposed to darkness. This week's episode confirms that. 
The intrigue and mystery surrounding them in the wilderness continue to be one of the strongest elements, especially as we watch characters bend their will to appease whatever higher power may be. It ruffles the feathers of some, but there's little doubt there's something going on beyond what they're able to see, even if in the end it turns out to be a shared, elaborate, and imagined ruse in order for the team to better endure the horrors they're partaking in.
The deck of cards continues to hint at something more to come. Last week we saw the Queen of Hearts invade adult Lottie's pile of notes, and this week in the casual assignment of chores. With how the show is going, and how the characters use games as a means to survive general tedium, who's to say this deck of cards couldn't become a tool used to assign death? We still haven't learned who the girl at the bottom of the pit was at the very start of season one. It's feasible that the deck of cards could dictate fate too. 
Yellowjackets Season 2 Episode 5 isn't so much filler as it is an active bridge that brings together unraveling stories from each character. Though many adult characters have found their way to one another, the stakes have risen. That, plus the haunting cliffhanger we're left on in the past with Shauna, leaves anticipation high for what on earth the writers are going to level with us next. 
Yellowjackets Season 2 Episode 5 is available to stream and airs on Showtime.
Yellowjackets Season 2 Episode 5 – "Two Truths and a Lie"
TL;DR
Yellowjackets Season 2 Episode 5 isn't so much filler as it is an active bridge that brings together unraveling stories from each character. Though many adult characters have found their way to one another, the stakes have risen.
Allyson Johnson is co-founder and Editor-in-Chief of InBetweenDrafts. Former Editor-in-Chief at TheYoungFolks, she is a member of the Boston Society of Film Critics and the Boston Online Film Critics Association. Her writing has also appeared at CambridgeDay, ThePlaylist, Pajiba, VagueVisages, RogerEbert, TheBostonGlobe, Inverse, Bustle, her Substack, and every scrap of paper within her reach.