Reading Time:
3
minutes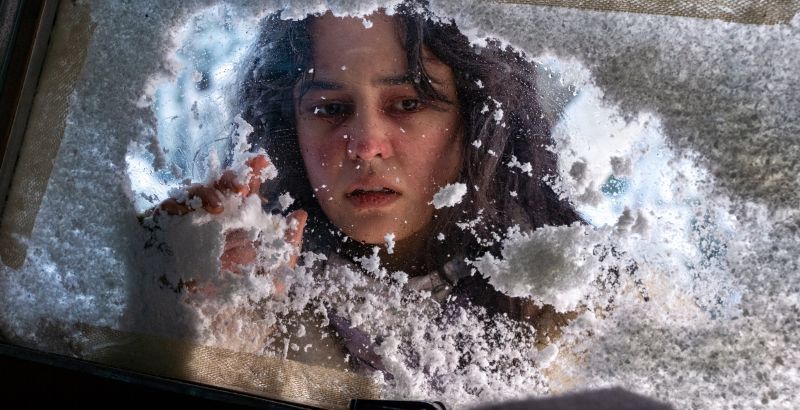 Yellowjackets Season 2 Episode 4 is an interesting hour of television. An episode meant to transition the story from one point to another, much of it is treading water with only a few scenes that add substantial levels of context or forward motion. "Old Wounds" succeeds, again, mainly in the flashback sequences. But where the adult sections succeed happens when we realize that the majority of them are being pointed in the direction of some sort of reunion.
That potential of comeuppance in the form of the team reuniting and the forged chaos it threatens to wreak is what maintains the level of tension in the modern setting. All the actresses in the modern day are phenomenal, from Melanie Lynskey's tremendous performance as a woman using a suburban housewife as a mirage, to Juliette Lewis's physicality that imbues Natalie with such a presence that she all but slithers into frame. Christina Ricci's contained mania is wielded well in this episode, showing that it is contained to the point of concern, as we await the catalytic moment that will fully send her and her show tune ways over the edge.
Otherwise, aside from Ricci and Elijah Wood's palpable chemistry, the biggest moments are bookmarked right at the end as Van (Lauren Ambrose) and Taissa (Tawny Cypress) reunite. It's a fun tease for what's to come even if it fails to satiate our desire to see the characters all together.
This is just part of why the younger cast works so well. By nature of their circumstance the characters in the flashbacks are forced into close proximity. This culminates in mounting tension and renders the viewer much more engaged—perched on the end of their seats while awaiting the next wave of trauma to pull them under. Yellowjackets Season 2 Episode 4 is a stark example of why the flashbacks such the air out of the room, because they are all such beautiful, human characters who are undoubtedly, at the end of the day, primarily teenage girls.
That youthfulness comes to fruition this week in a sequence that hints at what's coming. Natalie (Sophie Thatcher) is fed up with the fawning Lottie (Courtney Eaton) receives, even though she isn't going out every day and putting her neck on the line like she and Travis (Kevin Alves.) To settle the invisible score she's set, she proposes a challenge between her and Lottie where they see who can find food for the group first. There are rules both must follow as they brace themselves for a day in the wilderness in the mounting friction between science and faith.
This is our reminder of how young they are, no matter how well they've managed to survive thus far. Also, it calls back to the series' opening sequence, where we see an unnamed girl running through the snow and falling through a trap to her death, losing a chase where the outcome is her being the rest of the team's dinner. The team has already succumbed to cannibalism in devouring Jackie's (Ella Purnell) body. It's not much of a reach to see them resorting to the rules of a game to shield themselves from the true horrors they're committing. Even after months in the wilderness, this is a group of athletes who understand the rules and functions of a good game, even if it means turning on one of their own.
There's plenty that unveils itself in "Old Wounds," be it the reappearance of a character believed dead, the inner wounds of others, or Shauna's admittance of guilt to her daughter that renders her an accomplice. However, the strongest element of Yellowjackets Season 2 Episode 4 is the writing, which reminds us of the fallibility of these characters, their youthfulness, and their desperate need to be older than they are in order to survive. An uneven episode based solely on the show's required narrative splits, the high moments remain thrilling as we watch these characters face immeasurable odds, often crumbling under the pressure of their need to stay alive.
Yellowjackets Season 2 Episode 4 is streaming now on Showtime and airs on Showtime network April 16th.
Yellowjackets Season 2 Episode 4 - "Old Wounds"
TL;DR
An uneven episode based solely on the show's required narrative splits, the high moments remain thrilling as we watch these characters face immeasurable odds, often crumbling under the pressure of their need to stay alive.
Allyson Johnson is co-founder and Editor-in-Chief of InBetweenDrafts. Former Editor-in-Chief at TheYoungFolks, she is a member of the Boston Society of Film Critics and the Boston Online Film Critics Association. Her writing has also appeared at CambridgeDay, ThePlaylist, Pajiba, VagueVisages, RogerEbert, TheBostonGlobe, Inverse, Bustle, her Substack, and every scrap of paper within her reach.