Zombies have been done to death and resurrected in waves more times than I can count. But while there are plenty of zombie movies to choose from, honing in on the ones with bite can be a little difficult. So, we looked across streaming services to find you the best zombie movies to stream right now, just in time for Halloween. From the comedic to the tension-filled and the truly gruesome, we got you covered.
Zombie for Sale
Director: Lee Min-jae
Where to Watch: Shudder
Quirky and somehow really wholesome? Zombie for Sale pulls together humor, capitalism, and horror in such a fun way. A sentient zombie who winds up being a fountain of youth is a premise that goes a long way especially when he's surrounded by an eccentric family with their own motivations.
"When the illegal human experiments of Korea's biggest Pharmaceutical company go wrong, one of their "undead" test subjects escapes and ends up in a shabby gas station owned by the Park family. When the Park family uncover their undead visitor, he bites the head of their household, who instead of transforming into an undead ghoul becomes revitalized and full of life!"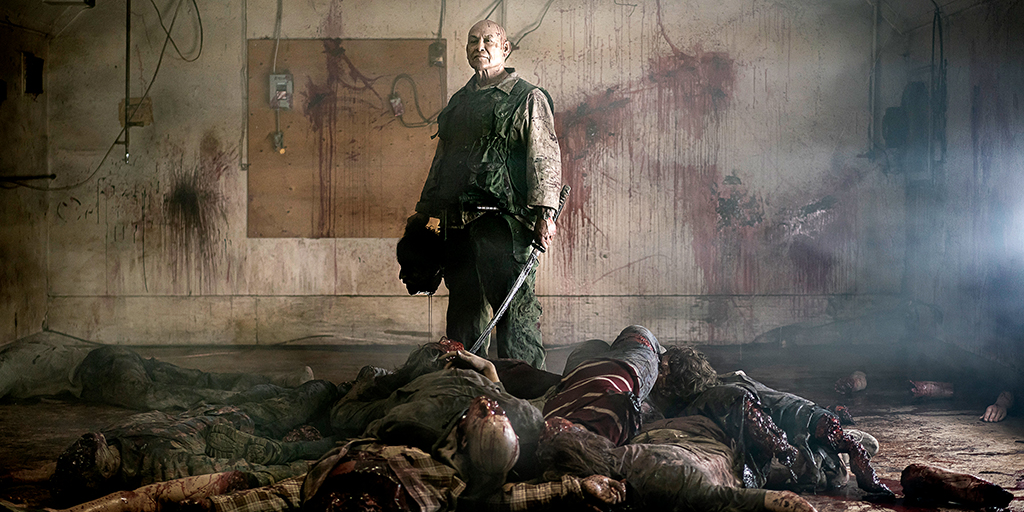 Director: Jeff Barnaby
Writer: Jeff Barnaby
Where to Watch: Shudder
With an all-indigenous cast, buckets of blood, and a strong stance against colonization, Blood Quantum is a zombie movie masterpiece. With a cast that delivers both action and emotion in spades, Blood Quantum nails everything you want from a zombie movie and delivers even more than you could dream up.
"The dead are coming back to life outside. But in the isolated Mi'gmaq reserve of Red Crow, the indigenous inhabitants are immune to the zombie plague. Traylor, the tribal sheriff, must protect his son's pregnant girlfriend, apocalyptic refugees, and reserve riffraff from the hordes of walking white corpses. "
Director: Rob Jabbaz
Writer: Rob Jabbaz
Where to Watch: Shudder
Based loosely inspired by Garth Ennis' Crossed comic series, The Sadness is the hardest film I've watched in a very very very long time. Shocking and extreme ultraviolence warrants so many content warnings. Sure, it's probably cheating to include this on a zombie movie list when the infected aren't undead, but hey, if you can stomach it, The Sadness is a film I want more to watch.
"When a virus spontaneously mutates, it gives rise to a mind-altering plague. The streets erupt into violence and depravity, as those infected are driven to enact the cruelest and ghastly things they can think of. Murder, torture, rape, and mutilation are only the beginning. A young couple is pushed to the limits of sanity as they try to reunite amid the chaos. The age of civility and order is no more. There is only 'The Sadness.'"
Seoul Station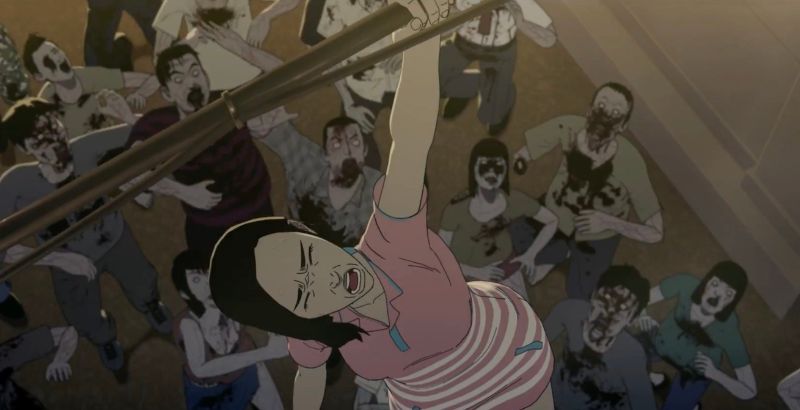 Director: Sang-ho Yeon
Writer: Sang-ho Yeon
Where to Watch: Prime Video
Train to Busan is easily on the Mount Rushmore of all-time zombie films. In this animated prequel, director Yeon tells the story of how it all started. With a bleak ending and a hard stance that humanity will ultimately always suck, Seoul Station is a great watch.
"In the animated prequel to Train to Busan, a father hunts for his daughter in the midst of a zombie outbreak."
Director: David Yarovesky
Writer: Mikki Daughtry and Tobias Iaconis, based on the book by J.A. White
Where to Watch: Hulu
A blend of comedy and horror, this zombie flick has Lupita N'yongo as an elementary school teacher tasked with keeping her students alive while on a field trip. Set in Australia, there really isn't any help coming, her coworker is doesn't know what he's doing, and the children's entertainer they find themselves tasked with protecting is just about the worst thing that could happen to them. Funny and gruesome, it makes the zombie movies to watch list on the premise and N'yongo's performance alone.
"A film dedicated to all the kindergarten teachers who motivate children to learn, instill them with confidence, and stop them from being devoured by zombies."
Director: Julius Avery
Writer: Billy Ray & Mark L. Smith
Where to Watch: Paramount+
Not only is Overlord a great zombie film, but it's also a great action film and a stellar war movie. Somehow, Julius Avery manages to blend the topic of Nazi experimentation, PTSD, racism, and, well, zombies. With phenomenal performances from Jovan Adepo, Wyatt Russell, and Mathilde Ollivier, the violence is amazing, but the acting is out of this world. I will recommend this movie on every single list I can fit it on—today, it's about zombie movies.
"Nothing can prepare you for the mind-blowing mayhem that is Overlord. Mega-producer J.J. Abrams creates an insanely twisted thrill ride about a team of American troops who come face-to-face with Nazi super-soldiers unlike the world has ever seen."
I am a Hero
Director: Shinsuke Sato
Writer: Akiko Nogi, based on the manga by Kengo Hanazawa
Where to Watch: Prime Video
Based on the manga of the same name, this adaptation manages to hit the high notes of what it's based on while also standing on its own. With an electric cast, it's one not a lot of people in the US have heard of, but one well worth your time.
"One day, after returning from work late in the evening, Hideo witnesses a traffic accident in which a car crashes into a nearby pedestrian, killing the victim instantly. However, despite severe injuries including a broken neck, the victim's body stands up and walks away. Hideo questions whether this is another one of his hallucinations, but strange events begin happening around him."

Director: David Yarovesky
Writer: Mikki Daughtry and Tobias Iaconis, based on the book by J.A. White
Where to Watch: Shudder
Fans of the hyper-violent, fans with strong stomachs, and fans of absurdity that maintains a truly bleak core will be drawn to Yummy and it will find a home among horror fans.
"When a young couple travels to a shady hospital for cosmetic surgery, the boyfriend stumbles upon a patient suffering from an experimental rejuvenation treatment. He frees her, but doesn't realize she's ground zero for an outbreak that will change the doctors, patients, and his mother-in-law into bloodthirsty, utterly outrageous zombies."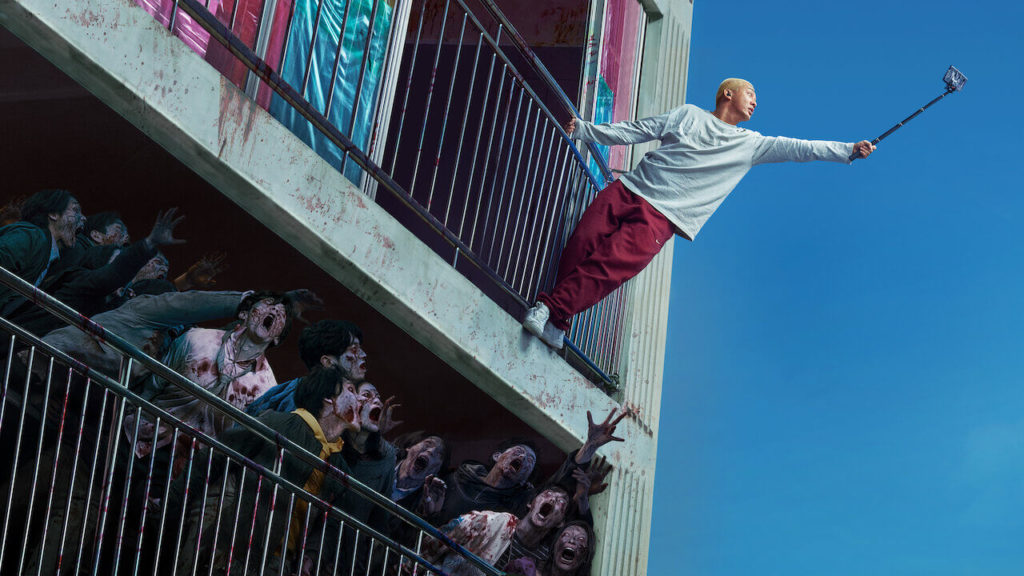 Director: Il Cho
Writer: Il Cho, based on the screenplay by Matt Naylor
Way better than its American counterpart, #Alone features one hell of a performance from its leading man Woo Ah-In. As Joon-woo, he captures loneliness, fear, and ultimately a determination to live. Set in one location, Cho uses the setting to its fullest with a twist in the third act that absolutely kills.
"While a grisly virus ravages a Korean city, Joon-woo tries to stay safe by locking himself inside his apartment. Just as he loses hope, he discovers another survivor."
The Night Eats the World
Director: David Yarovesky
Writer: Mikki Daughtry and Tobias Iaconis, based on the book by J.A. White
Where to Watch: Prime Video
Another simplistic one among zombie movies, The Night Eats the World is unnerving and visceral in its loneliness. With high stakes and high tension from the beginning, it's one that thrills you even with it's slower moments.
"After waking up in an apartment the night after a raging party, Sam comes face to face with his new reality, an army of zombies have invaded the streets of Paris and he is the lone survivor. Petrified with fear, he barricades himself inside the building to survive. He wonders how long can he last in silence and solitude, and the answer comes when he learns that he's not all alone after all."
---
Synopses for 10 Zombie Movies to Stream Now were taken from their respective product pages.