Reading Time:
3
minutes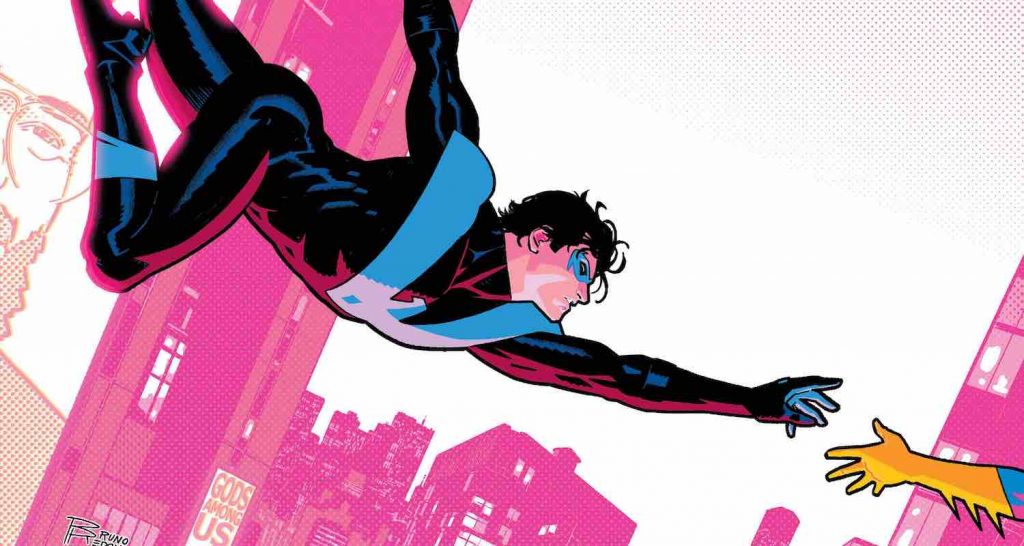 Nightwing #79 swings into April with pizzazz. This issue is written by Tom Taylor and illustrated by Bruno Redondo. Adriano Lucas is the colorist for the series, with Wes Abbott providing the letters. This series is published monthly by DC Comics.
Last issue, the series did more than simply get back on track; it roared across the comic book landscape to proudly declare that Nightwing was a gorgeous, unique thing all its own. It looked like something completely different from the other Bat-books. This second issue by the new creative team has no intention of scaling back their good work. Barbara Gordon/Oracle is in Bludhaven to see Dick and his brand new three-legged pup. Oh, and the fallout from Alfred Pennyworth's will, which has bequeathed billions of dollars to our title hero. In a set of panels as humorous as they are poignant, Dick Grayson realizes he is the Bruce Wayne of Bludhaven. Perfect.
For years, the Nightwing title has dwelled in the shadow of the Bat, pun intended. Yet in one fell swoop, the series swings into a direction giving Dick Grayson everything to be his own hero. The beginning of the issue sets this up very well. Dick asserts how his life has been one lived without a safety net and supported by a multitude of caring family members. The conversation is easy to read and readily displays the closeness between Dick and Barbara. So many facets of Nightwing's character are on display in just the first few pages, his compassion, humor, quirkiness, and low maintenance lifestyle despite being the ward of a stuffy billionaire. It was simply put amusing dialogue of well-established, very old characters that invigorated both without ever feeling dated or forced.
As Nightwing assesses his new wealth and other real-life concerns in Bludhaven, villainy doesn't take a day off. A new bad guy lurks in the city's dark places, just in case the book's brightness makes you think this comic is all lighthearted good times. 
Taylor danced across the pages of this issue with melodic words and plotting that never shied away from the terrible New 52 wrongs done to Grayson while acrobatically bounding from comedy to rom-com, action to thriller. Nightwing feels like the most rounded comic I have read in a considerable number of years, not to mention the most human book. Every character is multi-faceted and flawed, and not in the over-the-top fashion many characters are in modern fiction. And Bludhaven continues to breathe and feel like a crowded metropolis with as many positives as negatives.  Bludhaven feels like a city trying to develop, right when its hero is as well, even with the known corruption.
Speaking of positives, my God, the art is light and dynamic and being at the circus watching the acrobat perform while eating popcorn fun to behold. There are many small, simple lines to humanize every character in the book, major and minor. And the instructional pamphlet stylings on a few of the panels make the art stand out and also a tad funny. Just when you think it can't be any better, Nightwing #79 is really introducing readers to what the new seven-color comics are. Stepping up to the plate are Lucas' spectacular pinks, light blues, and magenta to headline the aesthetic attraction of Redondo's artwork along with those old school red, green, blue, and yellow we know so well. Abbott's lettering is as fun and frolicking as the writing, pencils, inks, and colors, and this has to be the most, dare I say, bubbly pop culture looking comic about a troubled youth who beats criminals stupid in the filthy back alleys of a heartless city run by dystopic public officials. 
One should not expect a book with that sort of overall story to hit like a brand new car scent. But it does. Superhero characters are retconned and gussied up to appear like new all the time, to the point where getting psyched about them died (at least within me) a very long time ago. This refreshed Nightwing and company is the hands-down best version of Dick, Bludhaven, and how to make such a revivification work. It looks like a new, splendiferous paint job. It feels, as a fan, like a bold resurrection. Now, if Dick and Barbara can finally have a real relationship and nothing gets in the way…
Buy the book. Buy the past issues so you can see the difference. Note the changes. Whether you do or don't, do yourself and your comic fans a favor and scoop up Nightwing #79 and spread the word. This is a terrific issue, and big things are surely coming.
Nightwing #79 is available now wherever comic books are sold. 
Nightwing #79
TL;DR
Buy the book. Buy the past issues so you can see the difference. Note the changes. Whether you do or don't, do yourself and your comic fans a favor and scoop up Nightwing #79 and spread the word. This is a terrific issue, and big things are surely coming.
William J. Jackson is a small town laddie who self publishes books of punk genres, Victorian Age superheroes, rocket ships and human turmoil. He loves him some comic books, Nature, Star Trek and the fine art of the introvert.