Reading Time:
11
minutes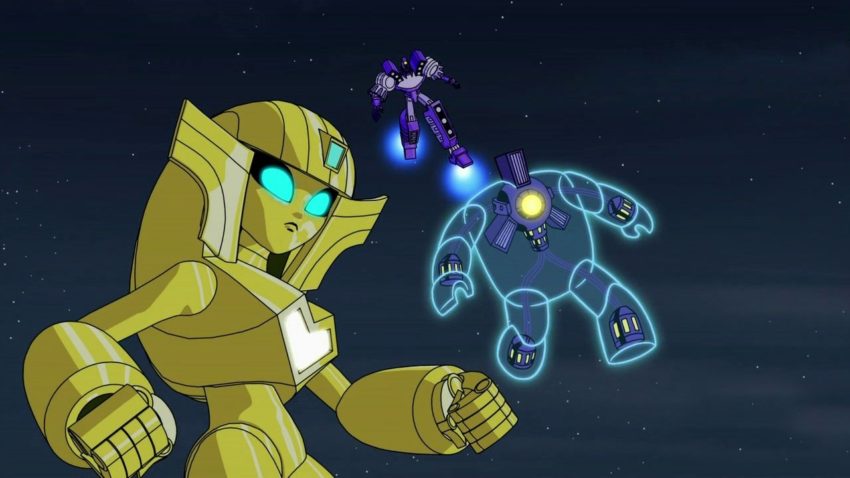 Over the course of 2019, I gave Netflix absolute hell over various decisions the streaming platform made, both through writing here on the site and in various tweets. From the expensive and now pointless $100 million Friends deal with a slew of popular originals, most notably One Day At A Time, getting canceled plus the biggest price hike in the service's history, I wasn't exactly thrilled with all that news.
In my last piece on the service, I cast some doubt on its future with all the content the service has either lost or will be losing and the services' newfound competition. Disney+ became an instant hit, HBO Max, despite a slow start, will likely see a big increase in subscribers now that Warner is planning on dumping their entire 2021 slate on the service due to the ongoing pandemic, and NBC's Peacock recently topped 26 million subscribers. But I also was optimistic about the services' future with the originals they still have now outperforming acquired content and a lot of promising future original content on the horizon.
Despite my (mostly) negative attitude towards the service, on December 15th, 2019, I was almost ready to take all of that back because they did something I can finally praise them for.  Last December, Cartoon Network added some of their older shows to Netflix. This was a bit odd because HBO Max was set to launch the following May, but, around the same time, Warner added their movies to Plex's free streaming service, and there are still quite a few CN shows currently still on Hulu, so I suppose it wasn't too out of the ordinary. Nevertheless, some of the shows from Cartoon Network included What's New Scooby-Doo? (which was one of my favorite shows growing up), and Scooby-Doo! Mystery Incorporated (which, in my opinion, is the best Scooby-Doo show next to the original). Another show the network added was just an absolute shocker to the animation community: Sym-Bionic Titan.  This was a huge deal.
For those who don't know, Sym-Bionic Titan is a show that premiered on Cartoon Network on September 13, 2010. Titan was co-created by animation legend Genndy Tartakovsky (alongside writer/storyboard artist Bryan Andrews and animator Paul Rudish), who is best known for creating the Cartoon Network classics Dexter's Laboratory and Samurai Jack. He also co-created the original Star Wars: Clone Wars micro-series that aired on Cartoon Network from 2003 to 2005, was an instrumental crew member on The Powerpuff Girls, and most notably directed the Hotel Transylvania trilogy and currently has a new series called Primal on Adult Swim.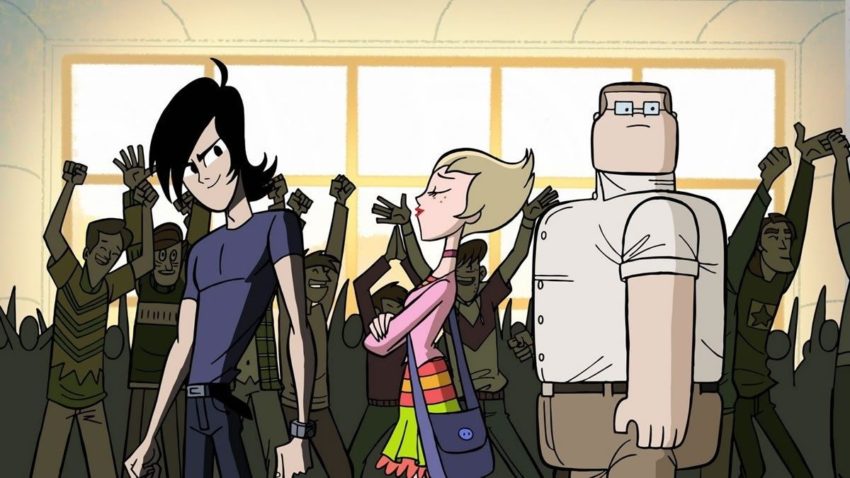 Described as an exciting hybrid of high school drama and giant robot battles, Sym-Bionic Titan (which Tartakovsky describes as his most challenging project) revolved around three characters: Lance, Illana, and Octus from planet Galaluna. Galaluna has been overrun by the evil general Modula with the help of an alien race called the Mutraddi in a coup d'etat. Accompanied by Lance, a rebellious but capable teenage soldier, and Octus, a bio-cybernetic robot tasked to protect her, Ilana, the teenage princess of Galauna, is sent to Earth by her father, the King, to hide until he can take the planet back from Modula. The three crash lands in Sherman, Illinois, and must assimilate to everyday high school life while hiding from Modula and the Mutraddi.
However, things aren't so straightforward. Not only is the U.S. Army and the Galatic Guardian Group (commonly referred to as G3), a non-government based security agency that researches extraterrestrial life forms, are on their tail, but Modula also sends Mutraddi creatures to Earth to find and kill Illana, as she is the sole heir to the throne of Galaluna. Her survival gives hope to the people of the planet to keep fighting against the coup.
In hiding, Lance, Illana, and Octus become the Lunis family, adjust to everyday life at Sherman High School, and deal with your typical teenage problems. Although he feels without a purpose on Earth at first and temporarily becomes a vigilante to fill the void of his old life as a solider ("The Phantom Ninja"), Lance gets into cars ("Roar Of The White Dragon") and music, even joining a band and later getting kicked out of it ("Disenfranchised"). He also becomes interested in a girl named Kristin ("The Ballad of Scary Mary" and "Under the Three Moons"). Illana becomes very active at school in various mediums. She first tries to get the school's lunch menu changed and organizes a food party where she introduces Galaunian food (with Earth ingredient substitutes) to the students ("The Phantom Ninja").  She then tries out for the cheerleading squad ("Showdown at Sherman High"), later joins the soccer team ("Disenfranchised"), and organizes the school's Homecoming dance ("Under the Three Moons").
Octus has two human holograms: Netwon, a stereotypical teenage nerd, and Dad, your typical middle-aged father. As Newton, he starts dating the popular cheerleading captain Kimmy ("Lessons in Love"), although she later breaks up with him after the Lunis's double life starts to interfere with their relationship directly ("The Ballad of Scary Mary" and "Under the Three Moons"). As Dad, he attempts to parent Lance and Illana ("Elephant Logic") and fends off advances from Barb, the Lunis's divorced neighbor who is interested in his Dad hologram. Throughout the show, particularly in the episode "I Am Octus," Octus discovers he is more than just a robot; he is caple of human feelings, shown through his relationship with Lance and Illana and his relationship with Kimmy as Newton. To summarize Titan in a nutshell, imagine if John Hughes had made a mecha anime. <
I still remember the night Sym-Bionic Titan premiered. Ten-year-old me had seen promos for the show watching Cartoon Network on the weekends, and seeing promos online got me excited for the show, even though I didn't entirely grasp what it was about outside of giant robot battles. All I knew was that it was a new show on Cartoon Network, my favorite channel growing up and that Genndy Tartakovsky, who made two of my favorite shows, had co-created it.
Sym-Bionic Titan was apart of and premiered during an era that I like to call "Cartoon Network's Aged-Up Period." At the start of the decade, Cartoon Network debuted many new shows directed at older audiences. These shows weren't crazy enough for Adult Swim but more mature than anything the network had done since Space Ghost Coast to Coast. Titan was one of these shows, as Tartakovsky stated in an interview with Wired that the show was directed towards older audiences intending to deal with teenage problems.  Other shows from this era included: Adventure Time, Regular Show, MAD, The Looney Tunes Show, and the aforementioned Scooby-Doo! Mystery Incorporated. Some of Cartoon Network's Canadian imports from Teletoon, such as the Total Drama franchise, 6teen, and Stoked, also fit right in with this era.
Despite being outside of the show's targeted demographic, Titan quickly became one of my favorite shows, and I was glued to the TV every Friday night. The amazing animation, the brilliant fight scenes, engaging stories, and the stellar voice acting from Kevin Thoms, Tara Strong, Brian Posehn, and John DiMaggio always had me on the edge of my seat. Titan gave middle school me an idea of what High School would be like (without the giant robot battles, of course). As I grew older,  my appreciation for the show grew. It's instrumental to me as a writer. Along with 6teen,  Titan sparked my interest in watching and wanting to write young adult media.
Titan received rave reviews from critics and audiences, received two Annie Award nominations, and performed well in ratings, with a Cartoon Network insider saying that the show had "competitive ratings" with other action shows at the time. Despite the show's success, it was canceled after only one season (although Cartoon Network would promote the second half of the first season as a second season), and its final episode aired on April 9, 2011. Why would a show that was doing so well get axed like that? Although an official reason for the show's cancellation was never given, the aforementioned insider told The Animation Guild blog that Titan was canceled because it "didn't have enough toys connected to it," something Tartakovsky would later confirm.
At the time, an action animated series such as Titan needed a toy line for it to stay on the air, and without a toy line, continuing the show would be pointless for the network. Young Justice, another beloved Cartoon Network show that aired around the same time as Titan, was also canceled for similar reasons.  Developer/writer/producer Greg Weisman explained that Mattel, who developed and sold toys for the show, canceled Young Justice's toy-line after realizing it wasn't selling well enough, despite the show's high ratings. After years of hardcore fan support, the show was officially revived in 2016, with its latest season premiering on DC Universe in early 2019. Green Lantern: The Animated Series suffered the same fate as well. Low toy sales mean no show (although Ryan Reynold's infamous film also played a part in the show's cancellation, according to voice actor Josh Keaton). In addition to not obtaining a toy license,  there were also some creative differences between Tartakovsky and Cartoon Network, who wanted the show to be more like the Man of Action created Ben 10 and Generator Rex, which both aired at the same time as Titan. Tartakovsky refused, which affected the support and push the network gave the show. 
Titan's cancellation ended the show on a cliffhanger. Although "A New Beginning" would be the final episode of the show, Tartakovsky has stated that ten more episodes of the show had been written at the time of cancellation, which would've had more action, would've revealed the fate of Lance's father, had a 70's styled musical episode where Illana falls in love, and other "incredible stuff," which is why the final episode feels like a season finale rather than a series one. But "A New Beginning" was the end.  We have no idea who repaired Octus (beyond speculation that it was Lance's father). We don't know if Kimmy and Newton got back together. We have no idea if Lance, Illana, and Octus ever made it back to Galaluna. We don't know the fate of G3, the King, etc.  And for the longest time, it seemed like we'd never know. After the show's cancellation, Tartakovsky moved on to Sony Pictures Animation, where he would direct the successful Hotel Transylvania trilogy and developed a Popeye film that was canceled and later revived.
Despite its cancellation, the show still maintains a strong cult following. Adult Swim re-ran Titan on Toonami from October 6, 2012, to July 20, 2013, and would return to the block for a second run from March 8, 2014, to July 20, 2014. The show was a top trend on Twitter nearly every time it aired. Illana and Octus appeared on the Cartoon Network show OK K.O.! Let's Be Heroes in the episode "Crossover Nexus." Illana's voice actress Tara Strong has expressed interest in revisiting Titan a few times on Twitter. So too has Kimmy's voice actress Kari Wharlgreen and Tartakovsky himself expressed interest in returning to the series a few times over the years.
While doing press for Hotel Transylvania in 2012, Tartakovsky did an interview with Wired,  where he expressed excitement about Titan rerunning on Toonami and hoped the show would do well enough for a revival. While doing press for the final season of Samurai Jack in 2017, he interviewed with Polygon, where he stated if someone offered him money, he'd finish Titan with a movie similar to Pacific Rim. He also expressed how crushed he was when the show was canceled in an interview with Syfy in 2018.  Doing a spotlight panel at C2E2 earlier this year, he hinted that it could get a second chance if fans re-discover the show. And since Titan has been on Netflix, there's been some buzz about the show throughout the year. On Twitter, many were shocked and excited to see the show added to Netflix, many watched the show for the first time, and viral tweets of the show went around of people re-discovering the now-infamous "booty quake" scene from the episode "Lessons in Love."
While all that has been great, there's one problem: Titan has now been removed from Netflix. At 3 AM on December 15, the show was removed while I was in the middle of another rewatch (and I had three episodes left too). So what happens now? Being a Cartoon Network series, there's currently no news on if the show will migrate over to HBO Max, so there's a good chance the show goes back into the depths of the abyss, never to be seen again now that it's removed from Netflix. That is unless we do something about it. The show continuing on a streaming platform is our only chance for the show to be revived, so now, it's up to us.
Now some of you might be wondering, "why is steaming is the only option?". Well, there are a few reasons. Cartoon Network is long removed from the aged-up era, and the last show from that era, Adventure Time, came to an end in late 2018 (although there is a new mini-series Adventure Time: Distant Lands currently airing on HBO Max). There's no chance of a show like Titan airing on the network in its current state.
So the next best bet would logically be Adult Swim. As I mentioned earlier, the network re-ran the show on Toonami twice, and Tartakovsky has been doing a lot of work for them recently. The final season of Samurai Jack aired on the network along with Primal, which was just renewed for another season. However, even if Cartoon Network did return to making more shows directed at older audiences (which would be great) or if adult swim did want to revive the show, Titan can't return on either network or regular television at all. In 2014, Cartoon Network wrote off the show in taxes. This means the show can never re-run on television again. At the time, no one knew how this would affect streaming, as it wasn't that big of a medium when the show was written off as it is now. The show being put on Netflix gave us our answer. Streaming is the only way the show can come back. If a revival does happen, HBO Max would be the only place for it.
So what do we need to do for a revival to happen? Basically, this:
Tweet at HBO Max: Tweet at the official HBO Max and HBO Max Help accounts on Twitter and tell them you want Titan to be added to the platform. If they see a large demand for the show, there's a good chance they'll add it.
Should it be added to HBO Max, stream the shit out of the show: Run up those numbers. If Warner sees that the show is streaming well, it increases our chances of a revival.

Although Netflix famously doesn't reveal its ratings, so we won't know how the show did over the course of the year, analytics are still released to the original studios/networks. Although we can only hope, if the show did well during its time on the service, that's a plus.

Buy the show digitally: Titan is still available for purchase on both iTunes (broken up into two volumes) and the Microsoft store (broken up into two seasons). If sales are good, it also increases the chances of a revival happening.
To our Australian readers, Buy The DVD: The show is available on DVD in your country. Like with the iTunes sales, if those numbers are good, it increases our chances. Also, physical media is still pretty cool, and you'll still be able to watch the show no matter what.
Spread the word through social media: When the show re-ran on Toonami, it trended nearly every night it was on. Let's get conversations about the show going. Hell, let's try to get it trending again (time to bring back #BringBackSymBionicTitan).
Word of mouth: Tell your friends, tell your dad, tell your mom to watch it.
This might be the homestretch y'all. One thing that has given me a lot of hope for the show in the past few years has been looking at the Young Justice movement. The fans never gave up, kept supporting the show, and made so much noise until they were heard.  If we can match their movement, there's a strong chance that Sym-Bionic Titan could be back again as if it never left in the first place. If the show ends up migrating over to HBO Max, the fight continues. And an important thing to remember is that even if we're successful, it still could be some time before we see Titan return as Tartakovsky has a lot on his plate right now. Tartakovsky recently returned to Cartoon Network for an upcoming new show entitled Unicorn: Warriors Eternal, which will air on CN and HBO Max, and also has other projects in development at Sony Pictures Animation. It'll take some time. But if we pull this off, it'll all be worth it in the end. It's now or never. Let's save Sym-Bionic Titan.  
I'm Ian! But most of you will probably grow to know me as Spidey. I'm Your Friendly Neighboorhood Spider-Man and aspiring Pokemon Trainer. Animation, comics, EDM, pop punk, hip hop, 90's/2000's culture enthusiast. I'm also a member of creative collectives CGYT and Cinematic Gadget. Also, if you're into the alternative music scene, I additionally write for All Punked Up and the Spinning Thoughts podcast on idobi Radio.