Reading Time:
2
minutes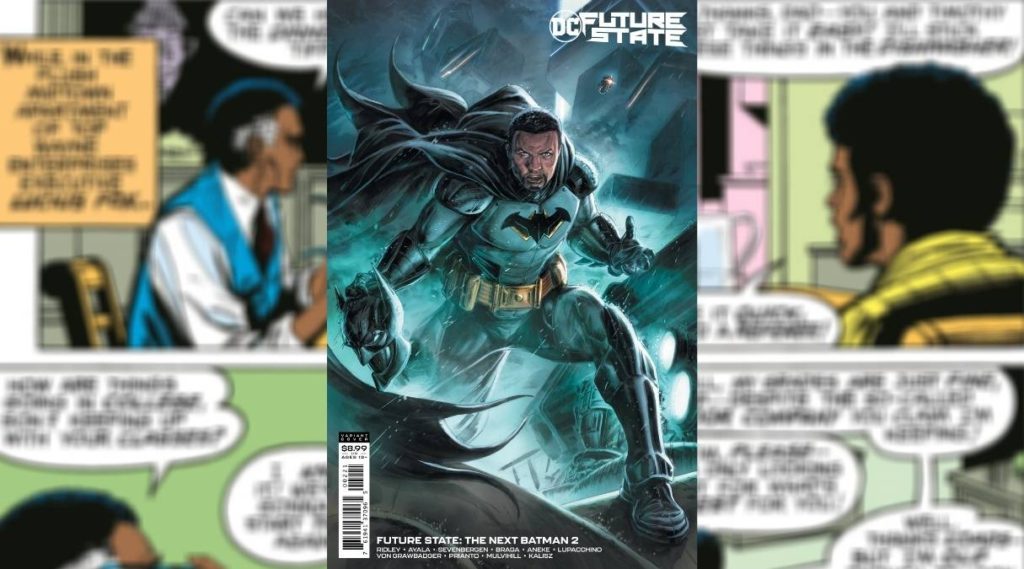 On February 23, 2021, John Ridley and Coipel reunite to tell another story of The Next Batman and give him a sidekick as part of DC's Batman: Black & White anthology series. Even before the announcement of DC Future State and Future State: The Next Batman, by John Ridley, Nick Derington, and Laura Braga, the news that a person of color could be the next to don the cape and cowl as Gotham City's protector sent tongues wagging inside and outside the comic book community about who it could possibly be.
Today, DC Comics finally ends the speculation with the reveal of this surprise variant cover for Future State: The Next Batman #2 of the four-issue January/February miniseries. Featuring striking art by Doug Braithwaite and Diego Rodriguez, Gotham's defender in this dystopian future is revealed as Tim (Jace) Fox, estranged son of Lucius Fox and brother to the former Batwing Luke Fox.
Tim Fox's first comic book appearance was in Batman #313, April 10, 1979. The character has since been teased in the current Batman line, first as a mention in "Family Ties," the John Ridley/Olivier Coipel story from September's Batman: The Joker War Zone anthology. In October's Batman #101, he also shows up in a conversation between Batman and Lucius Fox, who has since acquired the Wayne fortune and technology as a result of The Joker War.
Future State: The Next Batman debuts in comic book stores and participating digital platforms on Tuesday, January 5, 2021, with new issues available every other week (issue #2 on January 26, issue #3 on February 2, and issue #4 on February 16). Each 64-page oversized issue includes backup stories of other Gotham City heroes and villains taking on the oppressive rule of The Magistrate and its war on vigilantes:
Future State: Arkham Knights, by Paul Jenkins and Jack Herbert (issues #1 and #3)
Future State: Outsiders, by Brandon Thomas and Sumit Kumar (issues #1 and #3)
Future State: Batgirls, by Vita Ayala and Aneke (issues #2 and #4)
Future State: Gotham City Sirens, by Paula Sevenbergen and Emanuela Lupacchino (issues #2 and #4)