Reading Time:
4
minutes
Plain Bad Heroines is written by Emily M. Danforth, illustrated by Sara Lautman, and is published by HarperCollins. It released just in time for Halloween. This is a gothic horror satire novel that revolves around sapphics and the horror they find on campus or on a Hollywood set. Readers follow two different storylines between Flo and Clara, two boarding school lovers who suffer a tragic death in the woods in 1902, and Harper and Audrey as they attempt to tell Flo and Clara's story on the big screen.
For starters, Plain Bad Heroines is not set up as a typical horror novel. It has a metafictional narrator directly talking to readers. While this doesn't always hit the nail on the head, Danforth's curt and satirical tone is wildly funny and utterly brilliant. There are many moments throughout the novel where Danforth criticizes the lives of the Hollywood elite, the silliness of fear, and the lunacy of online culture. The narrator's dialogue is distinct in tone and it is never confusing to follow. The narrator is present to help tie the two separate timelines together and it does its job well and seamlessly.
Readers will have an easier time knowing that there are two distinct aspects to this narrative. One part is a classic-feeling, gothic horror story revolving around young women obsessed with a memoir from the real-life Mary Maclane. For historical context, Mary MacLane was a prominent writer in the early 1900s. Mary MacLane wrote about her attraction to other women and how she wished women were allowed to be perceived as anything but pure. Flo and Clara are two girls who found each other at Brookhants and secretly fell in love. It was through MacLane's writings that they found solace in their love and felt for the first time that their queerness is validated. They publically displayed their love and many on-campus knew of them. Following the strong-willed writing of MacLane, they created a club called the Plain Bad Heroines where they indulged in being different than what society tells women what they need to be. Given their strength to be "out" in the early 20th century, their death on campus was forever a stain on the legacy of Brookhants.
However, many of these young women who find hope in MacLane's words soon find their deaths. Despite Plain Bad Heroines having the "bury your gays" trope, I find that there isn't any subtext to these queer/ LGBTQ+ characters. There are sapphic relationships clearly stated and Danforth explicitly writes to ensure that there is not queer erasure within her novel. As the setting is gothic horror, their deaths don't hurt as much, as say Silhouette in Watchman (2009) (which in my opinion is a terrifying portrayal of violence against queer women that still haunts me to this day) or Tara in Buffy the Vampire Slayer (a sad display of a canon gay woman being killed off for plot development).
Danforth throughout this 604-page novel explores this tragedy and, instead of exploiting their suffering, sets a pathway to write a novel that has more canon queer and gay women than any other book I have ever read. As well, there are more queer women and LGBTQ+ folks present compared to straight people. I point this out because it feels good to see that type of present-day representation of social circles that reflect my own. As a queer person/ woman (I use she/they pronouns), I am in a relationship with someone who is not straight, my best friend/roommate is a lesbian and almost all of my friends are not cis-gendered or heterosexual. That type of representation is important and reading this mixed with horror was a delight!
The second narrative is where Danforth's ability for pace changes and meta-horror shines. Set in present-day Hollywood, we meet up with fresh on the scene actress Harper Harper (yes, that's her name and yes, it is ironically pretentious) as she is set to start in a film adaptation of the story of Flo and Clara at Brookhants. Set to co-star is the daughter of a renowned scream queen and former child star Audrey Wells. Stylishly, Plain Bad Heroines pens down a unique found-footage horror aspect as they film this movie. Danforth writes atmosphere and setting so well that the narrative feels like it was made for the big screen.
The present-day story further contextualizes the past narrative's gothic nature and pokes fun at the idea of haunted places, the supernatural, and paranoia. Yellow Jackets have never seemed scary to me but the tense and feverish scenes featuring them are enough to make sure I don't hear any buzzing around. The last half of this novel focuses heavily on the present-day story and while many may wish that there wasn't as much time dedicated to it, I loved the indulgence in horror film satire.
Plain Bad Heroines was one of my most anticipated reads and it delivered so much more than I was even expecting. Danforth's unique storytelling may not be everyone's cup of tea. Her meta narration may get old for some but it definitely adds a charm that reminds me deeply of Lemony Snicket's Series of Unfortunate Events with the narrator's ability to set mood and tone for chapters. The length of this novel is on the longer side due to the fact that it is wildly descriptive and wants readers to know that every stone has been uncovered and every base touched.
This is not a traditional horror book and it never tries to trick readers into thinking it is. It holds your hand and shows you a beautiful amalgamation of queer culture, horror, and comedy that was what I didn't know I needed.
You can order Plain Bad Heroines wherever books are sold.
Plain Bad Heroines
TL;DR
This is not a traditional horror book and it never tries to trick readers into thinking it is. It holds your hand and shows you a beautiful amalgamation of queer culture, horror, and comedy that was what I didn't know I needed.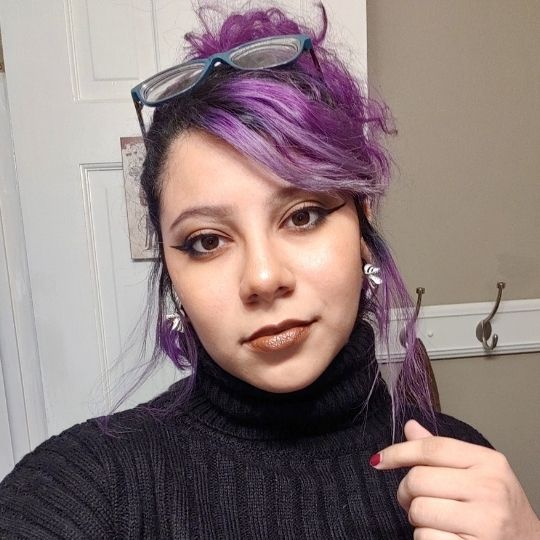 An avid reader since childhood, Cidnya has always surrounded her free time with pop culture. From watching horror movies to playing JRPGs, Cidnya loves to consume and immerse herself in various fictional worlds. Some of their favorite things include Twin Peaks, Batman, Kingdom Hearts, Coffee, and JoJo's Bizarre Adventure.