Reading Time:
3
minutes
Many of you will remember the viral video that came out over the summer, depicting Sacha Baron Cohen infiltrating a right-wing militia rally and leading the enthusiastic crowd in a deeply unflattering sing-a-long. The assembled crowd called for violence against journalists and things got a little racially charged with some choice lyrics. Heralded as the latest performance art from the well-known cultural agitator, it turns out that trolling right-wing rallies was just the beginning. It's Cohen versus Conservative American in the real October surprise, Borat Subsequent Moviefilm.
Borat Subsequent Moviefilm is directed by Jason Woliner and stars Irina Nowak and Sacha Baron Cohen, returning as his (in)famous Borat character. The film picks up fourteen years after the events of Borat, unleashing the famous foreign journalist upon the American populace once again. The mission: Borat must produce a bribe to Vice President Mike Pence, for the glory of Kazakhstan. The hitch: After a series of unfortunate events, Borat must offer his own daughter as a gift to the Vice President. The stage: The underbelly of Conservative America. The result: Not enough soap, prayer, or tears to wash away the horrors I have seen.
I'll get straight to it. Borat Subsequent Moviefilm is not as hilarious as its predecessor. This is not a smear on Cohen or the team. To put it plainly, Borat Subsequent Moviefilm can't be funny because its subject matter is so grave.
The film firmly places the American GOP and extreme conservativism in its crosshairs… and proceeds to blow the entire subculture's head off. Borat Subsequent Moviefilm is brazenly political and takes several swings at some of the most influential Republicans operating today. These moments are expectedly funny and follow the same strokes as other famously critical comedians. But the real intrigue (terror?) of the film exists within its exploration of conservative America and the supporters that make the extreme division in this country possible.
Viewers are subjected to the blatant racism of right-wing militias, the lunacy of QAnon conspiracy theorists, unflinching anti-Semitism, and a particularly strange scene where a pro-life pastor glosses over supposed incest to keep an abortion consultation on topic. Every scene that unfolds in this sequel is more upsetting than the last. The "hot-button" reveals involving major political actors are honestly the least of our concerns.
Borat Subsequent Moviefilm provides a "cold light of day" appraisal of our own American extremism. The famous right-wing sing-a-long aside, Cohen does not have to do much to draw crazy out of the woodwork. Simply being a presence in conservative America is enough to reveal a cultural mindset that feels like it should only exist on Facebook but, unfortunately, walks among us.
The secondary plot of the film is an exploration of Borat's relationship with his teenage daughter. These scenes are a farce of traditional gender roles, juxtaposed to the GOP's contradictory relationship with women. Extreme religious conservativism is held up next to the infidelities and uncomfortable sexual histories of conservative politicians. These discussions of gender trouble in the U.S. are among the weaker moments in the film, but the trade-off is a touching and effective father-daughter tale. The effect is like being wrapped in a towel that's fresh out of the dryer, after an ice bath. Sure you've just experienced a total shock to the senses, but there are enough warm-fuzzies to take some of the edge off.
The introduction of the coronavirus pandemic is a welcome shift in the action. That being said, it should be of great concern to all of us that this development folds in so comfortably with the film's existing conversation on extreme conservative ideologies that persist in America. Very concerning indeed.
Borat Subsequent Moviefilm is poised to revolutionize charged Thanksgiving conversations, across the entire nation. Unflattering, shocking, and stomach-turning, this film would be damn funny if it didn't make you want to crawl into a quiet corner and cry. Be afraid. Be very afraid. And vote, goddammit.
Borat Subsequent Moviefilm: Delivery of Prodigious Bribe to American Regime for Make Benefit Once Glorious Nation of Kazakhstaan will be available exclusively on Prime Video on Friday, October 23, 2020.
Borat Subsequent Moviefilm
TL;DR
Unflattering, shocking, and stomach-turning, this film would be damn funny if it didn't make you want to crawl into a quiet corner and cry.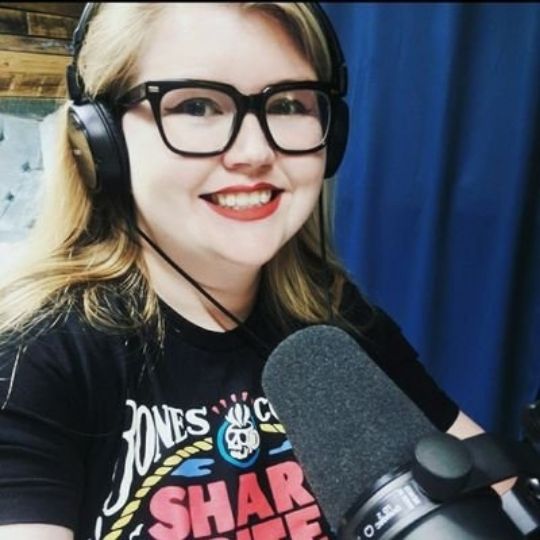 Caitlin is a sweater enthusiast, film critic, and lean, mean writing machine based in Austin, TX. Her love of film began with being shown Rosemary's Baby at a particularly impressionable age and she's been hooked ever since. She loves a good bourbon and hates people who talk in movies. Caitlin has been writing since 2014 and you can find her work on Film Inquiry, The Financial Diet, Nightmarish Conjurings, and many others. Follow her on Twitter at @CaitDoes.