Donate to St. Jude Children's Research Hospital through our campaign in partnership with St. Jude PLAY LIVE at stjude.org/butwhytho
This week, we have a special episode for you all, an interview with Zachary "Zach" Whitten, from St. Jude PLAY LIVE and how they use gaming for good by partnering with content creators to help raise money for St. Jude Children's Research Hospital. We talk about how St. Jude PLAY LIVE got started, how they work with creators, and we learn more about the lifesaving mission of St Jude Children's Research Hospital: Finding cures. Saving children.®
This episode dives into the work that St. Jude does and most importantly, how you can help contribute. But Why Tho? A Geek Community was founded because we believe that pop culture matters. It's because of this that we believe pop culture fans should use their fandom to do good. This October, we're raising money for St. Jude, in partnership with St. Jude PLAY LIVE.
Treatments invented at St. Jude have helped push the overall childhood cancer survival rate from 20 percent to more than 80 percent since the hospital opened more than 50 years ago. St. Jude won't stop until no child dies from cancer. St. Jude freely shares the discoveries it makes, and every child saved at St. Jude means doctors and scientists worldwide can use that knowledge to save thousands more children. Families never receive a bill from St. Jude for treatment, travel, housing, or food – because all a family should worry about is helping their child live.
Our fundraising goal is $5,000 and as we hit milestones along the way, our community will unlock a variety of rewards. We've just passed the $2,000 mark and we would love if you could join in the cause. When you donate, you'll be able to redeem rewards that make our hosts do a variety of challenges like eating candy corn, doing a TikTok dance challenge, and even let their kids hit them with some pillows. If you have anything to spare, please head to stjude.org/butwhytho and donate now.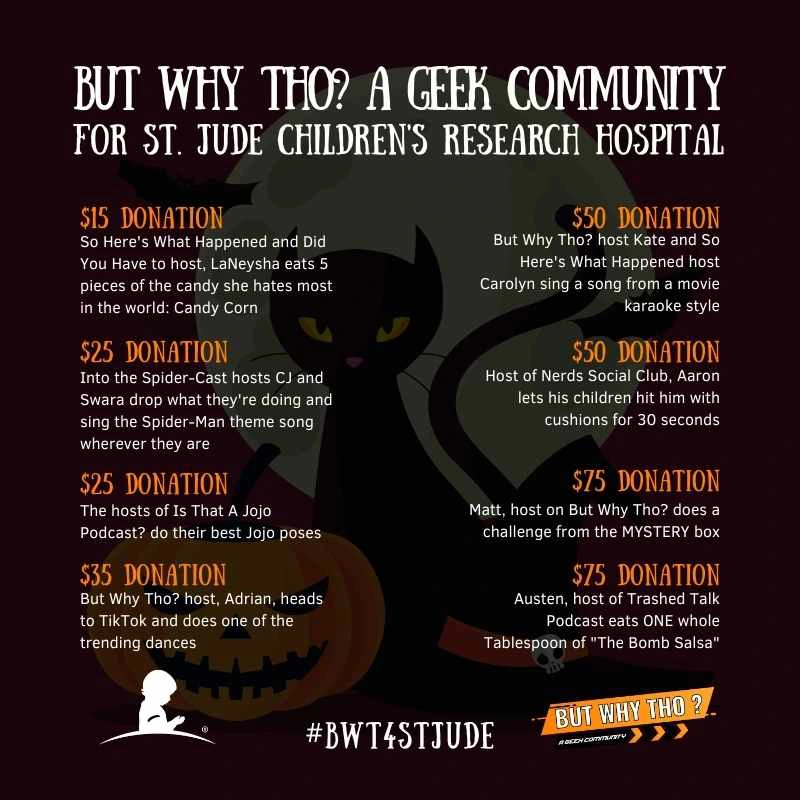 For a full list of details, head on over to our Tiltify donation page.