Crash Bandicoot 4: It's About Time, the long-awaited sequel to the original Crash Bandicoot trilogy, is set to launch on October 2 on Xbox One and PlayStation 4. After playing the demo, which was made available last week to fans who had digitally pre-ordered the game, Jason and I have put together a short list of what excites us about the upcoming title.
New Powers
Eva: One of the coolest things about the demo for me was the introduction of new abilities. So far, the demo shows a game very true to the franchise's roots, which is phenomenal for returning fans, but I did desire some innovation considering it's been decades since the last main entry. While the platforming stays relatively the same, Crash Bandicoot 4: It's About Time does introduce cool new powers, like time manipulation, to switch things up, making gameplay familiar but with an interesting twist.
Jason: One of the most refreshing mechanics to this demo is the introduction of time-bending among the platforming action. Crash Bandicoot as a series has nearly perfected the platformer genre, so the ability to incorporate new challenges such as fast-falling ice blocks should be exciting to long-time fans.
Phase-shifting was also a wildly entertaining entry into the game as Lani-Loli, the phase-shifting mask, allows players to switch boxes around and avoid obstacles. As the Crash series is predicated on timing, the challenge of factoring in when to phase phase-shift to best avoid enemies and break boxes was a wrinkle I absolutely loved.
It's Not Just Crash Bandicoot
Eva: There's only a little bit of this shown off in the demo, but playing as characters other than Crash Bandicoot himself is one of the huge appeals to me for this game. While I love Crash, I also love games that place you in the shoes of other characters and create different ways to play the same or similar levels. The section of the demo where you play as Neo Cortex was a true highlight for me, letting me use his funky little ray gun and dashing abilities to experience the Snow Way Out level in a totally new way, and I can't wait to see how the game utilizes Tawna, too.
Jason: Dr. Neo. Cortex has always held a special place in my heart. Giving the players a chance to explore his move-set and introducing a parallel timeline to Crash is a refreshing element to the plot. How exactly Cortex's time-travelling is incorporated to each level is yet to be seen, but any chance to play as this classic villain will be a blast.
Plus, while she was not playable in the demo, Tawna Bandicoot is finally available as a playable character in a major Crash title. An alternate version of Tawna from a different timeline gives the game a new element and ability to expand upon the plot. Tawna has been around since her introduction in the original trilogy, and is a playable character in Crash Team Racing: Nitro-Fueled.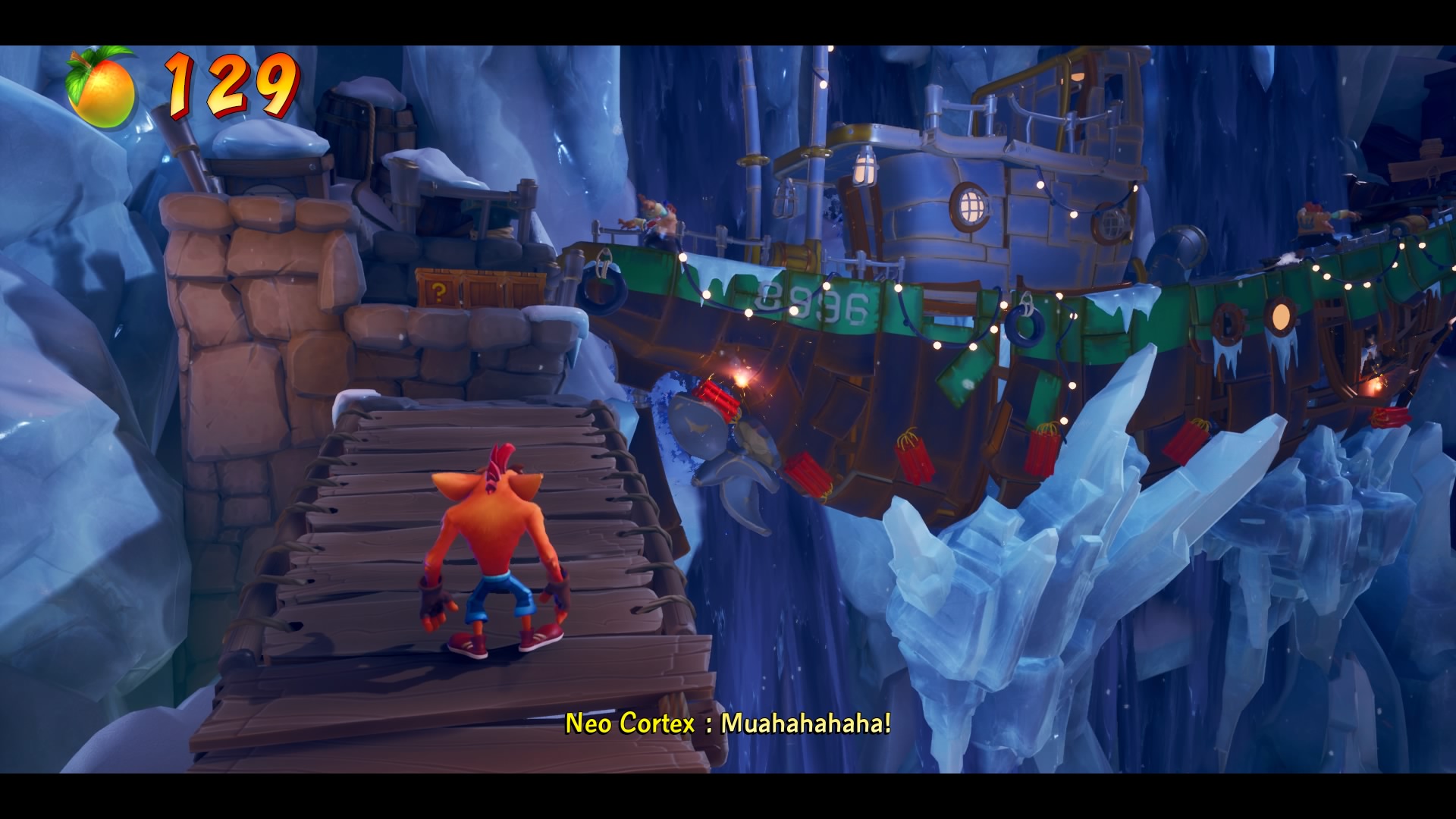 A Blend Of Nostalgia And Modern Gameplay
Eva: Visually, just like with the remastered trilogy, Toys for Bob has done a phenomenal job of making the game stay true to its roots but with an updated look. Crash Bandicoot 4: It's About Time looks like the original Crash game with a shiny new skin. Aesthetically, the game is exactly what I wanted from a modern Crash title.
The gameplay is a great blend of modern techniques and nostalgic throwbacks, too. The heart of the Crash Bandicoot series is still there. While it can be a little clunky, just like the remastered trilogy was, overall, the gameplay feels like a classic 1990s 3D platformer made for new audiences and returning fans who want the game to feel as sleek as it did 20 years ago.
Jason: Developer Toys for Bob has a reputation for creating great gameplay around plots and artwork for all ages. It was a match made in heaven to be the creative minds behind Crash Bandicoot 4: It's About Time. As touched on previously, the mechanics around time-warping and phase-shifting added a breath of fresh air to this franchise. However, what Toys for Bob managed to do was so much more than that.
It felt like the perfect marriage between nostalgic aspects of each entry in the Crash series while still growing with the times and being a wildly engaging platformer any fan of any age can get behind. If the game follows the hectic fun I had over the few hours I spent with it, Crash 4 could be one of the best entries in this storied franchise yet.
Crash Bandicoot 4: It's About Time launches on October 2 on PlayStation 4 and Xbox One.