Disintegration is a first-person shooter/RTS (Real-Time Strategy) hybrid, available on PlayStation 4, Xbox One, and Microsoft Windows. It is developed by V1 Interactive and published by Private Division. In Disintegration, you follow the story of Romer Shoal, a former Gravcycle pilot leading a small ragtag unit of Integrated resistance fighters known as Outlaws. It's up to Romer and the gang to stop the Rayonne forces from eliminating the last remnants of human society.
The last time I experienced Disintegration was during its closed technical test earlier this year. From what I played, I was extremely excited and wanted more. The game's story and lore remind me of the Exo races from Bungie's Destiny franchise. Integration is a process in which human brains are preserved in robotic armatures (bodies). Our main character is an Integrated and a household name celebrity who was the host of a Gravcycle show. When Gravcycles were outlawed, Romer repossessed and smuggled these vehicles, landing him in a prison known as the Iron Cloud. The Gravcycles is an integral part of the game, your main weapon, and mode of transportation.
Disintegration's story is one we've seen before when it comes to dystopian worlds and plots, however, V1 Interactive gives you characters you can connect with and like, allowing you to put yourself into their shoes. Throughout the campaign, I resonated with themes of "why should I fight or do this?", "fighting for something bigger than yourself", and "reminiscing of old times and desperately wanting to return to that." The supporting cast has a wide range of personalities that further spices up the story.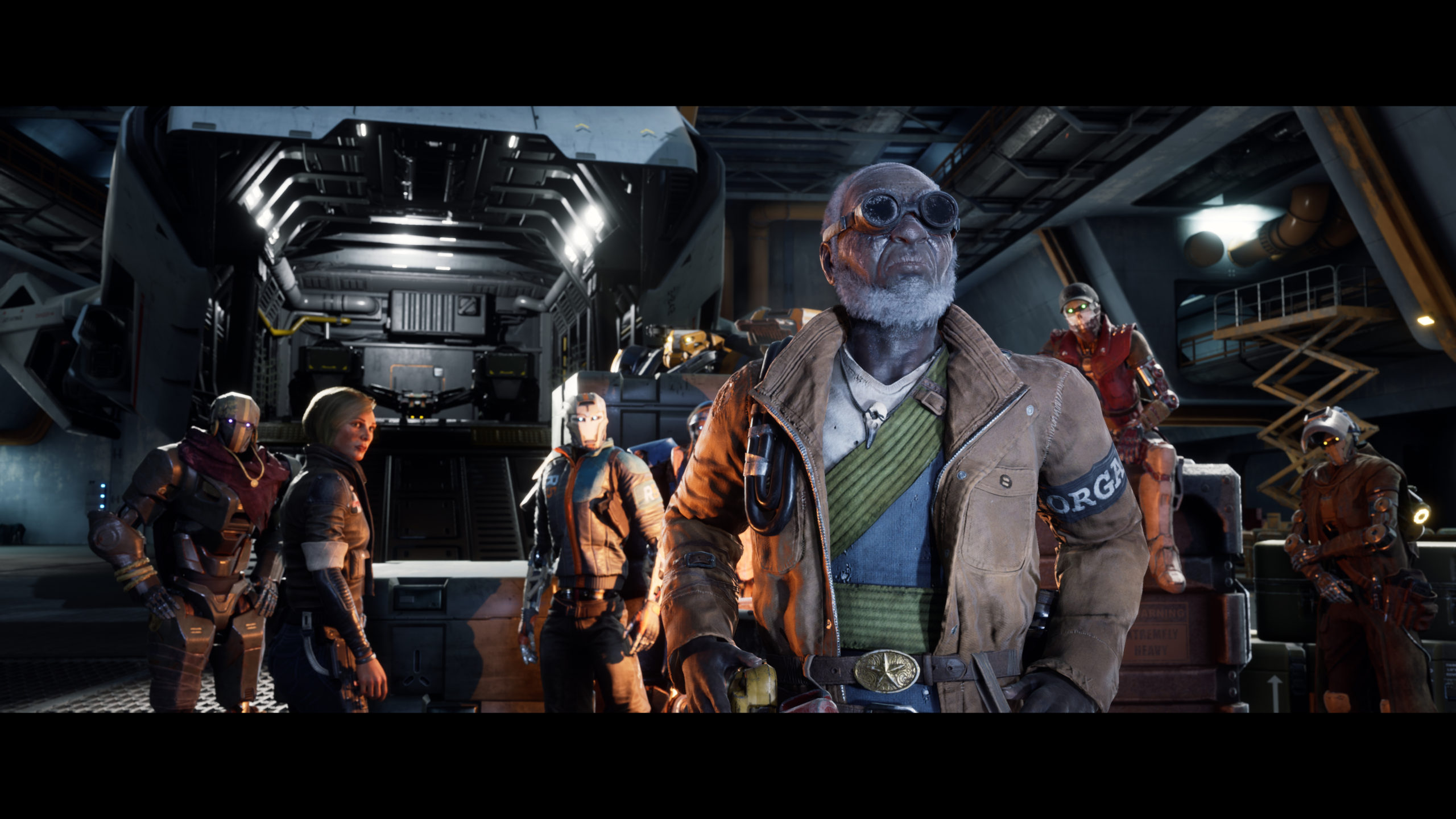 While the story may seem a bit mediocre, it's the gameplay that makes this game shine and feel different. As mentioned before this is a first-person shooter and RTS hybrid. You control Romer, riding a Gravcycle, and you command three units that have different abilities. Normally in a shooter, you have your gun and explosives and you have to do your best to beat your opponent. In Disintegration, you have to be a bit more tactical than that. As you move, your units follow you. You can have them guard a position, capture objectives, or attack your target or a different one. You can have a total of four units at a time, each with their own abilities. These abilities can range from concussive grenades that stun your opponents, a slow field that slows any enemy that steps foot in the targetted area, or mortar strike, raining damage in a targeted area or on a single enemy.
While playing, controls felt easy and simple. Everything is a simple button press or hold. The default settings are set so that when you press a button, time slows down, showing where your attack will land and giving you enough time to react. Once I got the hang of my abilities, I was able to take the training wheels off and obliterate my opponents in real-time with the combination of the Gravcycle's weapons and crew's abilities.
The only downfall that I can detect with Disintegration is the lack of creativity when choosing your Gravcycle's weapons and your squad units. The Gravcycle can be outfitted with many armaments, from auto rifles, marksman rifle, or healing bullets. Many times your units will overlap when it comes to abilities. You're able to remap your abilities to certain keys or directional buttons on the D-Pad (if you're playing via controller), which allows you to set up combos with a few strokes. I found myself thinking of builds and creative ways to dispose of my enemies but unfortunately, Disintegration doesn't allow such plasticity.
Disintegration is a different and fun game when it comes to mashing two genres together. While the story may be mediocre, it's characters keep you invested to see the mission through. It's a shame that load-outs are handed to you and do not promote build diversity, but the gameplay is still a blast and you're able to work with and complete your mission objectives with ease. It will be quite a treat to see where this game goes in the future.
Disintegration is available for Playstation 4, Xbox One, and PC on June 16th.
Disintegration
TL;DR
Disintegration is a different and fun game when it comes to mashing two genres together. While the story may be mediocre, it's characters keep you invested to see the mission through. It's a shame that load-outs are handed to you and do not promote build diversity, but the gameplay is still a blast