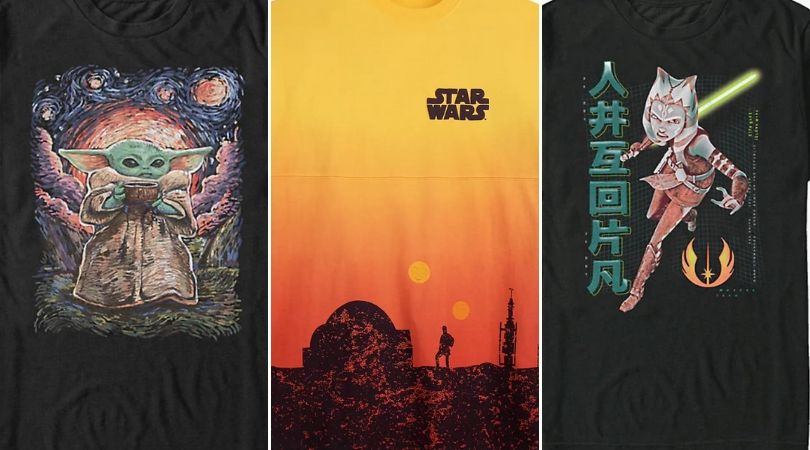 Being a Star Wars fan can be expensive. From Black series figures to lightsabers and trips to Galaxy's Edge, there is a lot for fans to spend their money on. But, Star Wars Day, May the 4th, serves as a point in the year where companies run deals on merchandise and they even debut new products and styles along the way.
So, to make your shopping a little easies, we put together a list of a few our favorite deals on product previews especially for Star Wars Day. Funko pops, clothing, and more, are all at your finger tips, just click the links in the titles and get to online shopping for your favorite pieces of fandom.
shopDisney has launched a new Star Wars collectible key. This limited release went live just for Star Wars Day and is retailed for $12.99 at shopDisney.com so make sure to grab them while you can. This is part of the company's ongoing line of collectible keys based on their biggest properties. It's while supplies last, so it may be best head there now!

ShopDisney offers up the largest swatch of Star Wars Merch for Star Wars Day with books, children's wear, collectible figures, and clothing that ranges from lounge clothes to skirts you can transform into a going out look. The number of items are across the franchise and offers it up for 25% off. Some of my absolute favorites are the unisex Tatooine Spirit Jersey for adults, the Moff Gideon Funk Pop!, and of course the Her Universe Star Wars Skirt (featured above).
But there is an amazing amount of merch that will fit any Star Wars fan from the original trilogy and beyond. Additionally, this the best place for parents to shop so that they can get a wide array of products that go beyond a onesie. Specifically, nabbing a book like The Galaxy Needs You is a great way to get your Star Wars fix while also picking up a title that will offer some wholesome inspiration for you and your little one. You can check out our parent review for the book here.
Hot Topic is offering up deals on it's Star Wars products just in time for Star Wars Day. While there are a number of Funko Pops, including the adorable Baby Yoda ones, my favorite pieces of Star Wars merch on the site are the clothing. In particular tees which include The Child Starry Night design, the Star Wars: Clone Wars Ahsoka Kanji t-shirt, and the Star Wars: The Clone Wars Dathomirian Maul Crew Sweatshirt, all featured above.
While shopping through Hot Topic's you'll have options from accessories, water bottles, and just about every style of top you can find from hoodies, crew necks, tanks, and more. They also have an entire line focused on The Mandalorian and of course more than enough Star Wars: The Clone Wars styles to snatch up with the final season coming to an end.
For this deal, use code HT20 at checkout!
Much like Hot Topic, Box Lunch is offering up a wide selection of Star Wars merch that covers the original trilogy, prequels, and of course the most recent sequel trilogy. Plus, the wide selection of Baby Yoda merch that has pajamas, outerwear, accessories, and a bunch more. But my favorite thing that Box Lunch is offering is the line of Our Universe athletic wear for men and women. My favorites are the Ahsoka Tano workout tank and leggings and of course, the Darth Maul athletic top (featured above).
Beyond that, The Mandalorian line beyond just The Child merch is also filled with notable and amazing designs that showcase Mando, notable scenes, and will let you rep your favorite parts of the series.
For this deal, use code BLGIFTS at checkout!
---
It's time to get to shopping with the force, and filling our closets with new items and our shelves with new collectibles with one of the best deal days for Star Wars fans.