While we all self-quarantine and make sure to practice social distancing to do our part in flattening the spread of COVID-19, it's easy for some of us to go into complete isolation. Being stuck at home, cut off from co-workers and friendly outings it's easy. And honestly, that's not always a good place to be. I found a long time ago that the easiest way for me to stay connected to others was to game with them. As a long-time multiplayer gamer and a lover of good co-op games, gaming serves as one of the easiest ways to bond with others.
Jump into another world, share a common goal, and work together to execute. This can take a variety of shapes, from getting your Warthog stuck in a gap to mining an entire mountain until you hit bedrock, but all of them can connect you to others. With budgets tight at the moment, opting into something like Microsofts Game Pass Ultimate or the standard Game Pass can help save money and keep you social even when you're social-distancing. In addition to those available on Game Pass, I also included free-to-play games as well. So, without further ado, here are my 7 co-op games to keep you social while you practice social-distancing.
Developer: System Era Softworks
Game-Type: Sandbox Adventure
Astroneer is a sandbox exploration game with drop-in, drop-out co-op and survival-lite aspects that takes place on a beautiful and whimsical science-fiction world. Set during the 25th century's Intergalactic Age of Discovery, Astroneers explore the frontiers of outer space, risking their lives in new and unexplored environments to unearth rare discoveries and unlock the mysteries of the universe as they move from planet to planet. In Astroneer players can work together to build bases and vehicles and manipulate the terrain to create anything you can. Dig or build, a player's creativity and ingenuity is the key to getting the most out of the game, which fuels the exploration aspect. It's a game that you can easily put hours of time into either alone or together with a friend, making it one of my all-time favorite co-op games.
Halo: The Masterchief Collection
Developers: 343 Industries, Bungie, Saber Interactive, Splash Damage, Certain Affinity, Ruffian Games, United Front Games
Publisher: Microsoft (Xbox Game Studios)
Game-Type: FPS
Halo: The Master Chief Collection is a compilation of first-person shooter video games in the Halo series. Originally released on the Xbox One in 2014, it's now also available on Windows PC with Game Pass Ultimate. The collection consists of Halo: Combat Evolved Anniversary, Halo 2: Anniversary, Halo 3, Halo 3: ODST, Halo: Reach, and Halo 4 with each of the games receiving a graphical upgrade, and Halo 2 receiving a complete high-definition redesign of its audio, cutscenes, and graphics that are exclusive to the collection. Whether you've played Halo before or just heard the hype, this is a great time to get involved in the franchise. With hundreds of hours of story and gameplay, working through the games with a friend will make for nostalgic moments or new memories with one of the best co-op game experience of all time.
Destiny 2
Developer: Bungie
Gametype: FPS, online-only
Set in a "mythic science fiction" world, Destiny 2 is now free-to-play. The game throws players into an online-only shared-world that emulates MMORPGs. Destiny 2 is filled to the brim with activities from PvE to PVP with multiple modes available in each. In addition to normal story missions, PvE features three-player "strikes" and six-player raids. There is also a free roam patrol mode is also available for each planet and features public events as well as new activities not featured in the original. When you jump out of co-op and into competitive multiplayer, PvP features objective-based modes, as well as traditional deathmatch game modes. With new content being added like the recent expansion, "Season of the Worthy," there is a lot to play through.
APEX Legends
Developer: Respawn Entertainment
Publisher: EA
Game-Type: FPS, Battle Royale
Apex Legends is a free-to-play battle royale game that takes the very best elements of the Battle Royale game-type and Respawns previous Titanfall titles. From movement mechanics to being in the same science-fiction world of the Titanfall franchise, there is a lot to love for fans of that franchise, but it's also an easy game to jump to with no prior knowledge of Respawn's FPS games. In Apex Legends, up to 20 three-person squads land on an island before searching for weapons and supplies to attempt to defeat all other players in combat. Each player must keep moving to avoid being caught outside the play area and the final team alive wins the round. Hosting a diverse cast of characters and classes to experiment with, this is a great game to play. That said, with only trios available, it does get a little finicky when you're looking to play with just one other person. That said, the dynamic ping system allows you to communicate with team members without ever getting on a mic and talking.
Human Fall-Flat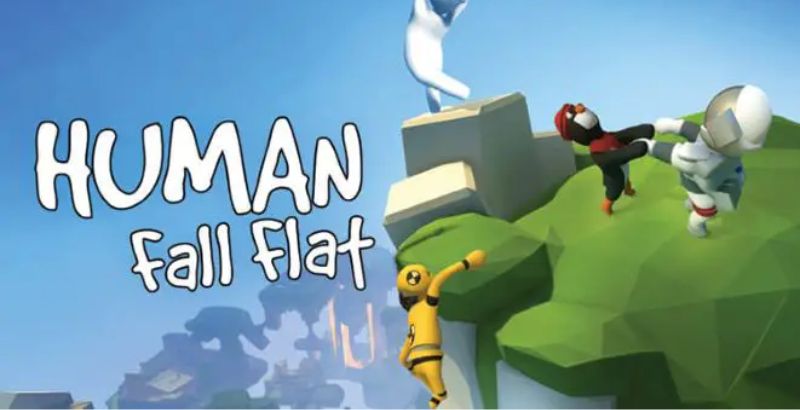 Developers: No Brakes Games, Codeglue
Publishers: Curve Digital, 505 Games, DMM GAMES
Game-Type: Physics Puzzle-Platformer
Human Fall-Flat or as some of my friends call it, "drunken baby simulator" is a blast to play as a party game on the couch or online with friends. Human Fall Flat is a physics puzzle game where players play a customizable human, referred to in-game as Bob. Bob has no superhuman abilities and is just as he's presented: purely human. Players can make their Bob grab objects and climb up ledges using both his arms and looking with his head, controlling each one with one of the thumbstick. Each puzzle is open-ended. each containing multiple solutions to them. This game can be frustrating, hilarious, and even better with some libations!
Sea of Thieves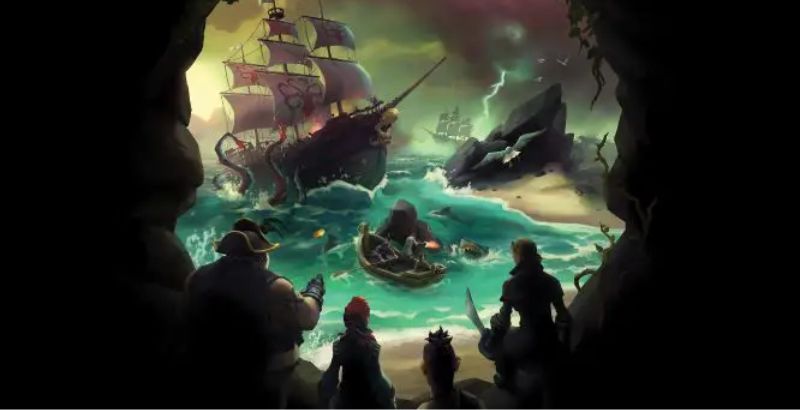 Developer: Rare
Publisher: Xbox Game Studios
Game-Type: Co-Op/Multiplayer; Action-Adventure
Sea of Thieves is a pirate-themed first-person action-adventure cooperative multiplayer game. The game is also cross-platform between Windows PC and Xbox One. In Sea of Thieves, a group of players travel and explore an open world in a pirate ship and assume different roles such as steering, hoisting sails, navigation, and firing cannons. Players pick up quests, collect loot, and of course, blow the players out of the sea. Now, this isn't just you and your crew, since Sea of Thieves takes place in a shared game world, similar to MMOs. There is plenty to do besides picking fights, however. Players can collect coins by completing missions called voyages, taking loot from other ships, or raiding a skeleton fort that contains large amounts of gold which you can then use to customize your character. All in all, everyone wants to be a pirate at least a little bit, so jump into this title.
Minecraft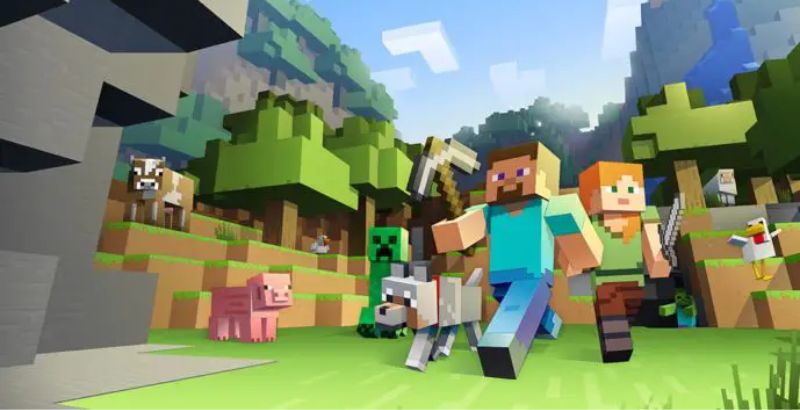 Developers: Mojang, Other Ocean Interactive, 4J Studios, Xbox Game Studios
Game-Type: Sandbox
An oldie but a goodie, Minecraft is easily one of the games that I have spent the most time in all of college — even more than the Call of Duty lobbies. In Minecraft, players explore a blocky and procedurally-generated 3D world where they use the world to build and thrive. You discover and extract raw materials, craft tools, build structures or earthworks, and can even fight NPCs — depending on the mode. But while I've spent a lot of time on my own, I've also done quite a bit of mining and building with friends as well by sharing a world. The game offers survival mode, in which players must acquire resources to build the world and maintain health, as well as a creative mode where players have unlimited resources. This one you'll start at 8am and forget what day it is by 5pm.
---
Now, there are way more games than just these 7 on Game Pass and obviously even more that you can purchase, but for now, these are my top 7 co-op games on to keep you social while you practice social-distancing. I tried to include a little bit of every kind of game-type to give you a nice jumping in point. That said, with all these titles available for one low price, might as well start exploring! Do you have co-op games that you'd like to add to the list? Let us know on social media.
Grab your Xbox Game Pass subscription now and start playing now!