Reading Time:
5
minutes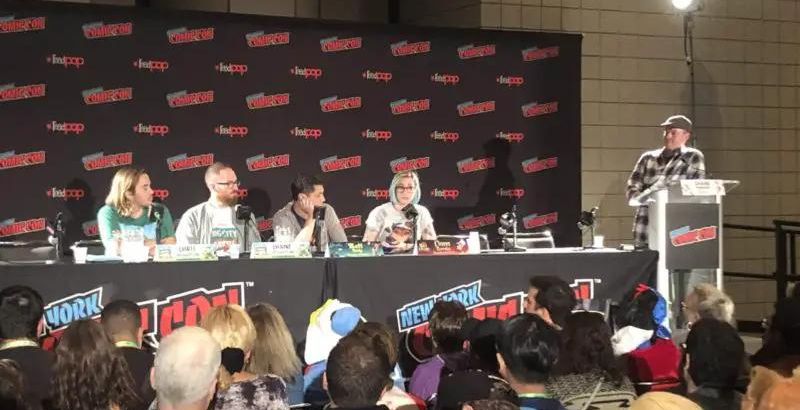 Disney Animation is legendary for both its film and tv content. For the first time ever at the convention, Disney Television Animation (TVA) joined fans at New York Comic-Con 2019 to have showrunners of new shows talk about their love of animation, professional ups and downs, and what sparked their ideas for their series. With Shane Prigmore, the Creative and Artistic Development at Disney TVA as a moderator, it was a fun and illuminating time of laughs and insight into the creative process of animation.
Each of the showrunners had distinct life experiences that fed directly into their shows. This was perhaps most apparent with Matt Braly the creator and one of the showrunners who lead Amphibia production. It was his first time ever at NYCC as well, and he said it's "been amazing!" He said his new show was "directly inspired by childhood trips to Bangkok. My mom would take me every year to meet her side of the family—it felt like being transported to another world." Based on these experiences, he "wanted to make a world of my own as rich [as Thailand]" Amphibia is the story of 13-year-old Anne Boonchuy who gets transported to her own fantasy world that changes her for the better.
When I asked him why he thought it was important that his protagonist was a darker-skinned Asian, he said it was deliberate to make Anne darker-skinned as a way to combat colorism. "My mother is very tan-skinned and she was often judged for it growing up—so it was very deliberate to make Anne dark-skinned."
Like the other showrunners, Braly has worked in animation for years until finding his way to Disney. He described how he and many other students went to California Institute for the Arts in the mid-2000s because of how they simply loved to draw. He also spoke about how they had a general fear of CGI animation completely eradicating traditional 2-D animation. Thankfully, the latter continues to flourish in all the showrunners' shows. Braly worked at Dreamworks, gaining interest in storyboarding, and eventually went to work at Disney on the first season of Gravity Falls. He loved the transition to tv.  "It was transformative for me! With TV you can make mistakes, make long stories to try lots of things, and experiment and try lots of things."
After working on season 1 of Steven Universe, Braly got to see firsthand how a show could "come from nothing."  After working on another season of Gravity Falls and on Big City Greens it came time for his own creative endeavor. After someone suggested he do it, he pitched his own show. "Until someone mentioned it to me, it never occurred to me and never thought I was capable of," recalled Braly.
On now being at the top of an animation operation, Braly said that he's still trying to get the hang of it all. "Really thinking the showrunner has all the answers and is so brilliant gives you a bit of imposter syndrome. I really thought that becoming a showrunner would have me become a brilliant person and it didn't!"
Dana Terrace, the creator, and one of the showrunners on the panel leading the upcoming series The Owl House, explained how drawing has always been a cathartic experience for her, leading her to her career. "I was a very angry and miserable child. My mom said, 'Why don't you try drawing your anger and anxiety?'" Terrace took her mother's advice to heart. "In high school, I would spend my summers in Russia—I had no people skills, I would draw all the time, but it was there I communicated the best [through drawing]."
The Owl House follows a 14-year-old named Luz who gets transported to the Demon World, which Terrace described as "a demonic nightmarish place" in which Luz decides to stay and become a witch. On creating Luz and making her Latinx, Terrace noted that she got a lot of input from her roommate, also named Luz, who, Terrace said, "helped me develop her a lot." After realizing how much her friend was instrumental in helping create her own protagonist, Terrace asked to name Luz after her. "She said yes, but also said 'make her Dominican!'"
Terrace also noted that the art design for The Owl House took inspiration from classical artists she had previously studied, like Remedios Varo and Hieronymus Bosch. "I started developing Owl House with inspiration from artists I studied in school," she said while showing images of inspiration to the audience. When asked about Disney Animation showrunners, she also gave a humble answer. "Once you become a showrunner you realize that you're flying by the seat of your pants a lot."
On getting into animation, Terracerecalled her time at the New York-based School of Visual Arts, noting both how she struggled at first to get to the next stage professionally. "There, all I did was draw, hustle, post my art online, applied everywhere, and got nowhere at all." However, making sure that her work was as visible as possible online ultimately landed her first gig. "But all that posting online and having my email visible, it eventually paid off when JibJab contacted me, and I worked on their show Storybots."
She eventually found her way to Gravity Falls as well, where she met fellow panelist Matt Braly. "Some amazing folks at Gravity Falls found my work and I went on there to become a storyboarder and an animator! It was a wonderful gig." Braly helped her feel welcome as well when she started there.  "When I started on Gravity Falls I was so scared I was going to get fired or talk to my co-workers! Matt Braly came over and said 'You want to play Monster Hunter?' and he became my first friend on the show." After working on Ducktales season 1 as an animator and directing for her first time, Terrace eventually got the opportunity to create her own world on The Owl House.
The Houghton brothers, Shane Houghton and Chris Houghton, the co-creators of Big City Greens, never studied animation academically. Instead, they were frequent drawers who would often bounce off each other creatively. Later on, as Chris explained, they tried to become professionals at it. "We wanted to do a project together, and all of a sudden we had our first collaborative work in a comic series." While it didn't make them money, the project ended up "opening a ton of doors" for them.
"Doing our own thing first led to us doing other things for other companies," said Shane. This led them to pitch original ideas for animation studios.
Explaining how they made Big City Greens a reality at Disney,  Chris explained that while their first pitch, Hometown Pride failed, it still got them a blind deal from Disney. They then had the idea for a show called Country Club which became Big City Greens. After Disney agreed to that blind deal, and while they were still in development for two years, they worked on Nickelodeon's Harvey Beaks for their day jobs.
The brother Disney animation showrunners moved around frequently as kids, and Big City Greens is an animated reflection of their experiences growing up. "We grew up in a small little town in Michigan, then moved to cities and found the move fascinating and different," said Shane. We thought it would make for a great show setting." He said they populated the show with people they knew growing up. Their experiences, he said, were the "delightful stew that became Big City Greens."
You can watch Amphibia and Big City Greens on Disney Now through your cable subscription, and you can watch The Owl House on Disney+.