The road to con fiascos is paved with good intentions. Universal FanCon, which hoped to be "the first large-scale, 24-hour, inclusive event that celebrates the diversity of fandom and the diversity of fans," was abruptly postponed on April 20, almost one week before the con was scheduled to begin on April 27. At about 1 p.m. ET on Friday, many attendees first found out about the postponement through emails from affiliated hotels notifying them that their rooms had been cancelled.
As word spread about the hotel cancellations, would-be con-goers turned to social media to demand answers from FanCon's founders, Jamie Broadnax of Black Girl Nerds, Robert Butler of The Black Geeks, and Peter Matise. Information was slow in coming, and we still don't have a full idea of what happened behind the scenes, whether FanCon is actually going to happen in the future, and whether attendees will receive ticket refunds. Here's what we do (and don't) know, and when we knew it (all times are approximate and in ET):
Universal FanCon – Friday, April 20
1 p.m.
Those who booked hotels near the Baltimore Convention Center, where the con was to be held, receive emails telling them that their rooms have been cancelled.
1:20 p.m.
Early backers of FanCon's Kickstarter, which raised more than twice the goal amount to get the event off the ground, receive an email signed by Jamie Broadnax indicating that the con has been "postponed until further notice." It also states that tickets for vendors and attendees will be honored at the rescheduled con. The email did not bcc its recipients, leading to an added wave of anger on Twitter.
2:15 p.m.
Universal FanCon's official Twitter sends out a note saying that the organizers will release "a full update later today" on the event's status.
2:30 p.m.
The con's booked guests, including Jeremy Whitley, reveal that organizers had not been in touch with them about travel or hotel rooms in the weeks leading up to the event.
3 p.m.
Even the Baltimore Convention Center has no idea what's going on.
3:10 p.m.
FanCon's Twitter finally announces that the con has been postponed, reiterates that a full accounting of what happened to the event will be available "later today," and claims that organizers have a "contingency plan" for those who cannot cancel their flights.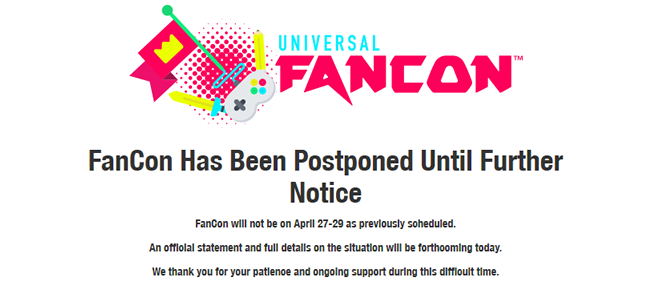 3:15 p.m.
Mikki Kendall offers to boost panelists, performers, and vendors who are affected by the con's postponement. Check out the replies to her tweet to find some great creators to support!
3:30 p.m.
Guests, vendors, press, and panelists still have not received an email notifying them that the con is postponed.
4 p.m.
A few folks point out that FanCon seemed to be in financial trouble weeks ago, and refer to a con blog post that obliquely mentions that the con has not sold enough tickets. The post states, in part: "Our supporters understand that if events are to be successful, you have to buy tickets without delay because those sales impact the convention in so many ways."
5:30 p.m.
The Nerds of Color and Black Heroes Matter begin to plan an alternative to FanCon for the weekend of April 27-29. The "pop-up" aims to help folks who cannot cancel their flights or change their vacation days, and so will be in Baltimore anyway.
Universal FanCon – Saturday, April 21
12 a.m.
FanCon finally releases an official statement and FAQ (which have since been updated; see below) on the event's postponement, which replaces all of the con's webpages. To attendees' ire, the FAQ states that there will be no refunds for tickets, and those who have already made their travel plans are out of luck.
4 a.m.
Intrepid folks who have been diving into the con debacle find that Thai Pham was the event's Vice President of Conventions Operation and Entertainment. Pham is notorious for raising money for other cons that were eventually canceled without refunding ticketholders.
10 a.m.
The Great Philadelphia Comic Con offers FanCon ticketholders free admission to their con on Friday, and 50% off on Sunday.
1 p.m.
Those who bought tickets or backed the con's Kickstarter receive emails stating that organizers are working on ways to refund them. The con's FAQ is updated to state that organizers are "working to ways to refund the money you have invested in us."
5 p.m.
The Nerds of Color and Black Heroes Matter successfully secure a space for the pop-up con, which they dub #WICOMICON. Broadnax releases a statement claiming that she was Director of Community Outreach for the con, so she had no idea of the event's financial situation. The statement also says that she found out about the con's monetary shortfall on April 3, was roped into filming a video for an emergency GoFundMe that was never implemented, and that the con is in serious debt. Someone points out that Broadnax had included "co-founder of @UniversalFanCon" in her Twitter bio until that morning.
Universal FanCon – Sunday, April 22
1 p.m.
With con attendees still demanding transparency from its organizers, Butler offers to go live on Periscope to address their concerns. He eventually deletes the tweet and does not go live. Press and panelists have still not received an official email from FanCon saying that it has been postponed.
2 p.m.
Catrina Dennis, a producer for the forthcoming documentary series Looking for Leia, floats the idea of live-streaming panels that would have been presented at the event. The idea gains traction, and she is currently seeking folks to help her run the live-stream.
5 p.m.
Folks have discovered that FanCon's guest paperwork is identical to the forms for Pride Con, one of Pham's failed events.
Now What?
We still don't know exactly what happened behind the scenes at FanCon. After all, a little over a week ago, Butler claimed that they were in the final stages of con preparation: "I'm now doing the cleanup. Like when you're finishing a house remodel or something. You know, checking the doors, making sure everything is working properly, that type of stuff."
Ticketholders still don't have answers, and many have lost a huge chunk of change on travel alone. Vendors have lost revenue, and Baltimore businesses will also be missing the foot traffic that the major event would have brought. Several writers have resigned from Black Girl Nerds, disillusioned with Broadnax's leadership. The dream of an intersectional, fan-run con has been tarnished.
But there is a bright spot in all this gloom: Fans have banded together to lift each other up and boost what they love. Whether they're promoting vendors, offering free tickets to other cons, hosting pop-ups, or live-streaming panels, fans of all stripes are proving that diverse fandom is more than just one event. Although we're still waiting for an event like Universal FanCon to actually happen, diverse fans are proving how resilient our communities are, and that we still have the energy to try again.
Maia Rose contributed reporting to this post.