Marvel Studios' The Marvels brings together Carol Danvers (Brie Larson), her Jersey City super-fan Kamala Khan (Iman Vellani), and her niece Monica Rambeau (Teyonah Parris), now with her own light powers after walking through a Hex at the end of WandaVision. Directed by Nia DaCosta and written by DaCosta, Megan McDonnell, and Elissa Karasik, The Marvels definitely feels like it was written by three people, trying to make sense of tones and themes together without working on the same page.
In the film, Carol Danvers aka Captain Marvel has reclaimed her identity from the tyrannical Kree and taken revenge on the Supreme Intelligence, using technology to recover the memories they took from her as she floats through space as the cosmic arm of Fury's Avengers. But Carol's liberation from the Kree comes at a price and begins to lead her to shoulder the burden of a destabilized universe caused by an anomalous wormhole linked to a Kree revolutionary. Picking up squarely at the end of Ms. Marvel Season 1, Carol's powers are entangled with Kamala Khan and S.A.B.E.R. astronaut Captain Monica Rambeau. Together, this unlikely trio must team up and learn to work together to stop planets from being destroyed along with the fabric of time and space.
The Marvels falters because it's forced to carry the weight of the past and the future without emotional concern for the present. Flashbacks are used throughout the film to piece together the past for audience members who may not have seen Captain Marvel, as well as set up emotional stakes for Monica and Carol's relationship. However, once shown, little is done to capitalize on it.
Instead of digging deeper into that emotional investment and shared grief between the two, it's forgotten and left instead to alleviate the guilt that Carol feels but not address the pain she's caused. Similarly, while Kamala's admiration ties her to Carol, the emotional tethers throughout the film aren't able to include her. Instead, it creates a wobbly story that teeters across all three, never truly in sync and using prolonged gags to cut much-needed tension.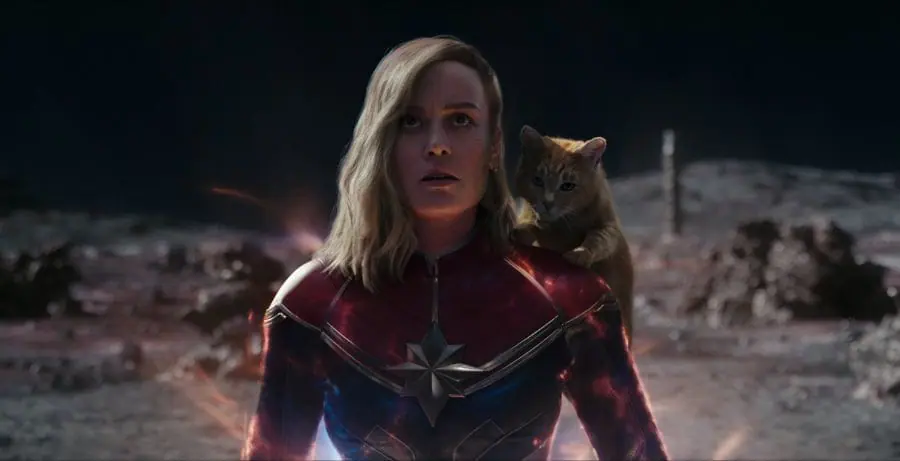 It's those gags that, on their own, are hilarious (the one in the third act is fantastically shot and scored), but altogether feel out of place. Comedy has its place in intense moments. It can work as a valve turned to relieve pressure, but with that comes the responsibility to ensure that all steam isn't lost from the core narrative of the film. The Marvels lose that steam in the third act, and every time, it's decided that the audience needs a 5-minute long laugh break. When looked at in a silo, the film's humor works, but when put in place with the scenes that preceded and followed it, the tonal ping-ponging is extremely jarring.
One such piece of complete tonal whiplash with very little payoff is how the film uses Park Seo-jun, the lead in Korea's submission for the Academy Awards Concrete Utopia. He is there to be eye candy, there to be disposed of, and his world is only there to be a gag while also showcasing how badly tailored many of the costumes and the terrible wigs not befitting the Marvel budget are in the film. It's a shame. And much of it could have been avoided if the film had been edited with respect for the emotional tension building up.
There are smart visuals and smart sparks of chemistry, but much of it is left on the cutting room floor. Often, The Marvels feels like multiple movies taped together and missing vital parts of the set-up to even drive emotional investment. Add in another villain problem that, at this point, Marvel keeps repeating in the form of Dar-ben (Zawe Ashton), and there is just not enough to hang onto narratively.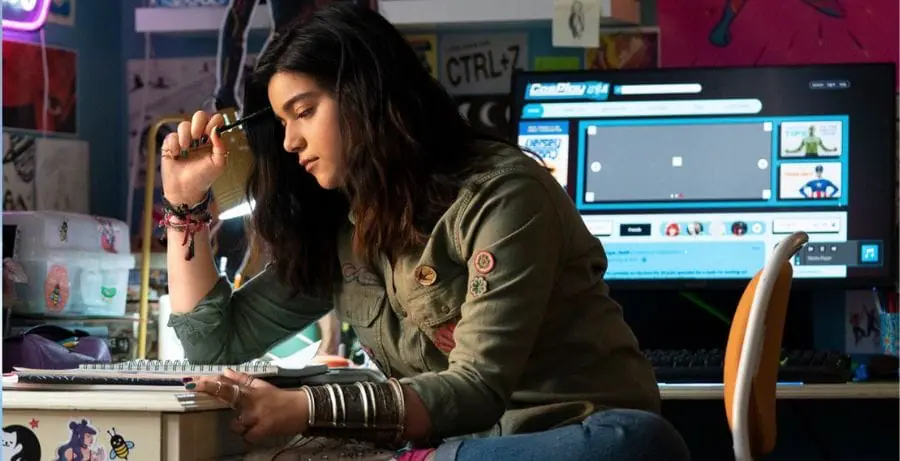 The Marvels isn't all bad, though. Where humor does work is with Iman Vellani's Kamala Khan. Her joy and innocence come through the first two acts of the film, particularly in her awe at seeing a world beyond Jersey City. My issue with relegating her dupatta to a simple scarf aside, Kamala is the heart of the film, always pulling you back in when the shifts in tone pull you out.
Her humor is genuine. It's how a child would react in the situation, and the film never forgets about her youth or chides her for it. Additionally, when the film is focused on her and through the lens of adventure, it's at its best. Her action sequences are inventive, and the joy she brings to them, even when scared, shows exactly why Vellani was the perfect cast for Kamala, through and through. That said, one of the most powerful elements of Ms. Marvel as a character is how she grows up and learns the complicated natures of heroes and, ultimately, how she breaks from Carol.
Unfortunately, this film links her inherently, and it's worrisome for the future. When the film does show Kamala having to (very briefly) handle the idea of not being able to save everyone or the damage that heroes do, Vellani throws her all into it. She carries that weight, but she isn't allowed to carry those moments across their finish lines. Instead, she's pulled back into her admiration for Carol, and introspection about heroism and saving others quickly becomes a moot point. Kamala isn't allowed to feel those things. She isn't allowed to work through them, and for that, the film fails her. She is there for the future and the humor, but without the introspection her first mission to space should yield.
On the emotional side of things, Teyonah Parris, as Monica Rambeau, is the one who acts and deals with the brunt of it all. Having sacrificed herself in WandaVision, she gained her powers in the process. That becomes who she is. Intelligent but deeply empathetic, she has to carry her grief and Carol's guilt at one time while also making space for Carol to process her own issues.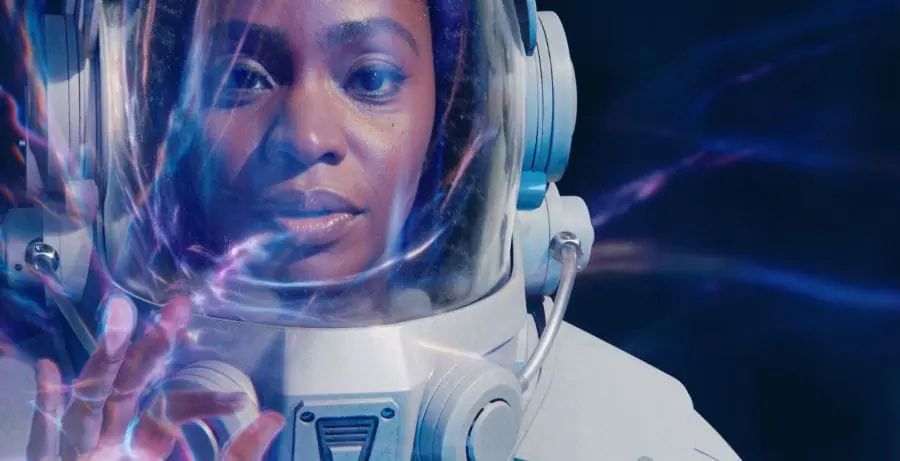 While Parris acts with every fiber of her being, forcing her character to go through everything that she does but only to give space for Carol to process her past is frustrating. Is she not worthy of processing her loss? Of not being the vessel for another character's regret? Given her role in WandaVision, to see it happen once again, well, it's surprising, to say the least.
That said, even Monica's emotional moments in the third act don't have time to breathe lest an MCU film forget that it exists as a vehicle for the future. Whether it's the way that Kamala lays the groundwork for the next chapter of the MCU or the stinger itself, the emotional moment is buried under the future. While it's not as egregious as films like Ant-Man & The Wasp: Quantumania, which just felt like a Part 1 unconcerned with the present at all, The Marvels would have benefited, especially with its short runtime, from being more standalone.
With filming delays and living through production hell, The Marvels shows the wear. I'd be interested to know how much was retrofitted to fit other stories in the MCU versus how much was originally the film that Nia DaCosta created without phone calls from Kevin Feige telling her, Megan McDonnell, and Elissa Karasik what to add.
Somewhere, deep down in The Marvels, there is something. There are glimpses in the story about idolizing our heroes and learning about their mistakes. About family and returning to them. And even about the regret that comes as unintended consequences after hard decisions. There are peeks into these themes, but they're cut away from too soon to stuffed between gags that keep them from paying off in any substantial way. In the end, The Marvels is a mess despite its leads trying their hardest to hold it all together.
The Marvels is playing in theaters nationwide on November 10, 2023.
The Marvels
TL;DR
In the end, The Marvels is a mess despite it's leads trying their hardest to hold it all together.