Ms. Marvel, even with its few faults, was still an overall great series that seemed primed at its conclusion to set up Kamala Khan (Iman Vellani) for storylines that would reflect more of her growth as an independent character. Her next foray in The Marvels, where she would finally meet her superhero idol Carol Danvers (Brie Larson), primed her for undertaking the iconic character journey of her comics.
She would learn that she did not have to be like this white woman superhero and instead needed to carve her own path as a hero, as Carol herself would even remind her to do so. The Marvels fails as a coherent movie for many reasons, but the severest missed opportunity is that it does not allow Kamala to have any of this crucial character development. With the ineptitude of the writing and overproduction of this movie, it leaves doubt that she'll have it in the future. If you can't tell, this article is going to spoil The Marvels, so now is the chance to close the tab.
Kamala amounts to a plucky sidekick in The Marvels, the comic relief, even if Vellani is consistently vivacious on screen. Indeed, she's a joy to watch and remains one of the movie's saving graces for her charm alone. However, she has virtually no journey of understanding her place as the script reduces her to a little sister type for Carol and Monica Rambeau (Teyonah Parris). There's a minor argument with Carol once or twice. Still, there's no self-reflection, thinking critically about what type of hero she wants to be, and barely any assertion of her independence. It's especially frustrating as there were ample opportunities for Kamala to take these steps in the situations it places her and Carol, but the convoluted script constantly reigns her in.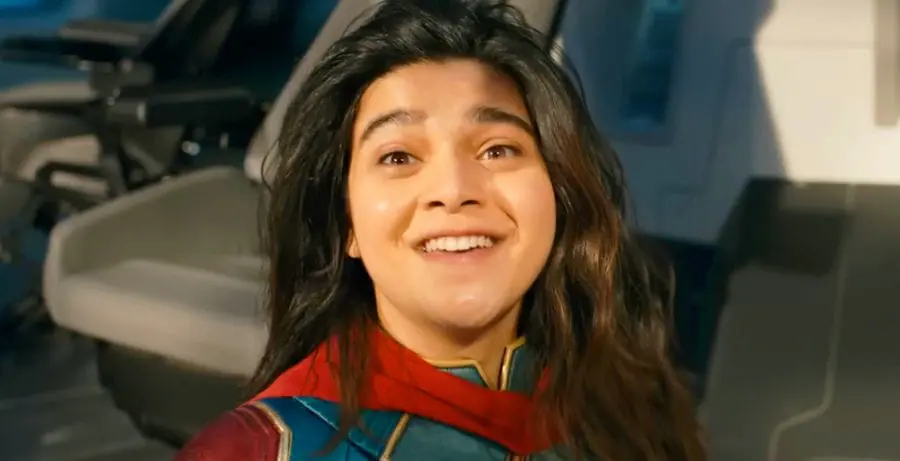 Perhaps director Nia DaCosta wanted to explore those moments. Still, the Marvel Studios committee (and this is a movie by committee) wouldn't allow her to paint Carol in that imperfect light. While, of course, it's important to see three women be friends and teammates on the big screen, it's important to see their conflicts, reflection, and self-growth as well. Regrettably, there is barely any of that for Kamala Khan, as her completely unreserved idolization of Carol remains intact, and her character arc, or lack thereof, suffers more for it.
Kamala just goes with the motions in The Marvels as its story clumsily drags her, Carol, and Monica on yet another blasé world-ending threat. Besides a few moments of charming and even poignant chemistry between the three leads as Kamala gets to know Monica and Carol, the movie is overall a clunky and horribly edited patchwork that doesn't allow audiences to fully get to know these characters outside of the previously mentioned brief scenes and clunky expositional dialogue. Not only Kamala, but neither Carol nor Monica have resonant journeys, and the latter is done dirty at the end of the movie. The Marvels is a movie by a committee that does its title characters wrong by prioritizing its trite plot.
Additionally, The Marvels answers virtually none of the questions posed about Kamala's powers and brings in more confusion. If she's a Mutant who presumably has inherent powers, why can she seemingly only use them with a Quantum Band? It is clear that the change from her traditional (and far more meaningful) polymorph powerset was solely intended to tie in her new light-based powers with Carol and Monica for this movie, making it all the worse that her powers were changed.
Other than that and the admittedly beautiful and poignant way they were used in episode 5 of Ms. Marvel, there's virtually no need to have changed them, and it leaves the MCU's Kamala Khan with powers more akin to a Green Lantern (Star Sapphire because her constructs are purple?) than the wonderfully weird polymorph she is. No more direct allegory, a brown Muslim teen learning to be comfortable and confident in her own body, but now said brown Muslim teen needed to have powers akin to her former white idol.
But to the larger point of making her a Mutant, Ms. Marvel fans have already made their worries clear about how becoming part of the X-Men (or any other MCU team for that matter) would take Kamala away from her iconic independent stories in Jersey City. For as great as the first season of Ms. Marvel was, it was so preoccupied with what she was—Mutant? Alien? I refuse to acknowledge "Djinn" as an option—rather than who she was. It did start well on the latter in the first notion but ultimately jumbled Kamala into a mess focused on stoking fan-theorizing rather than giving her a catalyzing moment of catharsis before immediately whisking her into the "next thing" of The Marvels and the X-Men.
The Marvels makes it all the clearer that Marvel Studios vastly prioritizes making Ms. Marvel just another connecting piece "for the next thing" instead of making a core and resonant journey for Kamala Khan. Instead, we can expect her to do more team-ups with the X-Men and Young Avengers (neither of which she's ever been a part of until recently with the X-Men) and to be lost in the drowning ocean of content that is the Marvel Cinematic Universe. Unless there's a Ms. Marvel Season 2 where she gets to full flourish at the Friendly Neighborhood Ms. Marvel of Jersey City as she is in her comics, it's hard to see how Kamala can have independent stories going forward.
It's a shame to her legion of fans who hoped to see themselves reflected in a brown and Muslim superhero who bravely stands in the face of white heroes to assert her independence. Perhaps that will happen later, but with the dire box office prospects of The Marvels, it's increasingly doubtful that Kamala would have that chance for development to face and break out of her idolization of Carol and learn the importance of being her own hero. Seeing the squandered potential for Kamala's story arc in The Marvels and the prospects for her story going forward does not instill confidence, both in fulfilling that original arc of hers or something equally meaningful and resonant. I would welcome Marvel Studios to prove me wrong, but I doubt they will.
The Marvels is now playing in theaters.