Yasna awakens on a strange planet without remembering how she got there. Last she knew, she was on her science ship, The Dragonfly, on her way home from a successful expedition across space. Now, with no communication equipment or allies nearby, she must find a way to get in touch with her people and find out what has led her to be stranded on this harsh, dead planet in The Invincible, from developer Starward Industries, publisher 11 Bit Studios, and based on the novel by Stanisław Lem.
Slow-burn storytelling requires a delicate balance. You have to feed the audience just enough narrative to keep them drawn into the story while letting the stakes and threat of a situation slowly build up till it hits the final crescendo, making the journey worth the time invested in it. Sadly, The Invincible never manages to pull off this delicate balance.
The key element lacking in this game's roughly five hours of playtime is tension. As Yasna explores the mysterious world she finds herself in, there are long stretches of gameplay that are simply walking. Navigating the barren, often red-hued world of rock and sand generally feels uninteresting and can frequently stretch far too long. Even though she spends much of her journey with her ship's Astrogator (think commander) Kovik, communicating with her via radio, these sequences cause the journey to lag. What feels like it could've played out as a solid two-hour movie is stretched out here to roughly five hours of gameplay.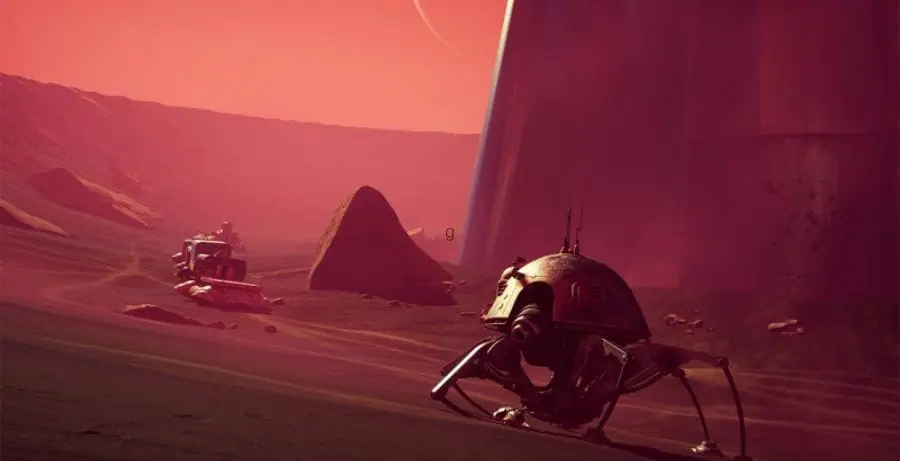 The best part of The Invincible is Kovik's supporting role as he tries to help guide Yasna through her journey from the orbiting spaceship as best he can. Kovik's personality was a surprising change from what I expected. Presented as a company man in his early interactions with Yasna, I expected the Astrogator to be willing to risk her life at every turn to somehow salvage something of their disastrous mission. Happily, the story takes a far more nuanced approach to Kovik's character. While he does sometimes give opinions and makes requests that are tainted with bias from his position, I never doubted that he wanted to see Yasna get home safe. This put suggestions from him in an interesting space for me. On the one hand, he didn't feel like the game's guide who would never lead me astray, while at the same time, he didn't feel like the corrupt leader who would inevitably get me killed. This gave me a far freer hand in molding how I had Yasna approach the game's many choices than I would've had if I felt Kovik's suggestions always leaned towards one path.
These choices allow players to craft their version of Yasna to fit their preferences. While there are core elements of the character that will always be there, the player can tweak things like how selfless she is or how abrasive she is towards others. She's always heading towards the same goal, and players just get to decide some of the details of how she gets there. These choices also occasionally come with some narrative implications as well. While these moments feel few and far between, there are key moments that will greatly impact the success of Yasna's journey.
The gameplay elements in The Invincible are sparse, lending it to the adventure genre many would call a walking sim. Aside from traveling to various locations on foot or with a simple-to-drive vehicle, the game has players interact with various objects in straightforward ways. Despite not setting out to deliver much in the form of gameplay, the game nevertheless manages to fall short at times. The biggest instance of this is how the game requires players to navigate uneven terrain.
As the game takes place on a rocky, desolate planet, the traversal often sees the player encounter low-level rock formations that must be overcome. This is generally done by walking towards it to enter a premade interaction where Yasna clambers over the rocks. However, the game is frequently extremely picky about where the player may initiate this action. On more than one occasion, I found myself having to bump my way along a low rock wall as I tried to spot the interaction prompt, letting me know this was the particular stretch of rock I could climb. That I couldn't climb over anywhere else, felt frustrating as the entire thing appeared to be roughly the same height and smoothness.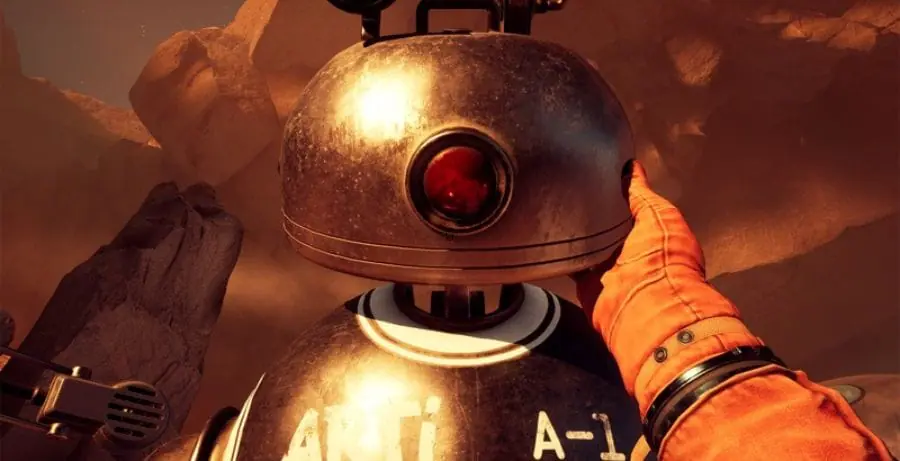 One element that helps The Invincible make some progress in its quest to build atmosphere and draw players into its world is the sound design. The score is excellently executed. The music always builds up the big moments of the plot while sweeping subtle pieces accompany the smaller moments in between. What further helps the music deliver on the game's mood is the skillful use of silence. Times when Yasna is simply traveling outside, are often allowed to be oppressively silent. This enhances the feeling of isolation in this sci-fi journey.
The visuals in The Invincible are on the simple side but are effective. The retro science fiction look is crafted excellently, giving it the feel of a vision of tomorrow that was first conceived in the distant past. The visuals also do a fantastic job of helping to reinforce Yasna's presence in the story as just an average human being. It accomplishes this through a thorough eye for detail, like when the astronaut navigates challenging terrain.
As the character climbs ledges, the player's motion will sometimes pause as the camera swings down to look at Yasna's feet, as the explorer checks to make sure her purchase on the rocky outcrops is good. These little details help flesh out the character, reminding players who may be used to controlling superhuman avatars that Yasna is much more frail than that.
Now, we come to the end. While endings are always critical to a story, they are even more important to a tale that builds itself up as slowly as this one does. Unfortunately, this one doesn't deliver a payoff that makes the journey worth it. While all the elements would look good on paper, the way the scenario plays out feels too distant to deliver the impact it needs to.
The Invincible is ultimately a sub-par experience. While it delivers flashes of quality in its cast and its attention to some details, the narrative is ultimately weighed down too much by an overextended runtime and an ending that fails to pay off on the player's investment.
The Invincible is available November 6th on PC, Xbox Series S/X, and PlayStation 5.
The Invincible
TL;DR
The Invincible is ultimately a sub-par experience. While it delivers flashes of quality in its cast and its attention to some details, the narrative is ultimately weighed down too much.