If any actor has captured my heart and mind in the last five years, it's Coleman Domingo. Charismatic and commanding in every role he brings to life, Domingo does so by finding connection points with the audience and transforming his face, body, and voice to the situations and emotions that he goes through. Now, in Rustin, a Netflix Original film directed by George C. Wolfe and written by Julian Breece and Dustin Lance Black, he brings to life Bayard Rustin, a Civil Rights figure who was the architect of 1963's momentous March on Washington.
The film tells the story of Bayard Rustin, one of the greatest activists and organizers of the Civil Rights Movement. To tell this story, the film stars Domingo in the titular role and features Aml Ameen, Glynn Turman, Chris Rock, Gus Halper, Johnny Ramey, CCH Pounder, Michael Potts, Audra McDonald, and Jeffrey Wright. Bayard challenged authority and never apologized for who he was, what he believed, or who he loved, but most importantly, he did not back down. But despite making history, his queer identity made it so that he was erased from the retellings of the events he orchestrated and changed a nation. You could say he was forgotten, but that doesn't capture the bigotry behind his erasure.
In addition to Bayard, audiences see him alongside giants like the Reverend Martin Luther King Jr. (Aml Ameen), Adam Clayton Powell Jr. (Jeffrey Wright), and Ella Baker (Audra McDonald), as he pushed them to imagine a different world where all are equal.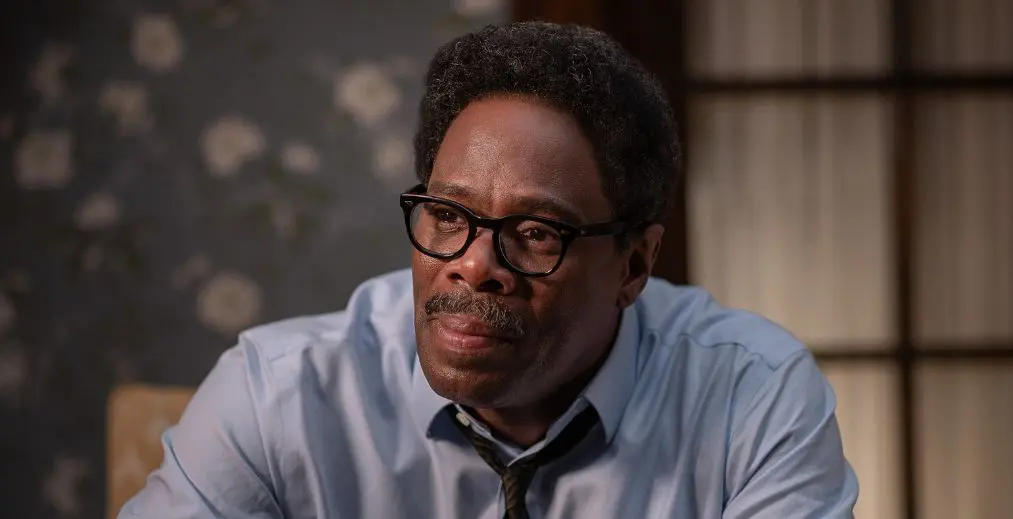 Every interaction where Rustin is forced to be a fierce advocate for himself is gripping to watch. Whether it's his boss when he quits or when he responds to Powell's pressure to leave, every moment of fiercely calling attention to his humanity in the face of those that would deny it whether because he is Black or because he is a gay man is moving to watch. It doesn't move you to clap for his actions, but it fills you with a visceral need to fight for him, to stand up, to defend him so that he doesn't need to defend himself. And for those who have multiple marginalizations, his need to fight his own community for inclusion is all too familiar.
Often, being queer and being Black or brown comes with its own stigma from our communities and outside of them. Rustin captures the ways in which being your whole self can detach you from your communities and why choosing to be yourself is an act of resiliency and of itself. Bayard Rustin stood in his Blackness and in his queerness and was unashamed while the world attempted to cut him down repeatedly when those he was fighting for and next to were ready to discard him. That story is a necessary one, especially as current LGBTQ+ movements often don't include experiences that aren't along the spectrum of whiteness.
Additionally, the film shows that while he is resilient and unashamed, he is still afraid. He carries the scars outwardly of being beaten by cops for both being Black and being gay, and internally he carries the scars from being cut off by those who should be fighting for him. Showing that fear is important to making Rustin a human and not a mythical figure of inspiration.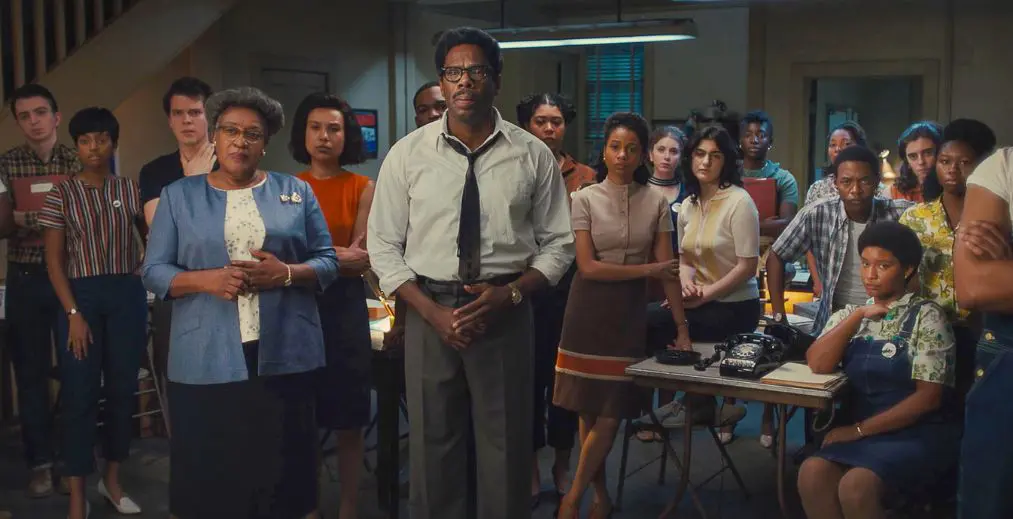 The largest letdown for the film comes in its finale. As we see the March on Washington come to fruition, emotional moments are hampered by oddly hued backgrounds that were obviously placed on blue screens behind our leads. The jarring difference in the foreground's cinematography and the visuals behind them makes the culmination of Rustin's work feel weaker than they should. Additionally, while the usage of archival footage is often a smart choice, it's a difficult one here. At times, it enhances the experience of the film, and for other scenes, it detracts from the obviously manufactured nature of the setting. Rustin is not bad by any means. In fact, it deserved more than what was done for the settings.
Rustin, for all of its flaws, is worth watching in every way because of the beauty of witnessing Coleman Domingo act. The passion, reverence, and even intimacy that he brings to this role is captivating and compelling. He pulls you in, he makes you want to fight for him, and in that, he is able to push this standard biopic into a call to action. At times, contrived and never really breaking from expectation, Rustin could have been ignored as just another biopic released during the Award's Season. Instead, Domingo's Rustin moves its audience to action, showing us a largely untold story while highlighting the importance of intersecting identities. Not only highlighting that the Civil Rights Movement did not support queer people but also the mountains Black women had to move to even be included on a list of speakers.
Rustin isn't necessarily revolutionary, but the man it centers on was. Coleman Domingo deserves applause for the reverence given to the man he brings to life on the big screen. Even if the film is not perfect, the story it carries is an important one nonetheless.
Rustin is streaming now, exclusively on Netflix.
Rustin
TL;DR
Rustin isn't necessarily revolutionary, but the man it centers on was. Coleman Domingo deserves applause for the reverence given to the man he brings to life on the big screen. Even if the film is not perfect, the story it carries is an important one nonetheless.